As dog parents, we may get weird looks whenever we're enthusiastic about pooper scoopers out of all things. That's because a lot of them can be…well, crappy.
It's no secret that picking up after our dogs isn't glamorous by any means, but it's an essential duty. (No pun intended.) And while it's not the picking up poop part we're exactly thrilled for, it's whatever helps us get the job done efficiently that excites us.
Related: Training Your Dog at Home? Here Are 16 Must-Have Products Experts Recommend.
So without further ado, here are 10 of the best pooper scoopers we found for an overall better pickup experience — because while your dog's poo may stink, cleaning up after him doesn't have to.
1. Arm & Hammer Swivel Bin & Rake Pooper Scooper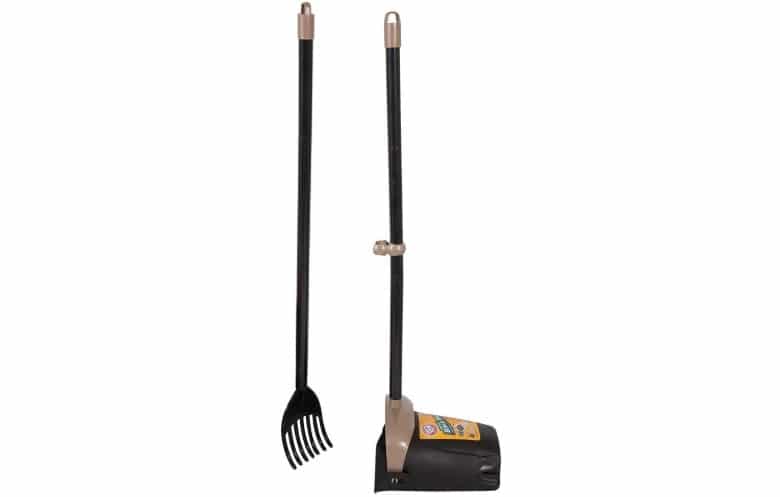 Arm & Hammer's Swivel Bin & Rake Pooper Scooper is a top seller on Amazon, and for good reason. This scooper is all about picking up more poop without the smell.
The Swivel Bin & Rake Pooper Scooper by Arm & Hammer has a large-capacity, rotating swivel bin, making it the perfect option if you have a large dog or multiple dogs. Additionally, the swivel bin handle extends up to 32 inches for a more comfortable pickup. The plastic rake protects soft surfaces and effectively collects poop from hard surfaces, meaning you can use it on grass, dirt and pavement. Another plus: the swivel bin and rake tool are resistant to mess and easy to clean!
This pooper scooper is compatible with Arm & Hammer heavy duty waste bags. Two Arm & Hammer odor-eliminating bags are included with the product.

"I obviously settled on this one, and love it so much that I do not foresee buying any other ones to compare it to … My favorite thing about this scooper is how I can attach regular grocery store bags to the little slots on the outside. Keeps the whole process neat and tidy and I don't have to buy any kind of special bag to make that happen."
— Squirrel717, Amazon verified buyer
Price: $17.95
2. GoGo Stik, The Totally Clean Pooper Scooper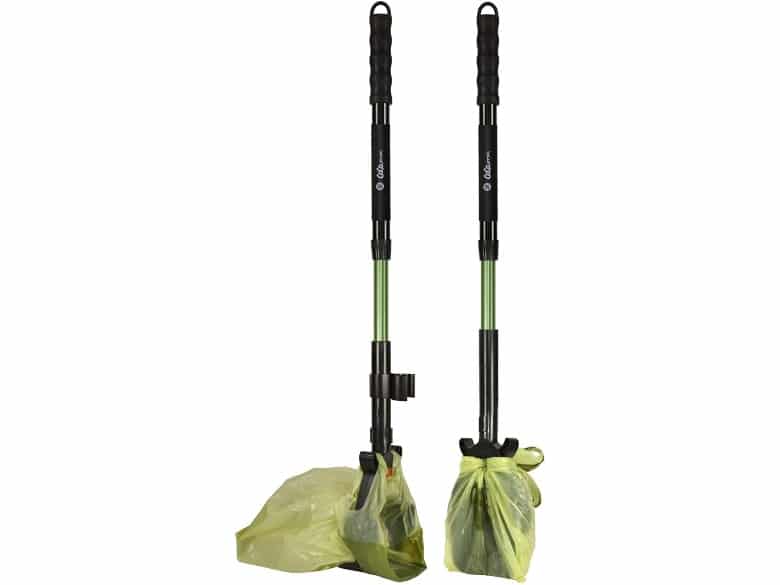 This GoGo Stik pooper scooper provides a no-contact, no-bending, no-cleanup and even better, no-stink experience for dog owners. What more could you really ask for?
You can scoop pounds of poop in just one plastic grocery bag and not have to worry about cleaning afterward. Use this pooper scooper on any surface, and keep your hands free from touching poop with the handle's three foot reach. Heck, you can even catch your dog's business if you'd like!
In this special set, you get the Totally Clean Pooper Scooper, E-Z Wedge, 10 Form Fit Dootie Bags and a storage clip.
"This is one of the best purchases I've made in a long time! … The unit stays clean because it is completely covered with a bag. I can use any standard grocery bag with handle so it is economical and I can recycle my bags using them again."
— Barbara Nicholson, Amazon verified buyer
Price: $39.95
3. Doody Digger Pooper Scooper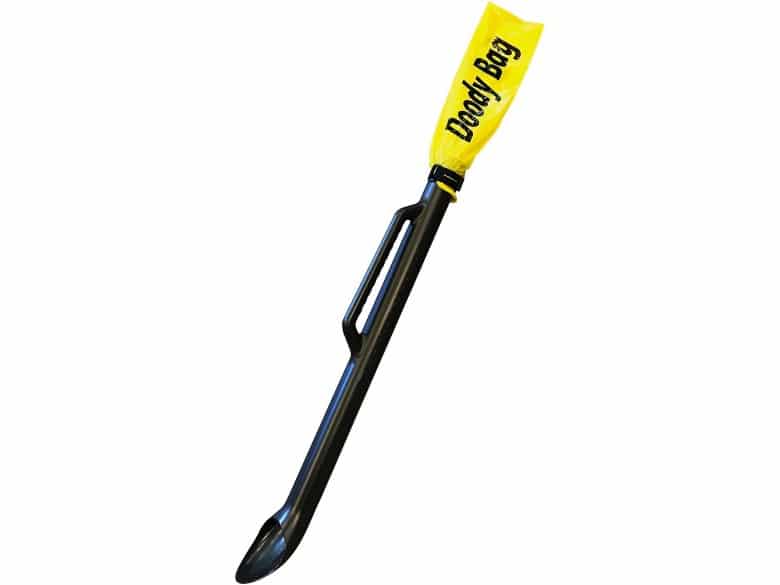 The Doody Digger Pooper Scooper offers a unique way of picking up poo. Its strong yet lightweight one-piece design ensures there's no mess, and best of all, no contact with the waste or smell! Simply scoop and raise vertically to drop your dog's poop directly into the attached bag. Use the pooper scooper on any surface and enjoy a virtually non-stick performance.
The Doody Digger Pooper Scooper comes with five Doody Bags. You can purchase a 40-count refill if needed or use any bag of your choice.
"First time ever that I've been this enthusiastic about a product … The Doody Digger Pooper Scooper works great! Easy to pick up piles, they slide down the tube when tilted upwards and you will hear a satisfying plop when it doody drops. When the bag is full remove the bag and drop doody in dumpster."
— MWLeander, Amazon verified buyer
Price: $30.00
4. Nature's Miracle Non-Stick Advanced Jaw Scoop
It can be a pain to clean dog doo that constantly sticks to your scooper. That's why Nature's Miracle pooper scooper gets the job done without the mess.
This pooper scooper uses antimicrobial product protection to prevent bacteria-causing odors and blocks odors from sinking into (and stinking up) the plastic. Nature's Miracle medium-sized jaw scoop is ideal for a speedy cleanup on grass, gravel or concrete. If you're looking for a product that's lightweight, affordable and easy to use, this is an excellent option.
"If you are tired of bending over and breaking your back scooping poop, look no further! If you hate scooping poop – this scoop is for you! If you love scooping poop – this scoop is for you too!"
— Melissa, Amazon verified buyer
Price: $17.89
5. Activedogs Best Ever Dog Poop Scooper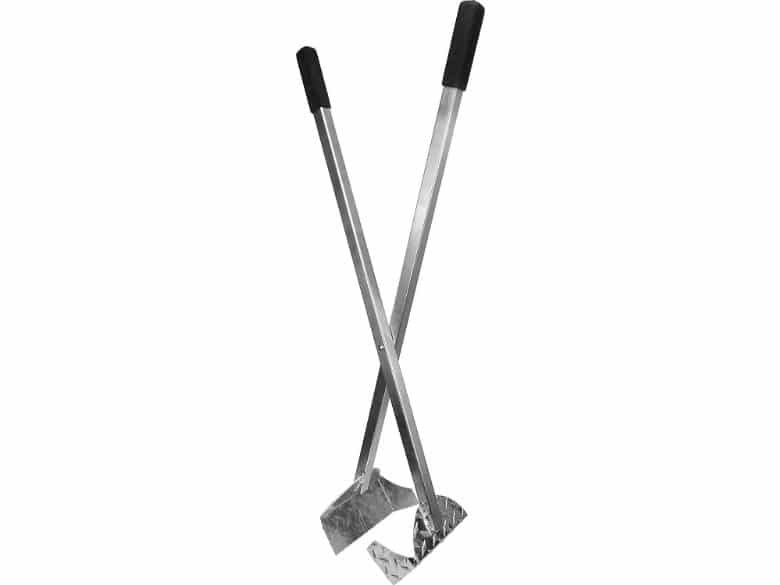 Need a high-quality, heavy duty pooper scooper? Activedogs' Best Ever Dog Pooper Scooper may just be your best bet.
This pooper scooper is built to last with an aluminum welded design, upgraded hinge system and both a flat and teeth style scoop. Whether it's on a concrete, asphalt, grass or dirt area, you can pick up all the poo you need to all at once with ease.
The Activedogs Best Ever Dog Poop Scooper also comes with a disposal bucket that has drain holes on the bottom and a built-on quick access bag liner storage compartment for a quick cleanup.
Related: Meet the Trainer Drake, Carrie Underwood, and Kaley Cuoco Use — And What You Can Learn From Her
"It is quite sturdy, being made of aluminum plates welded to square aluminum tubes.With normal use, I can not imagine this ever breaking. You could probably will this to your grandchildren, but if you did, they may not place just flowers by your headstone.While I hate to sound like a pooper scooper fanboy, it is worth the additional cost to have a real tool that will provide years of service."
— JPP388, Amazon verified buyer
Price: $59.95
6. MOICO Dog Pooper Scooper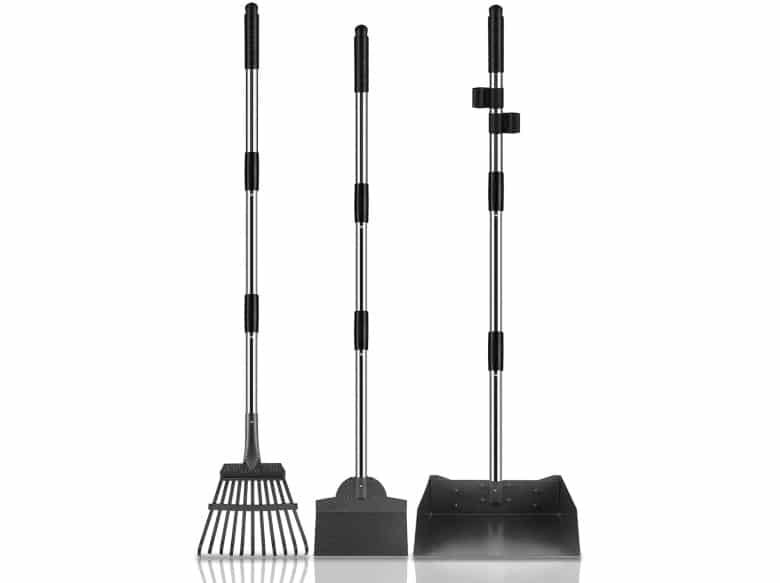 If you have several large dogs, this pooper scooper by MOICO will definitely come in handy.
Easily scoop from any surface with not one, not two but three options of how you'd prefer to pick up after your pups! You can interchange between a tray, rake and spade and reach up to 42 inches with each tube's three different size options. This version of the MOICO Dog Pooper Scooper is upgraded to an extra large size with the spade 50 percent wider, the rake with two additional teeth and the tray designed to hold more waste.
This pooper scooper is treated with a non-stick coating and is rust and dirt-resistant, so it'll stay clean and durable much longer in comparison to plastic and wooden products. When it's time to clean it, rinse it with a hose, and voila — your pooper scooper is ready for more pickup action!
"The set works really good for me with all the tools sturdy built and flexible to use. Almost all extensions can be used for every tool at any position. Means I can make the shaft longer for me and smaller for my children."
— Dan Mitchell, Amazon verified buyer
Price: $23.59
7. Pawler Bigger Dog Pooper Scooper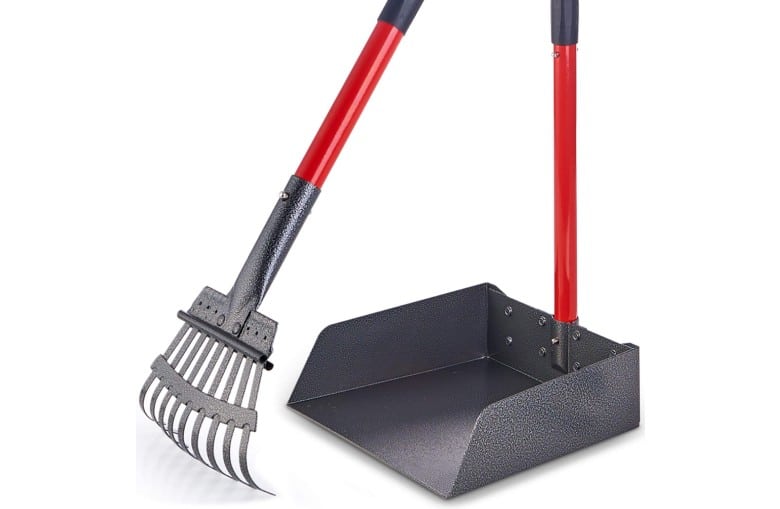 Save your back and your time with Pawler's Bigger Dog Pooper Scooper. This pooper scooper has long, comfortable handles that allow you to pick up from a comfortable position. Plus, you can get the job done in a jiffy since its large tray holds more than any other tray on the market! Built with metal and aluminum, this pooper scooper is rust-proof and durable compared to most. Use this to scoop poop, garden leaves and debris from your yard no matter the surface — grass, dirt, gravel or small rocks.
"I've had all kinds of pooper scoopers and without a doubt, this is the biggest METAL tray, the best METAL handle that does not bend break or come loose from the tray and the BEST rake I've ever bought."
— Mark Salem, Amazon verified buyer
Price: $23.99
8. HealthPro Dispoz-A-Scoop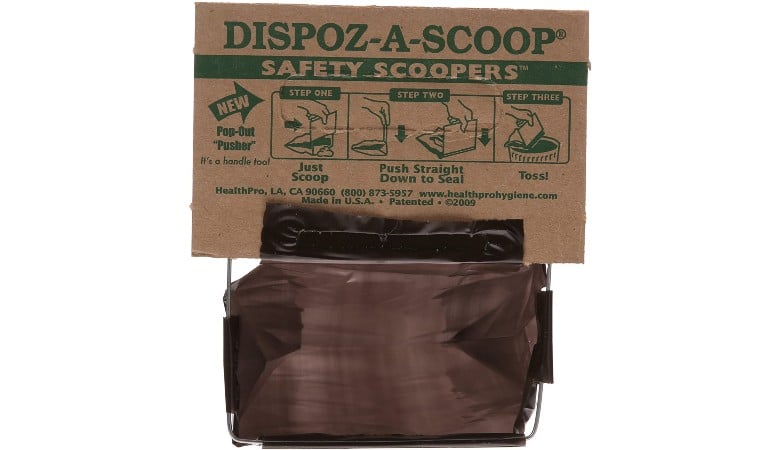 Hate feeling warm dog poop through a plastic bag?
HealthPro's Dispoz-A-Scoop is an alternative clean-up method to toss out your dog's doo. Just use the cardboard handle to scoop the poop, seal it and dispose! With this product, you won't have to worry about bacteria passing through the bag to your hand. This scooper may not look like it can carry heavy doody at a first glance, but you may be surprised to read that its durable steel frame makes it suitable for dogs up to 120 pounds!
Dispoz-A-Scoop is 99% biodegradable and comes with 96 bags.
"My favorite product for my dog. These bags allow you to scoop up your dog's poop without having to come into contact with it. You simply throw the bags away after use. They' come from recycled products."
— Peter Simons, Amazon verified buyer
Price: $48.99
9. DogBuddy Pooper Scooper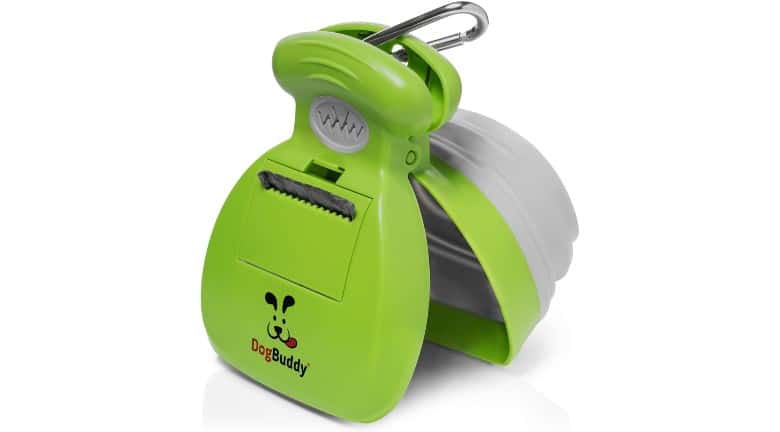 This portable pooper scooper by DogBuddy is just what you need while you and your pup are on the go. Its convenient leash clip makes it easy to carry and even easier to keep sidewalks clean. The backside is also extendable, meaning you can scoop all the poop without ever using your hands again.
Not sure where the nearest trash can is? Not a problem! The DogBuddy Pooper Scooper has an integrated waste bag compartment for secure storage until you're ready to dispose of your pup's poop.
One roll of bags are included with the DogBuddy Pooper Scooper.
"Never thought I'd leave a review for a pooper scooper, but here I am. It's just well engineered and I'm amazed there aren't more like it on the market. Everything from the bag storage to the expandable side (which really stays in place well) was just thought out well."
Ruusk009, Amazon verified buyer
Price: Starting at $13.99
10. PPOGOO Non-Breakable Pet Pooper Scooper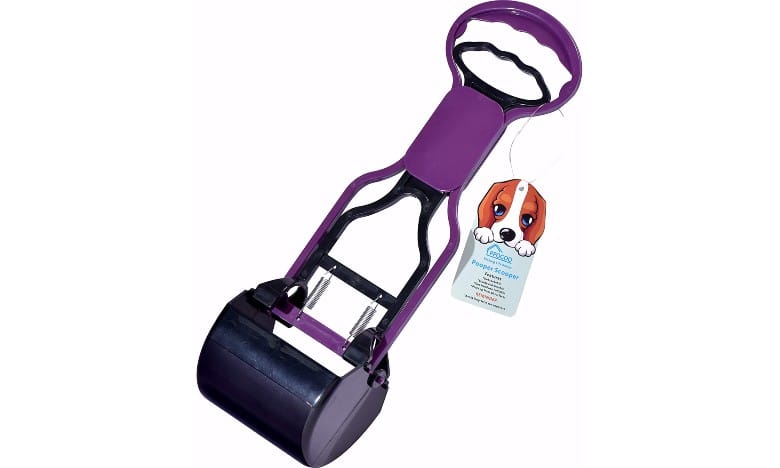 Have small dogs? Children with cleaning duties? If so, this nearly 15 inch length, lightweight pooper scooper by PPOGOO is a great option. It's easy to carry, use and clean. It's also durable enough to be used on concrete, grass, gravel and dirt. Say hello to a poop-free yard with this small but mighty tool!
"Works great and it is sturdy. It's small which makes easy to take with me when walking my dog. I use it with a doggy poopy bag so it does not get dirty and it works well."
— From Fresno, Amazon verified buyer
Price: $9.99
Related: Dog Groomer on TikTok Shares Industry Tips We All Need to Know