The stars of Broadway are getting ready to put on their best performance of the year: helping homeless dogs and cats find their forever home.
On July 11 in Shubert Alley, celebrities from the hottest shows on Broadway will be on hand for the 17th annual Broadway Barks pet adoption event. Hosted by co-founder Bernadette Peters and Tony nominee Andrew Rannells (best know for The Book of Mormon and HBO's Girls), the event looks to help dozens of dogs and cats from New York City animal shelters and adoption agencies — ASPCA, BARC, Mayor's Alliance of New York, Animal Care and Control of NYC, Bideawee and Humane Society of New York, among others — find their forever homes.
Related: 5 Troublesome Dog Statistics And What We Can Do to Change the Story
Broadway's brightest performers will volunteer their time to help raise awareness about the plight of shelter animals while working their magic to get the pets adopted. Some of the actors lending a hand include Michael Cerveris (Fun Home), Christian Borle (Something Rotten), Dee Hoty (Gigi), Alison Luff (Matilda The Musical) and Chilina Kennedy (Beautiful: The Carole King Musical), among many, many more.
The event is free to the public with festivities beginning at 3 p.m. and celebrity presentations taking place between 5:00 and 6:30 p.m. Funds that are raised from a raffle, autographed memorabilia, silent auction and donations will be dispersed between the participating shelters, along with the Picasso Veterinary Fund, a resource that provides grants to shelters and rescue groups to help cover veterinary costs.
"It is a wonderful event. Bernadette and her team put so much into it and it is a pleasure to work with them," says Steve Gruber, the director of communications for the Mayor's Alliance. "And I always come away with a positive feeling, as they help raise awareness about the wonderful animals in the shelters that need good homes and make great pets."
Broadway Barks was founded by Bernadette Peters and Mary Tyler Moore and is produced by Broadway Cares/Equity Fights AIDS, a nonprofit AIDS fundraising and grant-making organizations.
Related: Animal Lover Bernadette Peters Comes Out to Support BARC Shelter at Art Show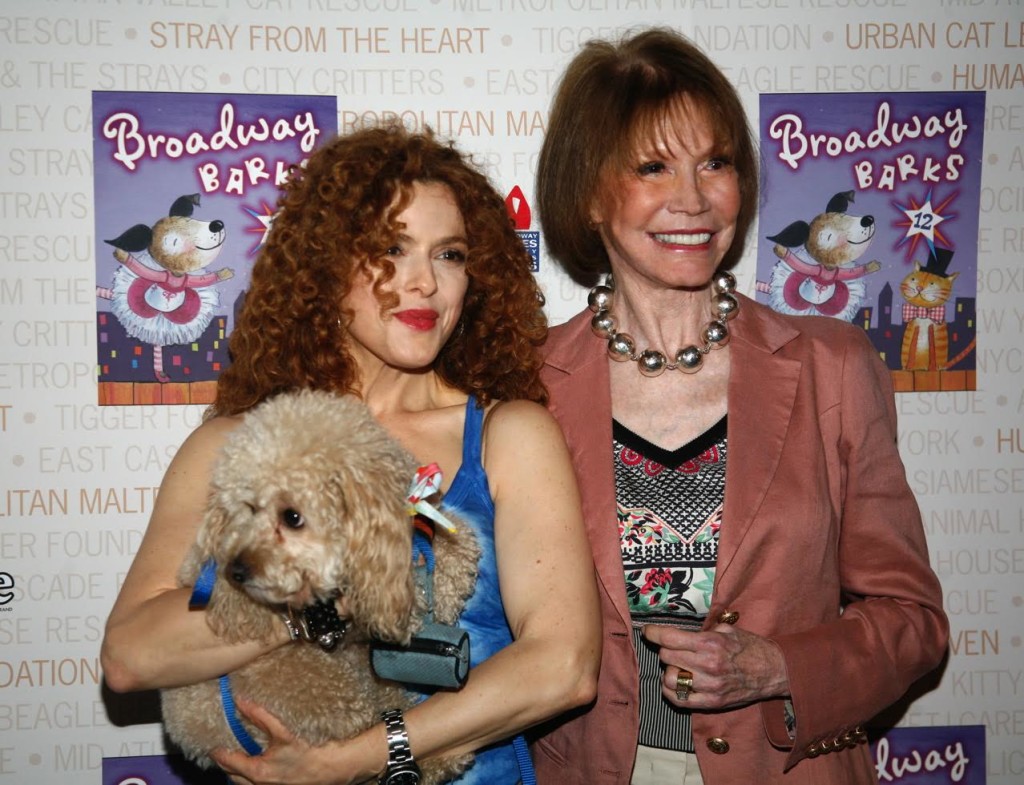 Related: Move Over Patti Stanger, New York City Has 'The Dog Matchmaker'
"This spirit of a collaborative community, manifested so clearly in Broadway Barks, is moving us closer to the day when no New York City dog or cat of reasonable health and temperament will be killed simply because we do not have a home for them, Jane Hoffman, president of the Mayor's Alliance for NYC's Animals, said in a statement. "We congratulate Bernadette Peters and Mary Tyler Moore for 17 brilliant years of saving lives through Broadway Barks."
This event is going to be crowded, so we suggest getting there early. Shubert Alley is between 44th and 45th Streets and between Broadway and Eighth Avenue. If you are thinking of bringing a pet home, come prepared. While every organization has its own process for adopting out its pets, we recommend bringing proof that you can have an animal at your living situation, personal references and veterinarian's contact information.
Related: A Pet Store Pulls a Switch-a-Roo and Replaces Dogs With Rescues From Shelters
Images courtesy of Broadway Barks