If you've ever reclined on a high-quality memory foam bed, you know how different they are from innerspring mattresses. You've probably also said, "ahhh," or at the very least, "yes!" Besides their superior comfort, these mattresses alleviate a slew of problems: no more lower back pain, neck pain or shoulder pain.
Dogs need this type of mattress for the same problems. Orthopedic dog beds are great for aging pups, dogs with chronic conditions including hip dysplasia and arthritis and canines with injuries. Or just because you want your pooch to enjoy the benefits of sleeping on a supportive cloud.
The best orthopedic beds are made of memory foam (or another high-quality foam), but like human mattresses, not all  foam beds are equal. Here are some of the best; your dog will thank you!
Related: A House Was Designed Completely Based on a Dog's Needs
Purple Thick Soft/Firm Reversible Gel Memory Foam Orthopedic Dog Bed
The Purple bed has four layers to provide the best balance between comfort and support. The first layer is the cover, which is antimicrobial, moisture-resistant, odor-neutralizing and hypoallergenic. The next layer is the Smart Comfort Grid that helps alleviate joint pressure while remaining supportive. The next two layers are foam for added support. Available in three sizes for small, medium and large dogs.
Price: $149 to $269
Big Barker Orthopedic Dog Bed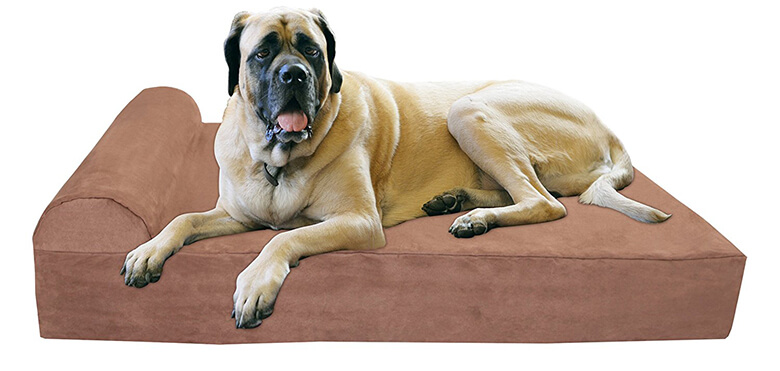 The Big Barker comes in different styles to suit your dog and your needs, whether it's for sleep, the crate or for your car's backseat. The company specializes in beds that will support even the largest breeds without going flat. It's made with three layers and two types of foam with the top and the bottom layer focused on comfort and the middle support layer of high-density foam. The microfiber cover is washable and extremely soft on your dog's skin. It comes in three styles: the Big Barker for dogs over 50 pounds is 7" thick and comes in a Headrest and Sleek version. The Big Barker mini for small dogs is 4" thick. Each is available in 4 colors, and they have a 10-year warranty that guarantees they won't go flat.
Price: $149.95 to $399.95
PetFusion Ultimate Dog Lounge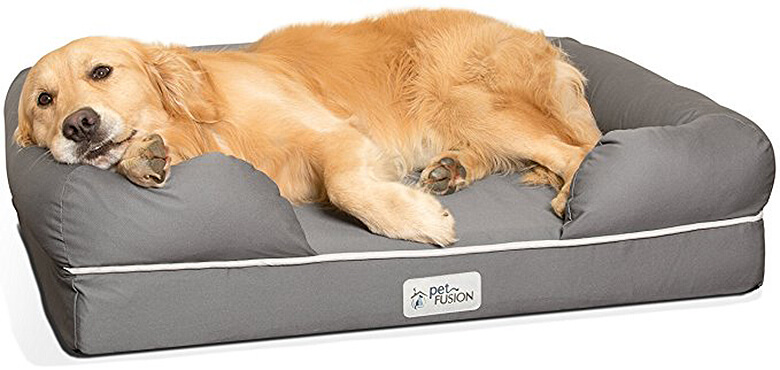 The PetFusion is best for dogs up to 100 pounds, though some very large dogs may not have enough room to stretch out. Made from 4" memory foam with recycled polyfill support bolsters, this bed is durable and easy to clean. It's covered with a cotton twill and polyester cover that is removable and machine washable, and replacement covers and matching blankets are available. The inner liner is also waterproof, and the cover is water-resistant. Available in five sizes and two colors.
Price: $69.95 to $239.95
Related: 15 Breeds That Are Susceptible to Hip Problems
iComfort Sleeper Pet Bed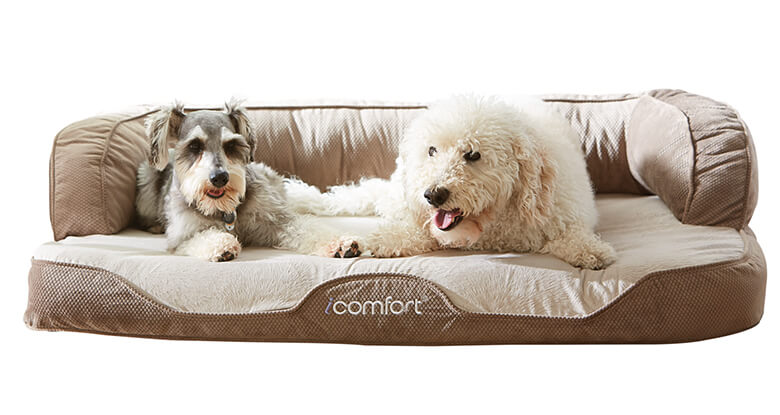 The iComfort by Serta comes in two styles: The Cuddler and the Sofa Sleeper. These beds are made with memory foam infused with cooling MicroSupport gel beads that provide extra support, so your dog will be cool and comfy. It's made from a "Cool Action Dual Effects" material that uses an open cell foam that allows more air to circulate than standard memory foam. Both styles have supporting back rests. The zippered cover is removable for washing. Available in gray and tan.
Price: $149.99 to $289.99
Brindle Waterproof Designer Memory Foam Pet Bed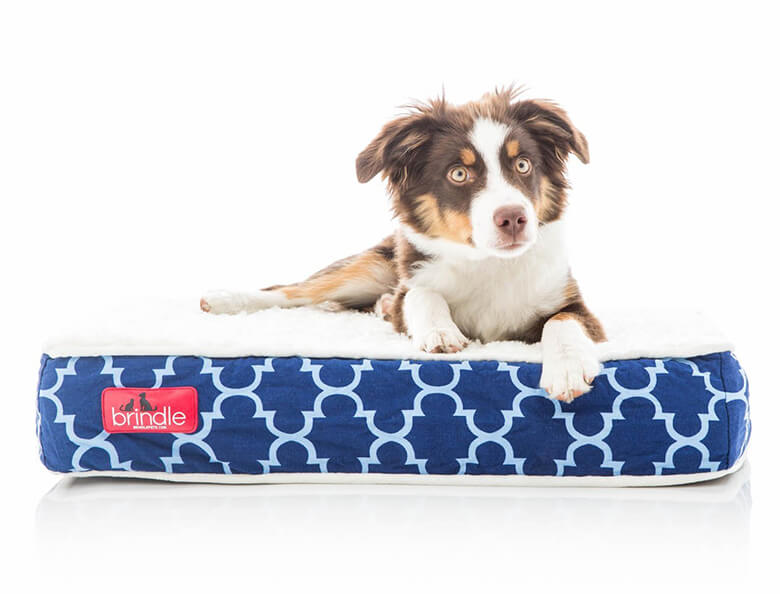 The Brindle is more affordable while still providing high-quality materials. This 4" thick cushion bed is made from 2" of comfort memory foam and 2" of high-density support foam. The cover is removable and washable. It's also hypoallergenic, dust-mite resistant, and 100 percent waterproof; it's highly recommended for dogs that have accidents. The cover comes in chocolate velour, navy trellis and red Sherpa. Available in three sizes.
Price: $34.99 to $72.99
FurHaven NAP Ultra Plush Deluxe Memory Foam Dog & Cat Bed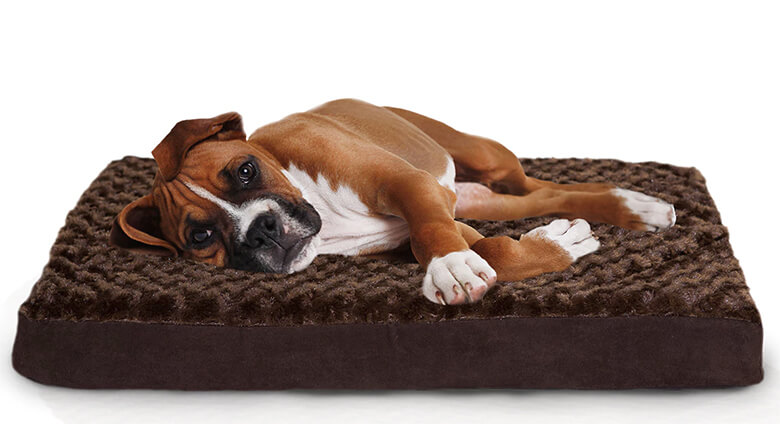 The FurHaven is looks like a traditional dog bed, but it's much more. A flat, low profile bed, it's topped with a plush, faux fur sleep surface with silky suedine sides. But it's what's inside that makes it different: orthopedic convoluted (also known as "egg-crate") foam. This type of memory foam is designed to evenly distribute weight and keep your dog warm in cold weather and cool in warm weather. The foam is also eco-friendly, and the low-rider shape is also easier for older dog to climb on. The base is made of medical-grade polyurethane for extra support. The cover is washable and comes in 3 colors. Available in 4 sizes.
Price: $26.99 to $64.99
Related: The Reasons Why You Should Invest in an Elevated Dog Bed – and the Ones We Recommend