When it comes to figuring out what is happening in a space or what trends to keep your eye on, there is no better place to go than a massive convention. I went to one of the biggest in the dog world, the Global Pet Expo, in Orlando, Florida to see what owners can expect in the years to come – and what companies are betting on.
Similar to SuperZoo in Las Vegas, this is not a small show . . . whatsoever. Held at the Orange County Convention Center, there were more than 3,000 booths, 1,000 exhibitors and approximately 16,000 attendees. Covering 16 football fields worth of products (or about 340,000 square feet), I was foolishly optimistic when I thought I could walk the entire show in one day. (I only made it to the halfway point.)
While it wasn't just about dogs – there were also products for cats, fish, ferrets and even chickens – the majority was devoted to pups. And rightfully, so. There are approximately 60 million households in the U.S. that have a dog, 90 percent people think of their pup as more than a pet (meaning more money to be spent) and dogs are living longer.
So, here is my take on the expo – including what I saw, what I hated and what I think owners will see in the coming years.
Dog food is no joke.
It seems like every day a new dog food company is popping up. And at the Pet Expo, I saw hundreds of companies trying to get Fido to eat their food. Why is it such a big opportunity? Because once a dog food company gets an owner as a customer, it has the person for life. (How often do you switch food?) Needing to feed your dog every day is also, I am guessing, one of your highest expenses, meaning these companies can make a lot of moula off of you. But with all this upside for companies, there is a lot of competition. The companies at the Pet Expo were not just peddling any old dog food. They weren't even peddling "natural" dog food. Companies were marketing their food using lingo like "single-protein," "fresh ingredients," "supplement boosts," and "human grade."
Related: Here Are 4 Dog Food Cookbooks You Will Actually Use
Speaking of dog food, it is going to get more and more advanced.
I stopped at the Hill's Booth to see what its virtual reality experience was about (more of that in a sec.), and while I was there, I talked to one of the representatives about trends in the dog world. Shown to me was Hill's line of anti-aging dog food called Youthful Vitality. Yep, there is anti-aging products even in the dog world. The company has apparently targeted what dog genes are impacted by aging and determined that by age 7, nearly all dog's biology changes. So, they created a dog food that helps fight the effects of aging – everything from deteriorating brain function, immune system and energy levels. I am not advocating for Hill's, as I don't what the outcomes are and need to look more into the ingredients, but I do think it is fascinating that companies are getting more advanced in food technology.
VR is a thing in the pet world.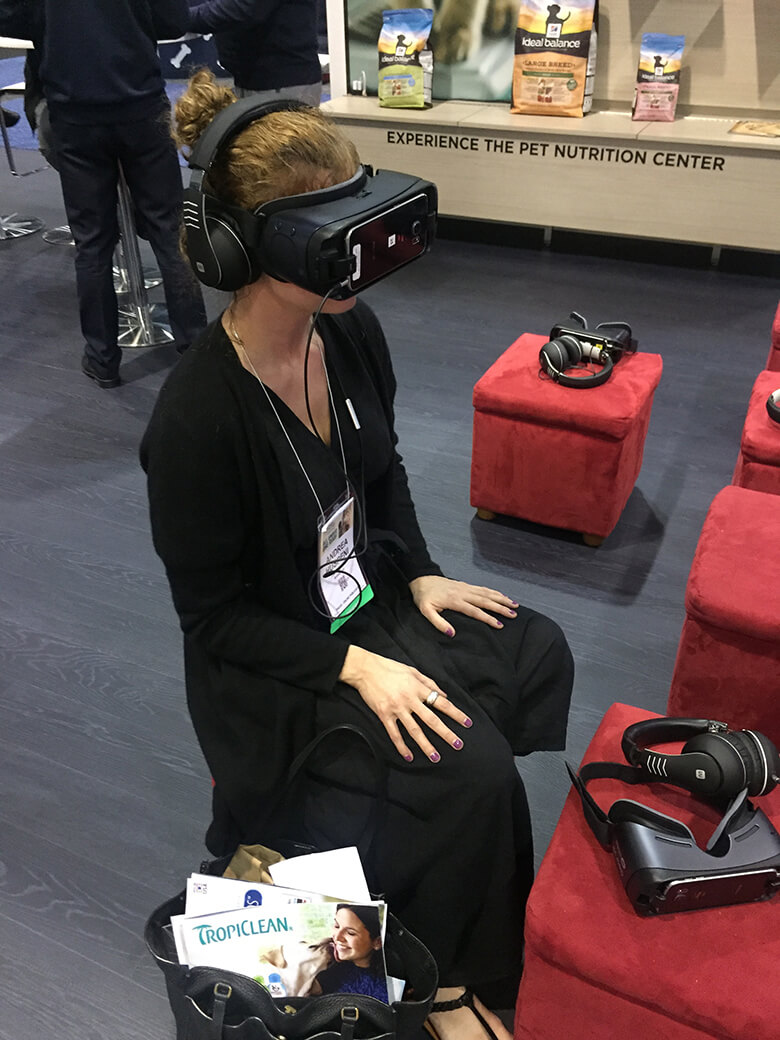 As for the virtual reality experience, this is what drew me to Hill's booth in the first place. I was curious how a pet company was integrating VR into its offering – and was it a PR stunt, or was it something really interesting.
Surprisingly it was the latter. The VR experience showcased what it was like for the beagles that test out the dog food for Hill's. To be completely transparent, I am skeptical of the big-name dog food companies. Reason? I think a lot of them lack transparency and engage in shady manufacturing processes (just read Truth About Pet Foods to get a better sense). So, when Hill's VR experience allowed someone to see the facility where these dogs live, I was curious. First, it is on 80 acres in Colorado – and honestly, from the experience it looked pretty nice. The company invests a lot of money in these pups, as they need to be healthy and happy and live just like a dog at home (to gather accurate data of a pet's natural routine). What this means is they get social interaction, are able to romp around in the sun, choose their sleeping buddies and play with toys. It was pretty impressive.
Related: What to Expect When You're Expecting a Puppy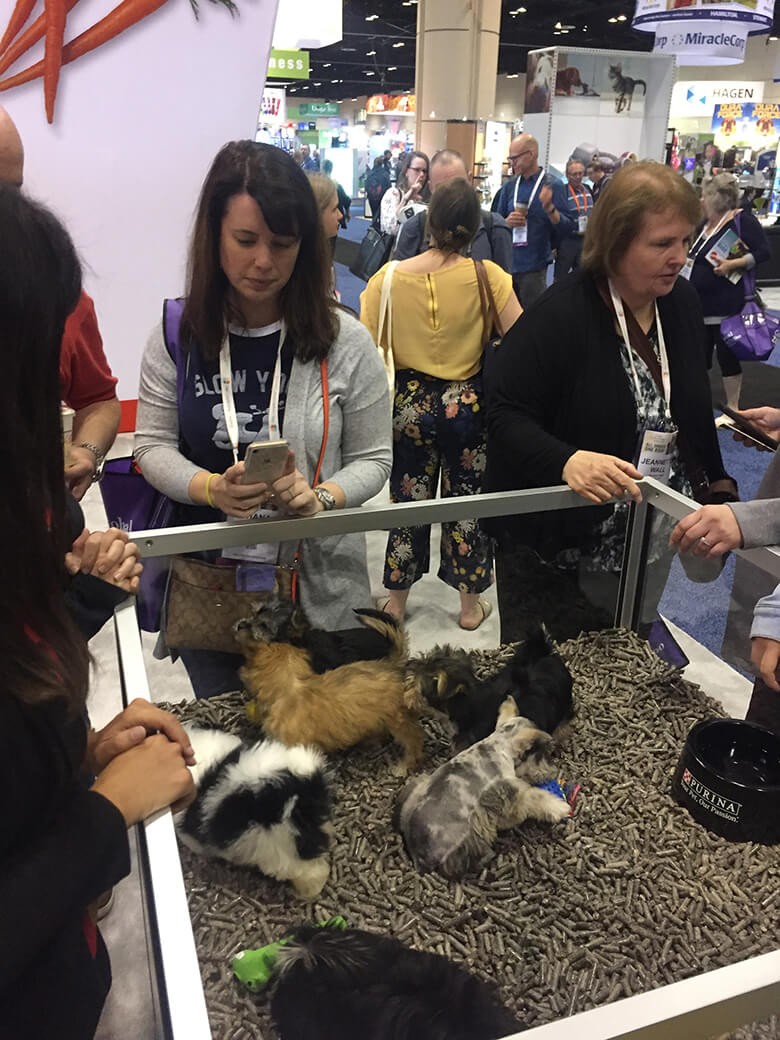 What I was not impressed with at all was Purina. The huge corporation used puppies as a ploy to get people to come over to their already massive (and impressive) booth. Why even use puppies? The puppies (8-10 weeks old, according to an employee) were put in these clear, square blocks at hand level. There were at least six per box. With tons of people passing through, the puppies were touched by hundreds of people every single day. Not only is this germ central for dogs who haven't received all their vaccinations but also super stressful. It was a cheap – and unnecessary — marketing gimmick.
CBD products were everywhere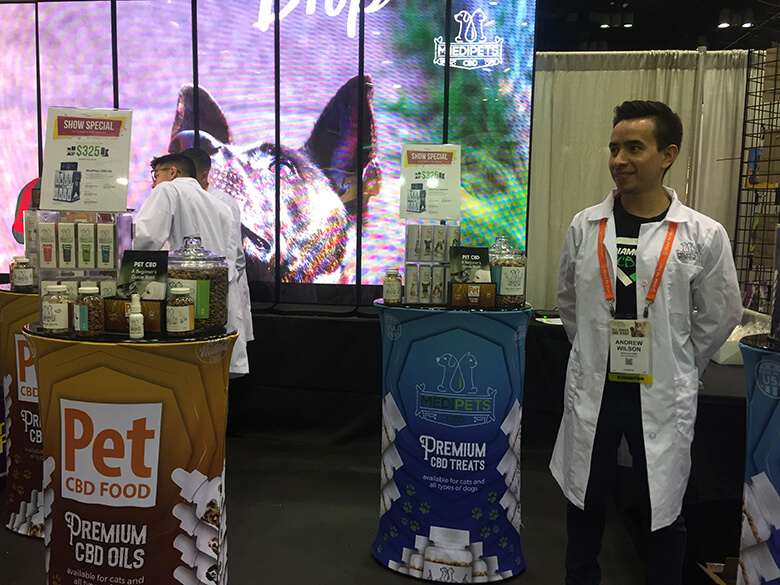 Just like humans are getting in on the cannabis market, so are our dogs. While CBD (cannabidiol) is derived from hemp and other cannibis plants, it does not get your dog's high. (This happens with psychoactive tetrahydrocannabinol, not CBD.) Rather, CBD is used to treat all sorts of ailments –from arthritis to anxiety and seizures. I haven't tried them out for myself, but from the stories at the expo, along with anecdotes on This Dog's Life, I am not opposed to it.
While it is making waves in the dog world, there are hurdles — one being the name CBD. According to CBD dog-treat company Treatibles, a London business is in the process of trademarking CBD, meaning all these other businesses will need to do a complete overhaul in their branding.
Related: This Gadget Thinks It Can Measure Your Dog's Emotions With the Wag of a Tail
Dog tech continues to grow
Just like we are trying to make ourselves, homes and cars "smart" by using technology to improve our lives, companies are doing the same thing in the dog world. It used to just GPS tracking on "smart collars." Then, companies added cameras, exercise and bark monitoring, diet features and more. Now, businesses are looking to make the entire dog experience high tech.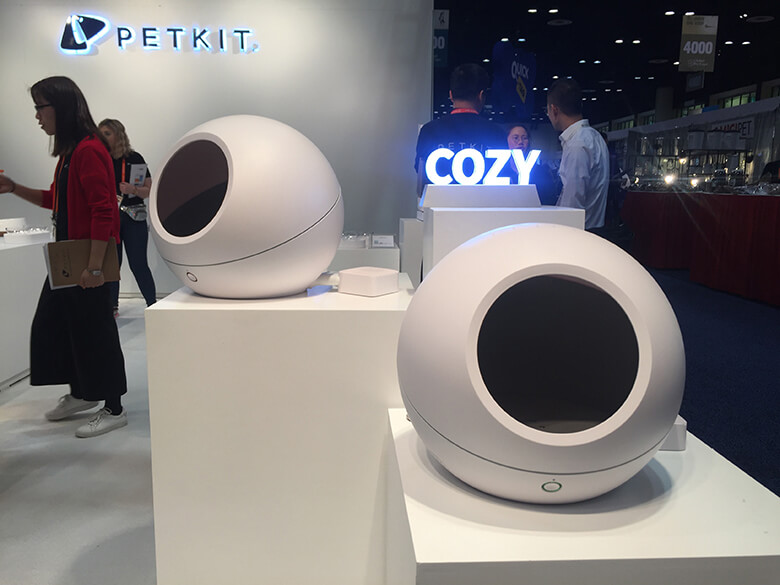 For instance, Pet Kit has tiny dog beds that can be cooled or heated depended on the temperature in the room. It also has infrared lights to track when your dog comes and goes. Or Petzi Treat Dispenser, which allows owners to give biscuits anywhere by way of an app. People can see their pup's reaction thanks to the camera on the dispenser, speak to their dog through a microphone or snap a pic.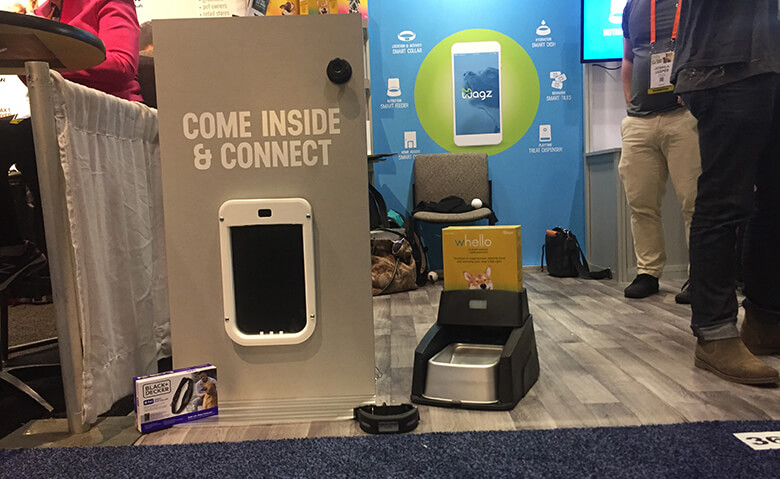 And then there is the company that wants to do it all. Wagz, which has been in stealth mode for a few years before releasing a smart collar, is getting ready to roll out its line of smart tech. The company's slogan is "a completely connected pet lifestyle" — and that is what they are planning on doing. Having raised about $6 million, Wagz created a unique ID tag to attach to either their collar or your own and can connect to its water bowls (measure intake, while also providing multi-vitamins), food dispenser (to feed your dog when you are running late), dog door (for bathroom breaks) and we are guessing much more. Besides the smart tech capabilities, Wagz is rolling out dog food, too, delivered in boxes, rather than bags, making it easier (and less costly) to ship.
After the show, it seems like in the coming years there will be a lot more transparency expected for brands, along with owners looking for new, innovative and healthy ways to make their dogs' life better.
Related: At Launch Event, Startup Nuzzle Shows Off Its Smart Collar – One That Has No Subscription Fee