Update: Orlando Bloom posted on Instagram that his dog has passed away.
Orlando Bloom is living every dog parent's nightmare: his pup is missing.  
The actor took to social media to plea for the return of Mighty, his Miniature Poodle he shares with Katy Perry, sharing how "powerless" he feels.
"I don't recall a time in my life where I've been so broken wide open. The rawness I have felt over these past few days and sleepless nights at the idea of my little man being lost and scared, with me unable to do anything to protect him, is a waking nightmare.

I feel powerless… maybe like so many others who are losing loved ones or unable to see our loved ones because of the times."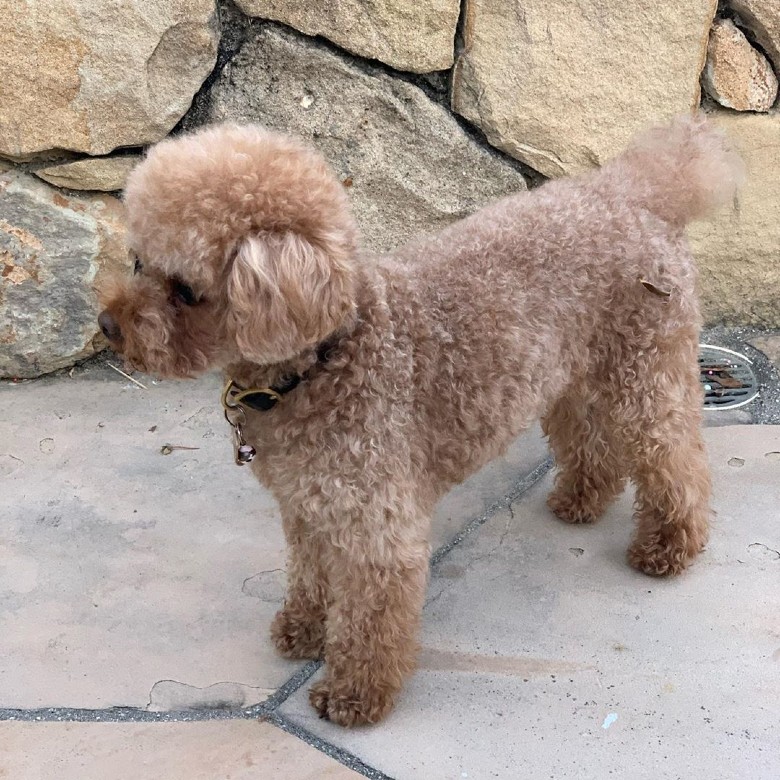 Related: What to Do If You See a Lost Dog
The Carnival Row first reported his dog missing from his Montecito, Calif. neighborhood last Wednesday in a post that has since been deleted:
"MIGHTY IS MISSING in Montecito California he is chipped and his collar has a number to call. If you take him to your local vet or shelter or police station he can be traced back to me for a reward please only send REAL INFO my heart is already broken so please don't add insult to injury."
It seems that Mighty entered Bloom's life in 2017, when he posted an Instagram photo with the caption "a mighty heart" (At the time, people thought it was Perry's dog, Nuggest, which looks very much like Mighty.)
In his most recent post, the actor reminded us to treasure every moment with our dogs and the people we care about.
"Cherish the moments we share with the ones we love because nothing is promised. Trust it and don't be afraid of love or the fear of losing love. Love is eternal. The bond between Mighty and I shows devotion in ways I have not truly understood until now. I am a devoted father & partner, still, there is a reason why they call them 'man's best friend'. I miss him. Send out a prayer for my little strong and Mighty boy to find his way back to his family."
Related: How Technology Helps This Pet Detective Find Lost Dogs
While we don't know the circumstances surrounding Mighty's disappearance, we, as dog parents, can do a number of things to increase our chances of being reunited if our dog goes missing. First, it's important to have your dog microchipped and all information is current. Also, this seems like a no-brainer for us dog obsessed, but have updated photos of your dog on hand (what he liked like as a cute puppy is not how he looked last week). Make sure your dog has a collar and tags with contact information. (You can also buy collars that engrave your details directly on it.) Always have your dog on a leash when outside of your house, and if you have a backyard, make sure it is secure, so your pup can't sneak out.
If your dog does go missing, act quickly. Notify local shelters, rescue organizations and veterinary clinics to be on the lookout for your dog, while providing them your contact details. Also, they are busy, so call back often. Hang up posters in your area with as much information as possible. Scour social media, looking for local missing pet groups and other community/neighborhood pages. And check Craigslist, Facebook Marketplace and other classified sites. The sad reality is people snatch up dogs all the time and flip them on sites and on newspaper wanted sections.
Praying for Mighty's safe return.
Related: Preparing for the Worst: How to Prevent Your Dog From Getting Lost and Never Found