This article has been updated with answers from the founder
You know those days: it is so cold outside you feel bad taking your dog out to do her business; your boss is making you stay late and have no one to take your best friend out for his potty break or your dog is picky with her weather and refuses to go to the bathroom when it is raining out (we have one of those). Well, now there is a high-tech solution for those moments.
At this year's Consumer Electronics Show (better known at CES) in Las Vegas, an Austin-based startup called Inubox debuted its automatic indoor toilet for our pups.
Related: Our Favorite Potty-Training Product Recommendations for Your Dog
It's not only super convenient but also super stylish. Made of heavy-duty materials, including metal and wood paneling, the system is pretty efficient.
Inubox recognizes when your pup steps on its platform and is also able to detect when she pees or poops. Once the job is done and your dog hops off the Inubox (to ensure she doesn't get trapped in it!), the station automatically begins the cleaning cycle, taking less than one minute for it to be complete. Both poop and pee go through "a solidifying process," where the waste is put into a closed off bag (to avoid a smelly house). When it is full, it is sealed up and ready to be tossed out. Plus, the Inubox gives your dog a treat every time she uses it to reinforce good behavior.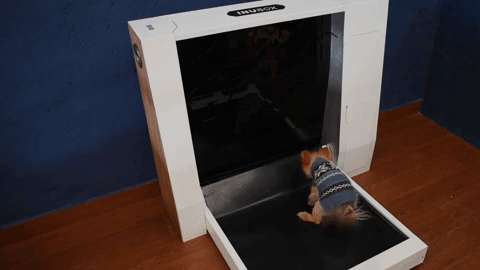 The idea came after founders Ivan Gutierrez and Ray Rincon realized that people are busy, and dogs need potty breaks more frequently then sometimes we can give them. (That said, we are all for dog walkers taking your dogs outside to use the bathroom when you are away.)
"As dog owners we realize we spend too many hours away from home, leaving our dogs alone, and that can make dogs sick by holding his pee for too long," says Gutierrez. "So, we have created the first fully automated dog toilet so they can use it on demand. Your dog needs a place to do his business while you are away at work, your house will stay clean and odorless and your dog will be happy."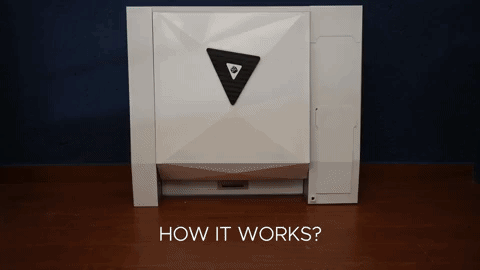 Related: The Beginner's Guide to Potty Training Your Dog
Right now, it is only suitable for small and medium-sized dogs, but fingers crossed the company will make a larger version for bigger pups.
Now, we aren't for not taking your dog outside for its bathroom breaks. They definitely need to get out of your house to be exercised, socialized and take in all the smells they so very much love. But if you are in a pinch or are working long hours and don't have the opportunity to run home, this may be the solution for you.
The convenience of the Inubox doesn't come cheap. The expected price is $1,200, with plans for it to hit the market in October of 2019. The company is launching a Kickstarter campaign in the coming weeks, so if you want to be one of the first to own an Inubox and get a deep discount for being an early adopter, you can sign up to its newsletter for a notification when the campaign will launch.
Related: 8 of the Most Adorable, Practical Dog Diaper Brands Out There