More than 140 dogs have been rescued from a mansion in a gated community in California.
The operation came after an anonymous tip was received by the police department of Orange, a city south of Los Angeles. When the police arrived at the home last week, along with rescue organization Orange County Animal Care, they discovered more than a hundred dogs living in deplorable conditions in the home.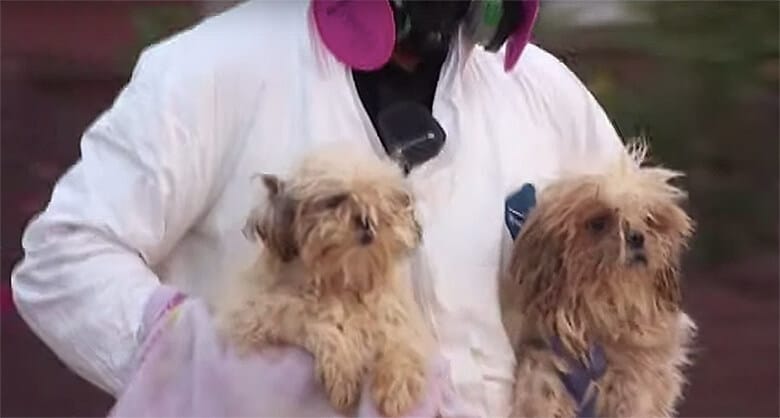 "I was shocked to learn that people were living inside the house, based on the conditions that I saw and could smell just from the front door opening," Sgt. Phil McMullin of the Orange police department told NBC Los Angeles.
Related: Everything You Need to Know About Introducing a Puppy Mill Dog Into Your Home
The department found dogs ranging from puppies to seniors. Most appeared to be smaller breeds, including Shih Tzus and Malteses, according to the outlet.
"There was very little furniture inside of that residence, and there was dog excrement, urine all over, inside, on the floor," he added.
While it is unknown the reason why there were so many dogs in the house, a woman named Lisa Paul say she bought a Shih Tzu from the homeowners Jo Reitkopp, the founder of Make California Great Again, and her husband, Ed Reitkopp, an attorney at Atkinson, Andelson, Loya, Ruud & Romo, in 2010.
"We went in and she brought all the dogs out in this little plastic container, and we played with all of them," Paul told ABC 7. "The house was clean, it smelled good. We thought we were buying it from a lady who breeds Shih Tzus."
The dog cost $1,500 and passed away at the age of 4 due to health problems.
The dogs are now under the care of Orange County Animal Care. Many dog lovers have expressed their interest in adopting one of those rescued. However, according to OCAC said it will take some time before they are up for adoption. The nonprofit did urge the public to adopt another animal at its shelter, as it is already over capacity with dogs and cats needing homes.
Related: Dogs From Reported Puppy Mill Have a Disease That Can Be Transmitted to Humans
Currently, the Reitkopps have been charged with misdemeanors relatd to animal cruelty, but because the case is ongoing, there is a possibly of additional charges, including felonies.