Christina Hunger knew she had a special dog in Stella, her Catahoula-Blue Heeler mix, having taught her how to "talk" at two months old using recordable speech buttons to vocalize her needs, like going outside, wanting to play, and expressing hunger or thirst. But it wasn't until she was watering plants that she knew just how extraordinary Sella is.
"She used 'water' to not talk about her water bowl being empty, but I was watering my plants and she was watching me," Hunger tells This Dog's Life. "She walked into another room, said 'water,' came back and stood by me watering my plants."
She continues, "It was then that I was like, 'Wait a second. She's not saying water because she's thirsty. Her bowl's full. She didn't take a drink of water. She's just commenting on what's happening and labeling something in her environment."
This was one of the many breakthrough moments that convinced Hunger to write her now New York Times' bestseller, How Stella Learned to Talk.
Now with nearly 800,000 followers on Instagram and media appearances on major outlets, Hunger is on a mission to help researchers learn more about interspecies communication as well as teach fellow dog parents to train their dogs how to talk.
Related: This Device Wants to Teach Your Dog to 'Talk' to You
"The results have been far beyond what I ever expected to happen," Hunger says. "I had no idea how much Stella would learn to say, how many other people would follow in our footsteps, and how big of a movement this would really start."
And while Stella is now a superstar in the dog world, her journey started from humble beginnings.
A Life-Changing Epiphany
After earning her Master of Arts in speech-language pathology from Northern Illinois University in 2017, Hunger worked as a speech therapist at a clinic, working with children who had different disabilities and disorders that impacted their ability to communicate.
She saw herself continuing on the path of being an individual clinician working with children. However, she also had an intense passion for augmentative communication (i.e. using communication devices to talk).
"I was doing everything in my power in that position at the time as an individual therapist to teach any other professional about it; to teach parents, to try to spread this knowledge," Hunger says. "It felt like I had all of this information to share with no outlet yet … I just knew I had all this information, this passion."
Life changed for Hunger when she brought home 8-week-old Stella. After a few days, Hunger had an epiphany, one that would allow her to take her curiosity, passion, and knowledge about AAC and explore its possibilities with Stella.
"You don't really forget those moments in life," Hunger says. "I just could not stop thinking about how we know that dogs understand words, and she was already showing so many language development milestones that happen before toddlers start saying words."
These language development milestones are essentially gestures used in nonverbal communication (e.g. when a child puts her arms up and says "up"). In Stella's case, she would paw at her dish when she wanted more water.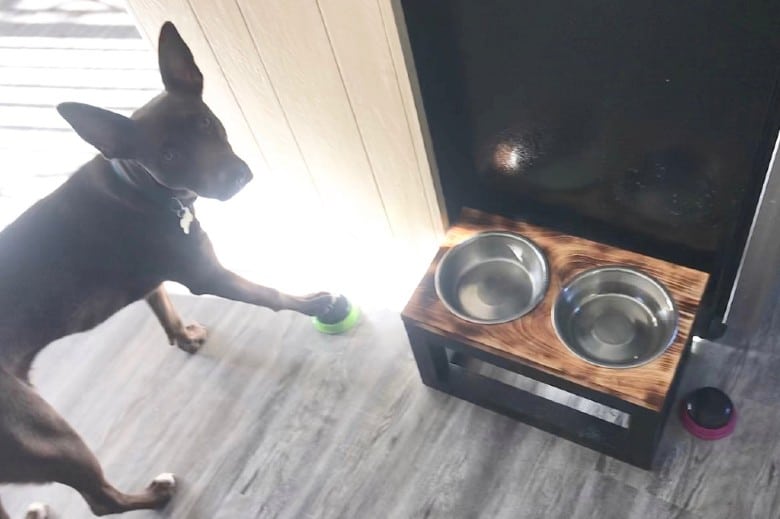 Hunger continues, "I just kept thinking, 'She can understand where she should have a way to say words. She should have this chance to learn.'"
Two days later, Hunger ordered small, programmable buttons, laid them out on the floor and immediately started teaching Stella how to "talk." Each button was labeled with a different basic word, command and phrase; upon pressing, Stella would hear Hunger's voice saying the word. After a month of modeling a few different words, Stella began using them in the right contexts, such as when she wanted to go for a walk, when she wanted a toy from her toy basket and when she was thirsty.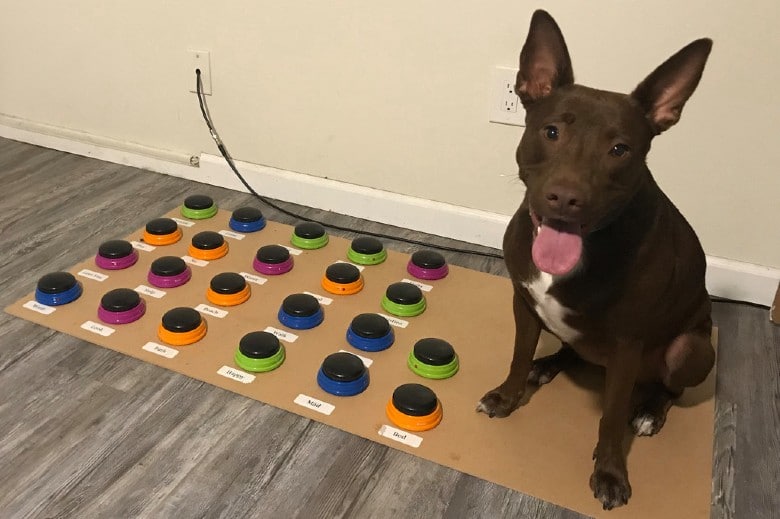 Related: Meet Bunny, the 'Talking' Dog Sensation
Stella is now using 48 different words — like "love you," "good," "happy" and "where" — and adding them together to make phrases and short, simple sentences up to five words long.
Stella's 'Talking' Milestones
When Hunger started teaching Stella how to talk, she only expected her to learn how to say a few different words to express her basic wants and needs, like "outside," "play," and "water." But besides the plant episode, there were other pivotal moments that made Hunger realize Stella was a very remarkable dog.
For instance, before she had a board set up, Hunger had buttons all around her apartment. One night, she took Stella to the beach and arrived back home when it was past her dinnertime. Stella pressed the "eat" button and walked across the room to press "no" to say "eat no" as an indication that she hadn't eaten dinner yet.
Another breakthrough occurred, which Hunger describes as "the biggest epiphany" was when Stella's "beach" button broke. Stella pressed the buttons "help," "water," and "outside" to communicate that she wanted to go to the beach. She had improvised to share her desire to go to the beach using different buttons.
After spending three years of Stella's remarkable journey, Hunger decided to write a book about her journey, aptly called How Stella Learned to Talk: The Groundbreaking Story of the World's First Talking Dog. It's part memoir and part advice on how dog parents can communicate with their own pup.
"With something so new and groundbreaking in society, it's important to share the entire 'how' and 'where' this idea came from, and the 'who,' 'why' and 'how' it makes sense," Hunger says. "I think that's been a really pleasant surprise for readers who pick up the book."
In addition to Stella and Hunger's tales, there are dozens of tips and strategies at the end of each chapter to help teach your own dog how to talk.
Hunger and Stella's Impact
Since Hunger's discovery, thousands of dog parents have followed suit to teach their dogs how to talk using buttons.
Related: Women Understand 'Dog Talk' Better Than Men
"It's pretty wild to see how many people have followed in our footsteps and are taking this idea and running with it with their dogs," Hunger says. "We've gotten so many emails, messages, letters, and videos of people teaching their dogs and their stories."
Hunger believes dogs of any age can learn how to communicate using buttons. While she started teaching Stella as a puppy, she says she's seen people have a lot of success with their older dogs, too.
Hunger has a lot of hopes of where this kind of communication can go that will become more evident as more is discovered.
"I really hope that it opens people's minds to how much dogs understand and how complex of thinkers they are," Hunger says. "It's so easy to make assumptions about another being's thoughts and potential and make assumptions about them in general when they're not able to use the same language to communicate with you."
She feels that having a shared language and showing what's possible can help break down barriers and help us humans "learn about our animals in a stronger way and see how amazing they are."
She considers it to be "a dream come true" as a speech therapist to have hundreds of thousands of people suddenly aware of communication devices and the different ways to communicate.
"It's so incredible to see that this concept is taking off in such a huge way that, suddenly, the general public is going to be so much more aware of different ways that we communicate and how to use communication devices to help when verbal speech isn't an option," she says.
What's Next for Hunger and Stella
Hunger and Stella have accomplished so much in such little time, and they show no sign of slowing down.
Hunger plans to continue educating the masses and creating materials to help them understand language and communication so they can learn how to teach their own dogs how to talk too. Stella will keep doing what she does best: pressing buttons, playing with sticks at the dog park, chasing birds along the beach and getting scratches from whoever she can.
"Humans and dogs are already so connected, but sharing a language brings that to a whole new level," Hunger says. "I've learned so much about Stella's individual personality through her words. I understand her more. She understands us more. That leads to more trust; just appreciation of the other being and an even greater connection. The more we understand someone, the more you can give to them."
Related: Going Back to the Office? This Device Could Help Train Your Dog While You're Away.