Getting ready for the Westminster show is no walk in the park.
Besides spending hundreds of hours earning Grand Championship status, a requisite for any pooch looking to enter the big event, there is also the never-ending primping.
For Westminster favorite Marilyn Merlot, a 2-year-old pup competing in the American cocker spaniel category, much of her chances of moving forward in Westminster and accruing points will depend on her appearance.
While some handlers, or owners, groom the dog themselves, Marilyn Merlot's owner, Patricia Elkins, only wanted the best. So, she sought out Mackensie Murphy.
Murphy, rated no. 2 in the country for grooming, specializes in cocker spaniels, along with bedlington terriers and poodles. Having been a groomer for the past 11 years, Murphy was raised in the world, as her mother is well-known in the grooming industry.
"My mother was big in the industry grooming in the dog-show world, so I had a silver platter of an education," Murphy says. "I have worked all over the country with different groom shops and with several different breeders and have been lucky to have a lot of really knowledgeable people just dump whatever they have into me."
Because of this she has not only rose in the rankings, but also made the GroomTeam USA, the Olympics for the grooming world, and won six prestigious scissoring awards. When she isn't competing in trade shows and competitions, you can find her at Downtown Doghouse, a salon and boutique in New York City's posh Chelsea neighborhood where Westminster dogs come to get groomed.
Related: Downtown Doghouse: Where Westminster Dogs Go to Get Groomed
For this year's show, three Westminster dogs are coming to Downtown Doghouse to see Murphy, says Downtown Doghouse owner Nancy Chinchar. "She is well known among people who LIVE dogs and dog shows and who have well-regarded reputations in the dog world."
Chinchar touches on an important point that hopefully quells some dog lovers' concerns: People in the show world love their dogs. These pups do not come from puppy-mill breeders, but rather responsible breeders. And while being a show dog involves work — posing, trotting, grooming — many of the pooches are everyday dogs when at home.
"When they are home, they are dogs — in the house, on the couch, in the yard and are enjoying themselves and having good time, says Murphy. "When they do dog shows, it is like their job and they know that."
"Once they go out to the dog shows, they love it. They love to travel, and they are around a bunch of dogs," she adds. "It is just part of their life. And it is fun, they love to show."
To get Marilyn ready for her big event, the cocker spaniel arrives the day prior to her showing at Westminster.
Related: Meet the 7 Breeds Who Will Be Making Their Debut at Westminster
Here is a breakdown of what it takes to make Marilyn a showstopper – and hopefully a blue-ribbon winner.
1. Bath time
Dogs that are in the show world should be bathed weekly, which can cost anywhere from $50 to $80 for each visit. When it is time to show, groomers use special products, including Coat Handler and make sure the dog gets thoroughly scrubbed to get out all the dirt from the week.
2. Dry time
For Marilyn Merlot, drying can take around an hour or more to make sure every part of her is dry. The last part groomers tend to focus on is the ears, as they hold the most moisture.
3. Primp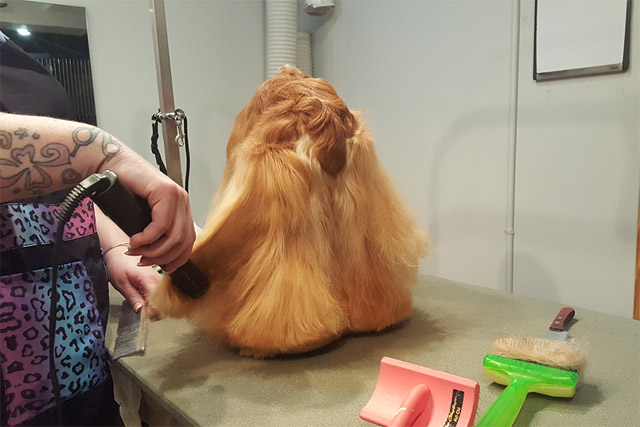 To begin shaping dogs, groomers will use electric razors, which start at $125. They use these tools on sensitive areas like the face, the under carriage and tail.
Related: This Is What a $2.7 Million Dog Luxury Spa Looks Like
Then, groomers will use other techniques similar to what we use, including flat ironing a dog. These hot tools do not get close to the dog's skin, with groomers often starting two inches away from skin so as not to harm the dog.
5. Scissor time
If you think these dogs are cut with any scissors, you are sorely mistaken. Each pair of high-end trimmers will set a groomer back about $400. The scissoring process takes longer than any person's hairdo, as a groomer has to not only focus on a head of hair, but also the body, paws, tail and everything in between. This is a big reason why pre-show grooming sessions can cost around $300.
6. Finishing touches
After everything is complete, the groomers will continue to primp the dog and put finishing products like liquid silk and hairspray to ensure the dog looks her absolute best.
7. Voila
Once down, the pup should be ready for her big day.
Related: The Beauty Secrets of the Westminster Dogs
Check out the below video of all the action, created by Yasser Souisri