A 10-year-old boy has created quite the following on his Twitter account "I've Pet That Dog," and it is literally exactly what you would think: someone petting dogs. But that hasn't stopped nearly 150,000 people from following it.
Gideon Kidd of Cedar Falls, Iowa started the Twitter account in April, two years after he began posting on his website.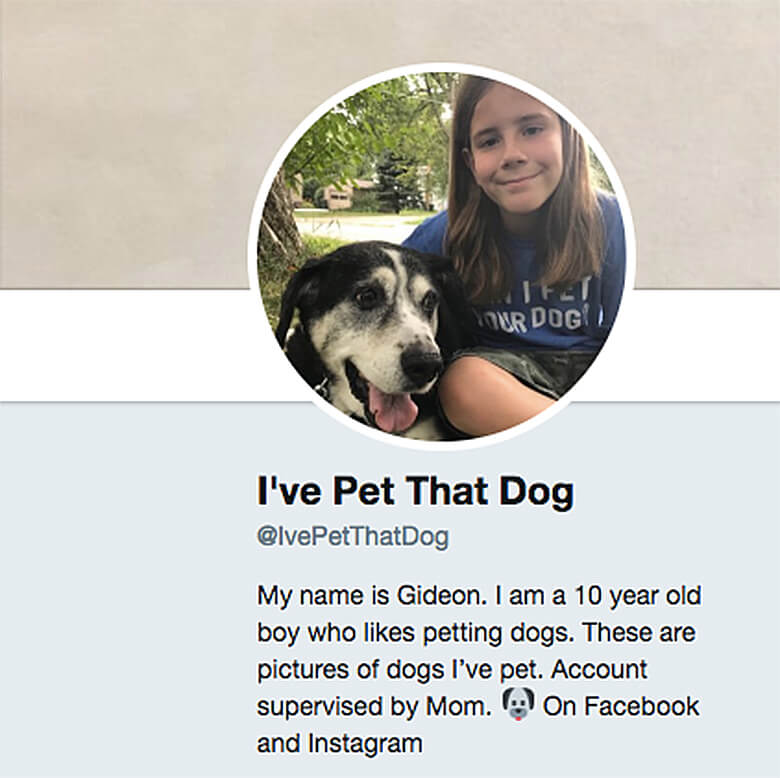 "I wanted to start a website and post the pictures of the dogs I pet online. I wanted to see how many dogs I could pet," he tells us. (We contacted his mother, Rachel, first, who supervises his accounts.) "I started Twitter to share my website, and so I could write up the dogs' stories."
I pet Roxy and Miya. Roxy, on the left, is 6 and Miya, on the right, is 10 months old. Roxy was adopted from the Humane Society. She was one of the dogs who had been there the longest. Her caregivers were told she would never like other dogs. Now she and Miya are best friends. pic.twitter.com/SaWd6D02cl

— I've Pet That Dog (@IvePetThatDog) November 18, 2018
To find these dogs (and their stories) Kidd says his mom drives him around in the car looking on the streets for potential interviewees. "When I see someone walking their dog, I stop," he says.
Related:Ultimate Guide: 24 Things You Need to Know When Introducing a New Dog to Your Kids
He then approaches them and asks the caregiver if he can pet their pup, while explaining what "I've Pet Your Dog" is all about.
I pet Boomer. He is a 4 month old Pembroke Welsh Corgi. He is a friendly and happy puppy. Boomer loves every toy he is given. He also likes to herd other dogs. He is so small, the other dogs just jump over him. At night, Boomer likes to sleep snuggled in with his caregivers. pic.twitter.com/0pelDY9YnM

— I've Pet That Dog (@IvePetThatDog) November 12, 2018
"Normally people look kind of confused, but then they seem to understand," he says. "Most people let me interview and pet their dog."
Related: A Dog Photo That Both Tugs at Your Heartstrings and Makes You Smile Goes Viral
From his experience, Kidd has gained some key insights.
"I have learned more about the different breeds of dogs," he says. "I have learned that all dogs have different personalities. I've also learned that a LOT of people love dogs!"
To date, he has pet around 660 dogs and tells us he isn't stopping anytime soon.
"I think all dogs are adorable and I want to pet them all," he says, adding his future plans are to "keep on petting dogs."
Here are a few more of our favorite stories:
I pet Gracie. She is a 10 year old Chorkie. Gracie is an active dog who loves long walks. She walks in a zig zag pattern, almost tripping the person walking her. Her caregiver says Gracie is not the brightest bulb in the box, but she doesn't know what she would do without her. pic.twitter.com/foxOGl85F3

— I've Pet That Dog (@IvePetThatDog) November 5, 2018
I pet Xena. She is a Flapper. Xena went through 2 shelters before she was adopted in Aug. from @CedarBendHS. When she first met her caregiver, she fell instantly in love. The vet says Xena is the calmest dog they have ever met. Xena has a big smile and loves to cuddle. pic.twitter.com/mY3Oelkdqa

— I've Pet That Dog (@IvePetThatDog) October 30, 2018
I pet Buster. He is an 11 year old Chihuahua who thinks he is bigger than he actually is. Buster is ferocious, but only when hiding behind his caregiver. He sleeps with his stuffed, pink bear. Buster was given it as a puppy because it had the scent of his litter mates on it. pic.twitter.com/c6akoZZrc1

— I've Pet That Dog (@IvePetThatDog) October 15, 2018
I pet Dawn. She is an older Blue Heeler mix, originally from Kentucky. She is terrified of thunderstorms. She even gets scared when she can smell the rain coming. Dawn loves people. She insists on getting her pets every day or her day is not complete. pic.twitter.com/VeL01EbFIR

— I've Pet That Dog (@IvePetThatDog) October 11, 2018