Being rescued from a shelter and placed in temporary care en route to a forever home is no easy feat.
With shelters overcrowded and rescue organizations running on a shoestring budget it can next to impossible to place some dogs in foster care, especially for those dogs deemed "shy," "anxious" or "high energy." But these are the exact types of dogs that would thrive outside of a shelter.
Foster Dogs NYC, a New York City-based nonprofit focused on helping animal rescuers find temporary homes for dogs, recently launched Operation Foster Bound, an initiative to provide these hard-to-place dogs additional resources to help get them out of shelters and into the homes of loving foster parents.
Thanks to the assistance of other businesses, the dogs will be equipped with food, toys, harness, leash and a collar. Foster Dogs NYC founder Sarah Brasky hopes by alleviating some of the costs associated with fostering, more people will be willing to bring one of these dogs temporary into their home. The program also provides training, a grooming session and photo shoot.
Related: Move Over Patti Stanger, New York City Has 'The Dog Matchmaker'
Brasky developed this program after noticing some of the dogs she features on the Foster Dogs NYC website were not getting much, if any, interest.
"While some dogs on the website are fostered and adopted quickly, some wait months, if not years, to find homes," she says. "These rescued dogs might be waiting in boarding kennels or no-kill shelters, where their social skills and obedience regress over time due to stress of their environment. "
Because of these tough circumstances, many shelter dogs looking for their forever home may need a bit more work, which is why Brasky has devoted so many resources to getting these dogs on the right track.
"These dogs may pull on the leash, lack basic obedience training, have a lack of confidence, display aggression around other dogs, or need a firm and confident leader," she says. "We hope that by addressing these issues, rather than glossing them over, we can combat these obstacles and improve each dog's behavior thus increasing his or her chance of finding a 'forever home.'"
Some of the dogs they are focusing their efforts on include a chow mix, pit bulls and shepherd mixes. They just need a person to take a chance on them.
Here are all the dogs, along with the descriptions provided by Foster Dogs NYC and its partners:
Name: Regina
Currently housed at: Sean Casey Animal Shelter
Contact: scarfosters@gmail.com and CC info@fosterdogsnyc.com.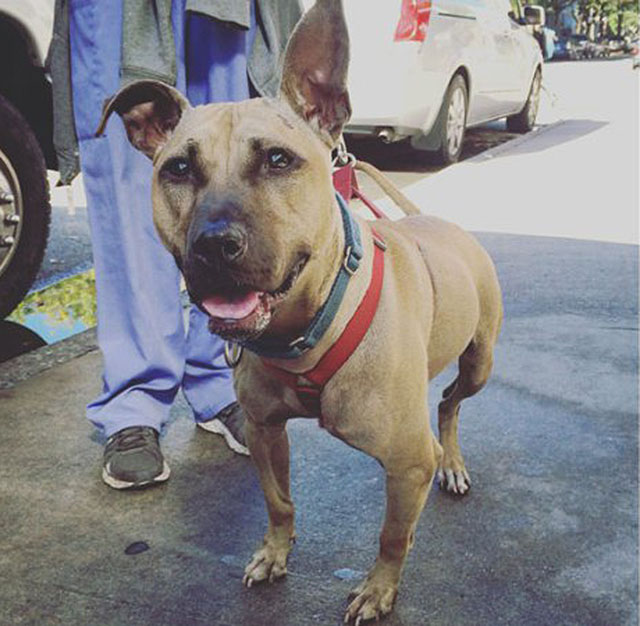 From the shelter: Regina is getting very stressed at the shelter, and we would love for her to find an adopter or foster. This incredible pint-sized pittie has been with us for more than two years — that is more than half of her life. When we first met Reggie, she was a very aloof girl, but she has come so far and is now a very social girl who will even give kisses.
Despite the hard work and dedication of our volunteers and staff, Regina's behaviors are starting to regress at the shelter. She is easily over-stimulated and is more interested in retreating to her kennel than meeting new people. It really breaks our hearts, as we know Regina is sweet as sugar and so bright!
Regina walks so well on a harness and knows all of her basic commands (though she pulls on the leash, so practice will make perfect). She has the most soulful eyes and will constantly look back at you when on her walks.
Because Regina has been at the shelter for a while and has forgotten how to be a regular pet, her foster parent needs to be patient until Regina is ready to be stroked and possibly cuddled. It'll be a slow process, but worth it in the end!
Regina is a shining star, yet she is constantly overlooked. Please help us change that! Help us find an adopter or foster for Regina! Please note that Regina would be best suited in a home without other animals or small children so that she can be the center of attention!
More information here
Name: Bear
Currently housed at: Sean Casey Animal Shelter
Contact: scarfosters@gmail.com and CC info@fosterdogsnyc.com.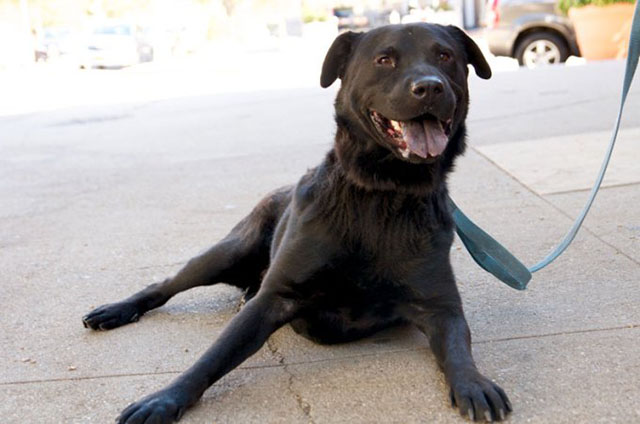 From the shelter: Meet Bear! Bear is a 2-year-old Chow Chow mix. This big boy was rescued from a kill shelter down South, which makes him a true Southern gentleman. Bear is a total mush and complete love bug. He loves to be petted and is good with everyone he meets. He may be fine with kids in general, but isn't ready to live with young kids yet.
Bear knows his basic commands, but he is very strong and would be best suited with an experienced dog owner. Bear also needs to be a home without other animals so that he can be treated like the king he is. This big dude is not good passing other dogs on the street, so his caretaker should be aware of that.
Bear knows how to sit on command but would love to learn other commands and will benefit from more training, including working on leash pulling. Good thing is that he's housetrained, and will love many walks with you!
More information here
Name: Rey
Currently housed at: Sean Casey Animal Shelter
Contact: scarfosters@gmail.com and CC info@fosterdogsnyc.com.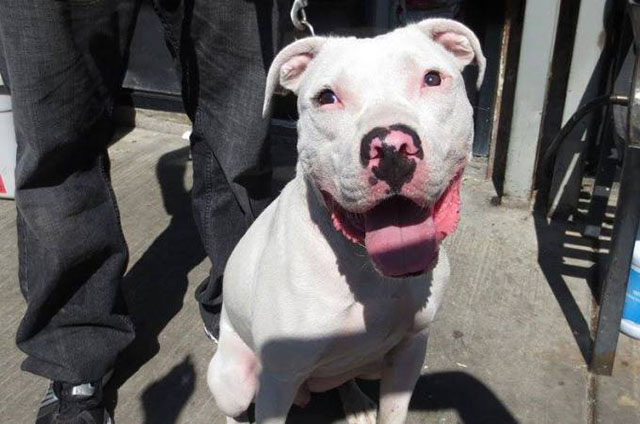 From the shelter: Rey is our handsome 1.5-year-old pit bull mix. Rey was dumped in Sunset Park and brought to our shelter when he was just four months old. We don't know how this cutie was passed up for so long.
Rey still very much has a puppy personality, and he loves to play with everything he can find. This includes playing with you. He will bark and be mouthy when he wants your attention, which can be scary if you don't know Rey!
Rey is very well behaved with strong pack leaders and will need an experienced owner to help train and provide Rey with the guidance he needs. Rey learned leash manners, and he is working on basic training. He is so eager to learn and please. Rey is an active boy who would makiea great partner for anyone with an active lifestyle. Looking for a jogging or hiking partner? Rey is your boy!
Related: An Inside Look at What It's Like to Run a Rescue
More information here
Name: Bernie
Currently housed at: Twenty Paws Rescue
Contact: twentypawsrescue@gmail.com and CC info@fosterdogsnyc.com.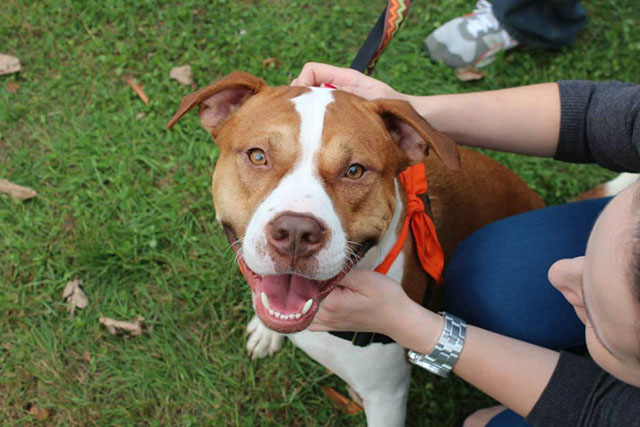 From the shelter: Bernie, a red-nose pit bull puppy born on July 15th, 2012 (2 years old), was dumped in a shelter when his family could not care for him anymore. The resident dogs kept attacking Bernie, and the home could not handle it anymore. Bernie weighs 54 pounds and is in good health — vaccinated and neutered. He is incredibly sweet and a total doll. He loves to play fetch and tug of war with his chew and squeeze toys. A perfect gentleman on leash, Bernie enjoys long walks around the neighborhood. He is amazing with children! Full of life and eager to please, Bernie has a wonderful disposition and student.
Due to what this poor boy has endured, Bernie should go to a home with no other dogs. Please consider giving him a chance — he will loyally and unconditionally love you forever!
More information here
Name: Ariel
Currently housed at: Twenty Paws Animal Rescue
Contact: twentypawsrescue@gmail.com and CC info@fosterdogsnyc.com.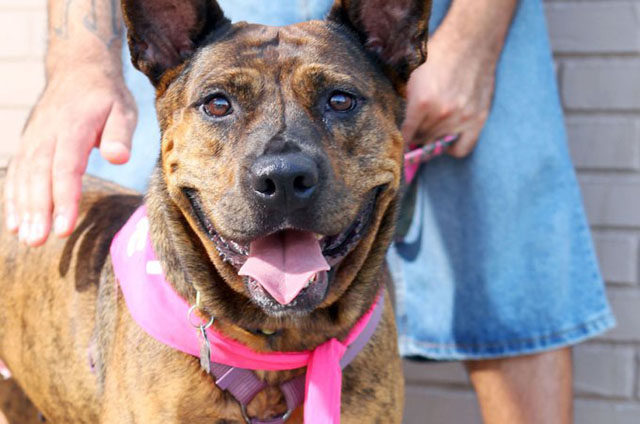 From the shelter: This precious 6-year-old, 60-pound brindle shepherd/pit mix has a world of love to give! Ariel absolutely LOVES humans and children.
With a heart of gold, Ariel will even let you play with her and her food dish while she is eating and loves to dress up in any costume or outfit! What a gem! Who could ever resist those soulful eyes, perky smile and expressive ears? She looks forward to the day she can play, snuggle and spoil her human! At this time, Ariel lives in a boarding facility. This is no life for any dog. Unfortunately, by no fault of her own, the right family has yet to come along for her.
Before she was dumped in a high-kill shelter, the only life she knew was as a breeding machine and mommy. Once her "family" no longer had any use for her, they dumped her in a rural Tennessee shelter. Not only was she abandoned and on death row, but she was stuck in a location where it is illegal to adopt a dog with any pit bull in them. Inevitably, Ariel was scheduled for death. Needless to say, Ariel did not die that day. She began a new life as a Twenty Paws dog! At a convenient 60 pounds, this doll yearns to finally know what its like to be someone's baby. She cared for so many in the past, and they were all stolen from her. No one cared for her at all.
She lavished at her newly found freedom and second chance. Eternally grateful to the vet staff for their determination to improve her health, Ariel showers them with kisses and wiggles. Truly, now it is her turn to experience love and affection.
Every night, Ariel dreams that someone will be her hero. Every night, she dreams that she can become part of a family. Could it be your family? Ariel deserves more than a life behind bars and a cold metal bed. Please consider fostering or adopting this survivor.
More information here
Name: Onyx (interested foster application submitted)
Currently housed at: Heavenly Angels Animal Rescue
Contact: gahoctus@gmail.com and CC info@fosterdogsnyc.com.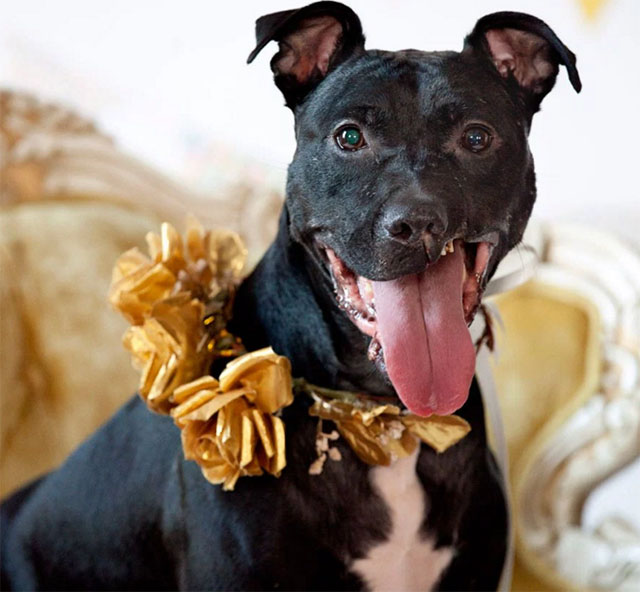 From the shelter: Where are all the fans of the underdog? Onyx needs you! This cute little pittie has been looking for a home for five long years. Can you imagine?
Onyx has not had an easy life. Someone tied her to a pole in East New York and left her there to fend for herself. She was rescued but has been sitting in a crate waiting for someone special ever since. On top of it all, she was the victim of a dog fight and she lost a small part of her face! Does this stop her? No! She continues to be a great dog.
She isn't a fan of other dogs, but do you blame her with her history? She is still energetic, playful, and most importantly affectionate with people. Walking Onyx is a treat. She loves to run and prance. She will look back at you with these gleeful eyes and take off again. She also listens well. She is very attentive and great at focusing, especially if you have a tennis ball in hand.
So please, all the fans of the underdog, think about giving Onyx a place where she can finally find happiness and call her home.
Related: First-Ever 'Pack Walk' Looks to Help More Foster Dogs Find Forever Homes
More information here
Name: Rikki (interested foster application submitted)
Currently housed at: Mr. Bones & Co.
Contact: Marisa@mrbonesandco.org and CC info@fosterdogsnyc.com.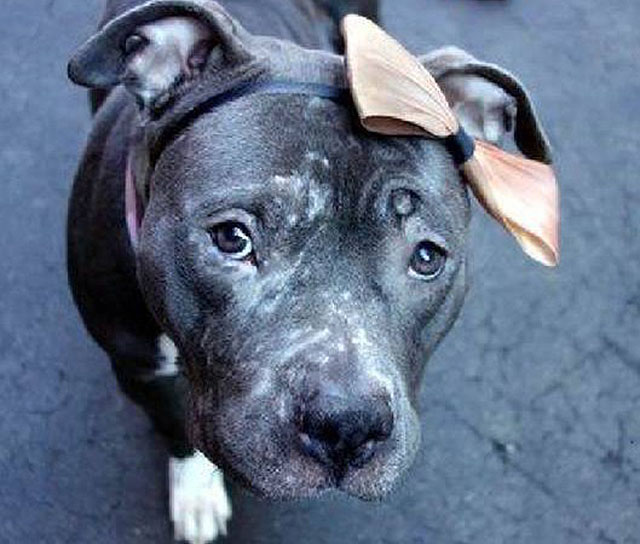 From the shelter: Looking for a foster home or adopter. 4-5 years old, 55 pound female pit bull.  Good with cats.
Rikki is an adult female pit bull who is up to date on vaccinations, microchipped, spayed, leash trained and house- and crate-trained.
While Rikki does completely fine seeing and passing other dogs on walks and through the fence during playtime at her boarding facility, she would be most comfortable as the only pet in the home where she can soak up all your love and give you her undivided attention.
More information here
If you can't foster a dog but would love to help this program out, head over to Foster Dog NYC's crowdfunding campaign.
Related: With Only Days to Live, Family Takes in Shelter Dog So He Can Experience Love