Besides its amazing dog boutique and grooming services, Healthy Spot is known for its various fitness get-togethers — everything from Doggie Yoga, Howls & Hikes, Wags & Walks, running groups and more. And now they are looking to kick these groups up a notch.
In accordance with the new year, Healthy Spot has rebranded all its fitness-centered events under the Mind, Body & Bowl Event Series.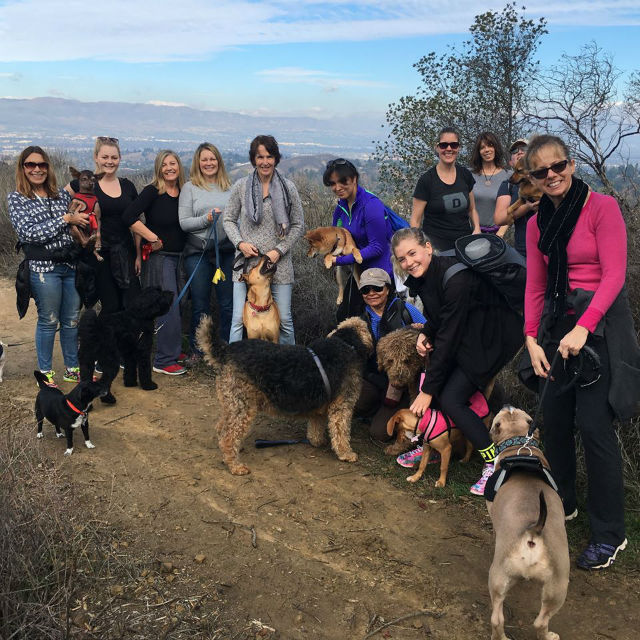 Related: They're at It Again: Healthy Spot Santa Monica Reopens with a Bang
To kick off the launch, the Healthy Spot team is hosting a day full of fun, family, health and wellness on Sunday, Jan. 31 from 10 am to 1 pm at Third Street Promenade in Santa Monica. Complete with local health and fitness vendors for both people and pups, the event will also feature fun activities for you and your dog to enjoy together.
"The idea for this event stemmed from the very heart of what Healthy Spot is about," the company's marketing and event manager Nick Batcheller explains. "Our mission is to inspire healthy pet lifestyles by creating authentic experiences and fostering communities, one pet at time. We want to offer our clients a series of events that encompass our core values and mission statement."
We've been lucky enough to attend a few of Healthy Spot's fitness-oriented events, and they're always packed full of health-centered folks like us. In fact, The Mind, Body & Bowl Event Series launch party already boasts more than 300 RSVPs on Eventbrite and Facebook to date.
Related: Everything You Missed at Healthy Spot Topanga's Grand Opening 'Pawty'
The special soiree is sure to be a hit thanks to fun activities like Doga (aka doggie yoga!), pup and human massages, a photo booth, pet adoptions, vendor demos, healthy food and beverages for all, expo booths and a whole lot more. The first 100 guests to arrive will even receive super-cute Mind, Body & Bowl water bottles and T-shirts.
After hearing about the event, we couldn't wait to learn more about the early morning doggie yoga session and soothing pet massages.
Instructed by Aimee Hyatt of Inhale Exhale Paws, doggie yoga is a great way for humans to perform a fun and calming exercise with their pets. "When you bring your canine onto the mat, you will see that they are natural meditators," Batcheller tells us. "Dogs truly enjoy sharing this special time of bonding and relaxation, letting go of the stress and noise around them every day." Great for pups with a history of excitability and anxiousness, Doga is a great way to keep them grounded and calm.  The best part? "Doga is traditionally held in a daycare room where classes are limited to 12 people and dogs, but because our Mind, Body & Bowl Launch Party is outside, we will have capacity for many more," says Batcheller.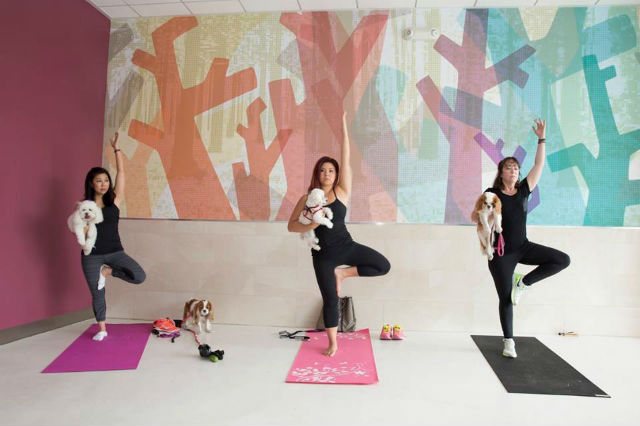 While enjoying a good 'ol rubdown is a favorite pastime for most humans, did you know pets love 'em just as much as we do? Thanks to Dancing Dog Massage, dogs can try out this extra-special (and so relaxing!) treat at the Mind, Body & Bowl launch. Along with improving blood circulation, reducing stress, relaxing the body, increasing flexibility, and releasing endorphins, pet massages are also incredible for elderly dogs, as they reduce arthritis pain and provide comfort.
When searching for event partners, Healthy Spot wanted to make sure every brand they chose had core values that aligned with their own. "We see ourselves as a challenger brand within the pet space as we are offering our clients a range of premium food, products, and services not previously seen before," Batcheller explains. With that said, they've partnered with some of the leading names in the industry including Soul Cycle, Juice on the Loose, Equinox, Contender Wellness Massages, Sandbox CrossFit, and Farm Fresh to You. Healthy Spot's most popular food vendors will also be on-hand offering up samples, helpful information, and extra details on their products.
Ready to get fit-spired with your furry friend? We thought so! RSVP via Eventbrite or on Healthy Spot's Facebook page. The exact location of the event is 1351 3rd Street Promenade, Santa Monica, CA 90401.
Related: Healthy Spot: Where LA Dog Owners Go for Wholesome Food and Top-Notch Services
All images Facebook