The first pit bull to make it on a police squad in New York is being recognized for her work.
Named Kiah, the pit bull was found as a stray in San Antonio with a head injury. It is believed she was abused by her previous owner and the wound on her head was caused by being hit by a hammer.
Taken in by Kirby Animal Care Services, staff soon discovered how friendly she was – and how much energy she had. Realizing these two traits could be beneficial to a police force the organization contacted Brad Croft, the founder of Universal K9, a nonprofit that rescues dogs from death row and trains them for law enforcement work. Croft went to visit the pit bull to see if she had what it took.
"Kiah was super energetic," Croft tells This Dog's Life. "She was jumping up and down in her kennel five feet in the air wanting to get out."
He decided to take a chance on her. Initially, Kiah was challenging to train, as she wasn't sure what she was supposed to do. "Kiah was difficult at first because she didn't understand what I was trying to teach her," says Croft.  "When she got frustrated she would sit facing the other direction."
But with time, she got the hang of things.
Related: Pit Bull to Join New York Police Force's K9 Unit
"Once we took Kiah in and started to focus her energy she became calmer and more focused," Croft says. "Her eagerness to please was something extremely special."
After just one month, Kiah was a stand out. "The attributes in her are very hard to find. I saw her endless determination and nerves of steal! Nothing bothered her and nothing would stop her drive to complete a task," he says. "I would put her in the top three best dogs I have ever had the opportunity to work with."
The police department in Poughkeepsie, a city located 85 miles north of New York City, was looking for a police dog to assist them. Lucky for them, Kiah fit the bill.
Now with the force for over a year, Kiah is as a narcotics detection and missing persons tracking dog. Teamed up with Officer Justin Bruzgul, Kiah serves as his partner, best friend and is also part of his family.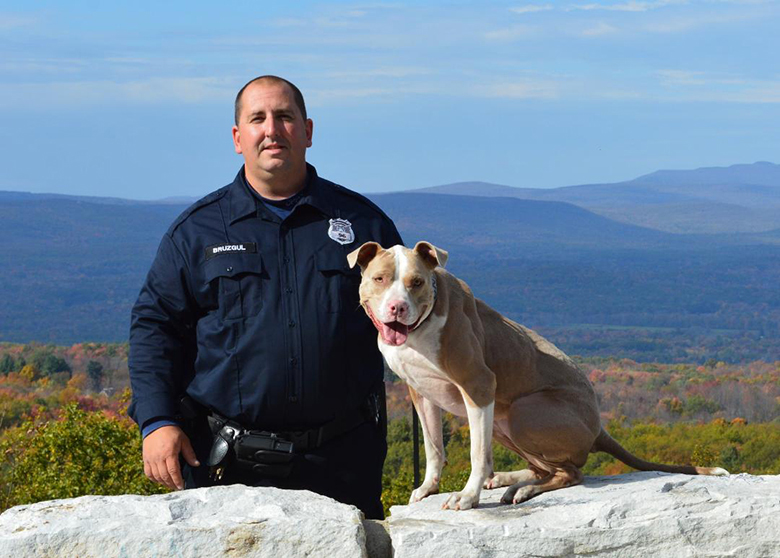 In addition to her work on the force, Kiah and Officer Bruzgul go to schools and conferences talking to people about the importance of animal adoption.
Because of how much she overcame and all she has accomplished, Kiah was today awarded the ASPCA Public Service Award in New York City.
Related: 10 Owners Reveal Why They Absolutely Adore Their Pit Bull
"Kiah's role as the first pit bull police dog in the state of New York is helping shatter inaccurate and destructive stereotypes about her breed," Matt Bershadker, the president and CEO of the ASPCA, told us. "In giving her this award, we're also honoring Kiah's remarkable resilience in overcoming past suffering to serve Poughkeepsie residents."
As one of only nine pit bull police dogs in the nation, the award also shows that given the chance, pit bulls can be amazing dogs.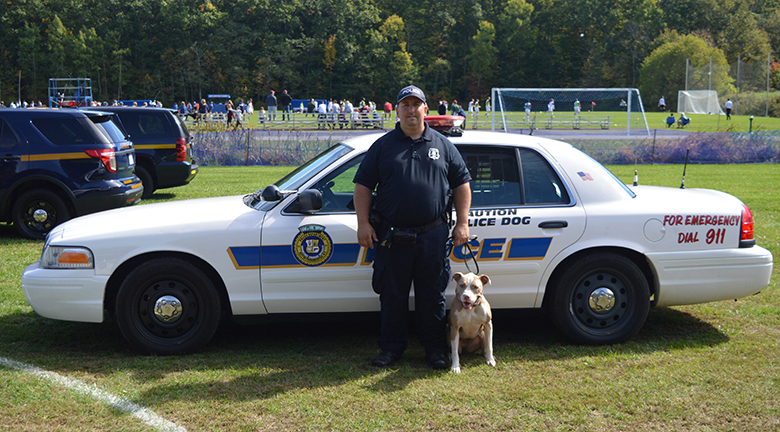 Related: City Does Away With Pit Bull Ban After Dog Saves Domestic Violence Victim
"She's a great illustration of why we should judge each dog as an individual, not make broad assumptions based on breed or appearance," the ASPCA told us. "Kiah is a shining example of how pit bulls can perform the same law enforcement work traditionally reserved for other breeds, and demonstrates that any dog – regardless of breed, age, or background — can have amazing underlying potential."