In a city filled with over-the-top characters and out of the ordinary pet owners, urban pet destination Pussy & Pooch finds a balance between luxe lifestyles and responsible pet parenting. This one-stop pet shop is all about engaging clients in a unique experience, and each location is tailored to its city and the local demographic.
This Dog's Life had an opportunity to tour Pussy & Pooch's two-story flagship location in the West Coast hub of all things opulent: Beverly Hills. What we found was a chic yet inclusive destination for passionate parents of canines and felines alike.
The ground floor offers their signature Pawbar, an in-store cafe that co-founder Rob Gaudio states is the chain's claim to fame.
Related: From Doggie Daycare to Animal Healing and Telepathy, This Place Has Something for Everyone
Dogs (okay the owners) can order items off menu — raw burgers, nuggets and stews , are a few favorites among the four-legged customers. The meal is then prepared in the restaurant-grade kitchen and patrons can either enjoy it in the café or take it to go. It also has delicious treats including Yoghund frozen yogurt, Bowser Beer and a variety of bakery goodies.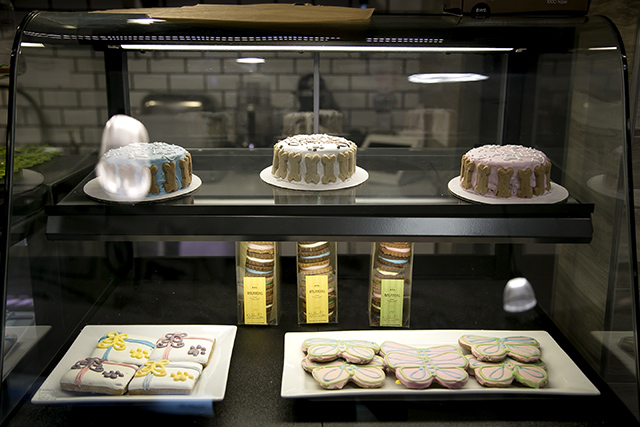 Pussy & Pooch also uses the Pawbar as a nutritional and educational tool to teach people how they can feed their pup at home. During this in-store consulting, the Pussy & Pooch team makes diet recommendations based off dietary needs, age, breed, skin type and what proteins and brands are best for each animal. "There are so many options, so we try to break down some of the barriers to make it easier for clients to understand this is how the food looks, this is how it works, this is how you do it at home," say Gaudio.
Next to the Pawbar is the Meat Market, a grocery-style area where nutritional education continues with a wide variety of high-quality treats and food. "Some clients want to try to be vegetarian or vegan and we respect that decision as a human, but we strongly encourage to not do that for dogs and cats because biologically they need meat to not just thrive, but to survive," he says.
Related: Come to the Place Where Your Dog Can Do This
As far as brands offered in the Meat Market, they feature store favorites such as Honest Kitchen, Primal and Nature's Variety, along with a variety of treats including Fresh Is Best. When selecting brands to carry, they look for U.S.-based companies and pay attention to where they're made, as well as where they're sourced. For additional health needs, the Beverly Hills location also offers a selection of Chinese herbs, available by prescription through their veterinarian who visits the store once a week.
Also on the ground level is the Bathhouse, where parents and patrons can watch the dogs having their coats cut and styled. There is also a huge grooming room, bathing and drying areas and a full shower facility for the staff.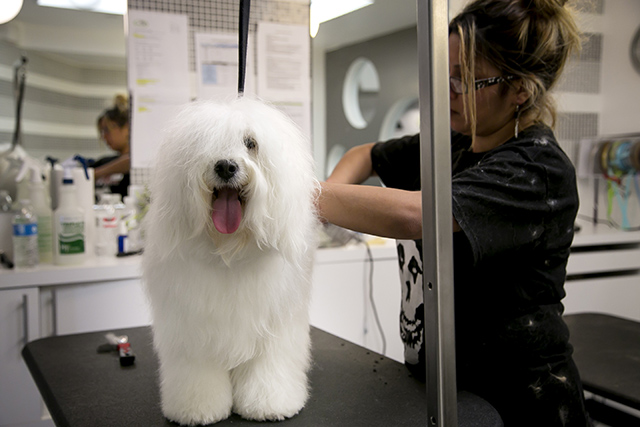 What sets their grooming apart from the standard isn't just the staff's love of animals, but the quality of work. Their grooming manager, Danielle Tortorello, was a finalist on Animal Planet's Groomer Has It, and her schedule is booked for a year. She takes what she has learned and passes it down to her staff through education classes.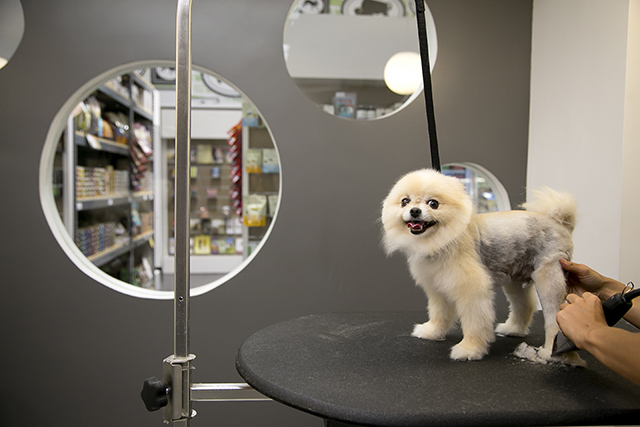 In addition to standard grooming, Pussy & Pooch strives to provide exclusive spa services. Soon they will be introducing a micro-bubble technology, which helps clean dogs down to their pores — a process that is very hard to do with hands but works wonders for dogs that have skin issues or a hard time getting clean.
Related: Downtown Doghouse: Where Westminster Dogs Go to Get Groomed
To complete the look after a quality grooming, the top level offers an expansive boutique. The overall feel is far removed from the average pet store set up, with store visuals and themed merchandising unique to Pussy & Pooch. From this ambience to custom pet furniture to match any human décor and stylish harnesses the boutique shows that chic and practical can absolutely go hand in hand.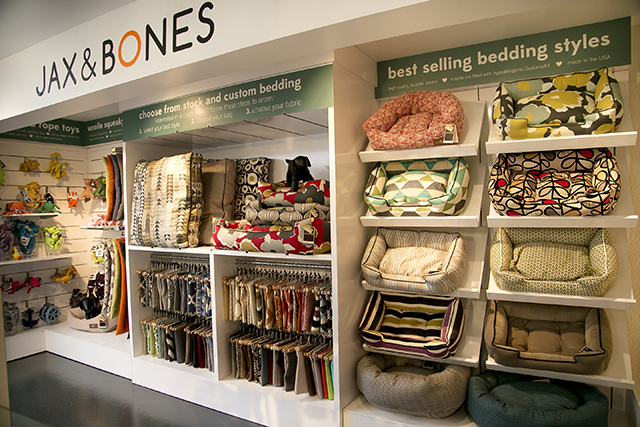 For those pets and parents who still want a more luxurious shopping experience, the one-of-a-kind Champagne Room indulges clients in an upscale assortment of pet wares. Think: locally sourced and handmade custom carriers, bling collars, dresses and more, along with personal shopping and styling services. There is also a mirrored runway and fitting room area, which allows pets to try on looks and strut their stuff without their parents having to get down on the floor.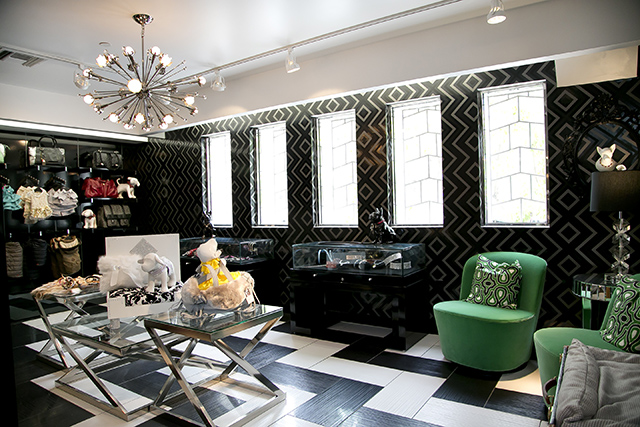 "A lot of the attention that clients get here is one on one." says Gaudio. "We don't have a lot of foot traffic, it's more about catering to the clients as far as what they need and spending quality time with them to make them feel comfortable."
Related: The Beauty Secrets of the Westminster Dogs
For those pet parents who would rather send their darlings to doggie pre-school than doggie daycare, Pussy & Pooch's Social Club offers just that. This elevated form of day care is supervised by professional trainers and offers a higher engagement level where dogs learn throughout the day. "It's all about trying to get them to feel comfortable within the whole pack and kind of bring them out of their shell," Gaudio explains. The staff works with members to get them involved in physical exercise, mental engagement and build friendships. Regular Social Club members are also offered a casual birthday party on their special day, which includes a cake to share with the other pups and photos to remember the day.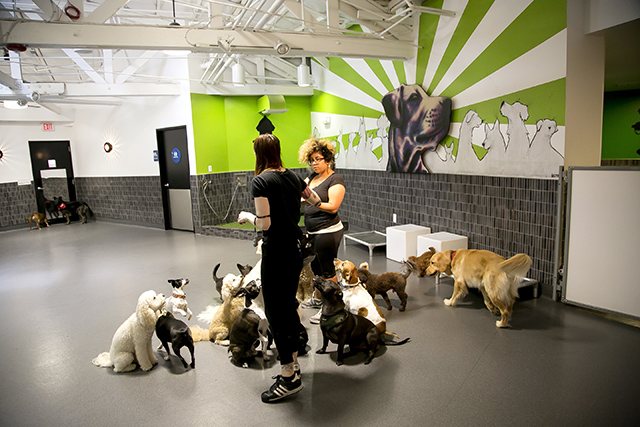 While the Social Club is really only meant for dogs who are able to interact with other dogs, the training staff is more than happy to work with individual dogs on their social skills or recommend other facilities for those dogs who fare better in a solo environment.
In addition to social interaction, Pussy & Pooch offers a wide range of training services including spaces for one-on-one situational training and testing — recalling and distractions, for example — and a VIP "chill zone" for client private time. To shield the pups from distractions during training, the area is outfitted with one-way glass to allow parents to check in without dogs seeing. They can also watch the temperament tests, which are very thorough, to see how their dogs act when they're not present.
This special space also offers events that can host up to 300 people. Their most popular events are birthday parties but have also done book launches, fundraisers and adoptions. Their events also offer an educational aspect, like Mutt Mingle, which started as a client appreciation event for clients to come socialize with their pets and meet other like-minded pet owners, while practicing socialization in a busy setting with food and drink. This helps teach dogs how to be in that type of setting, so when owners entertain at home their pets are more comfortable and polite. They even host monthly mixers to mix up the humdrum of networking events where professionals can bring their dogs and feel more relaxed and engaged.
Can't make it to the flagship? Don't worry, they can transfer items to other locations, too. Pussy & Pooch has stores in Long Beach, Belmont Shore and downtown and is considering expanding outside the Los Angeles area.
Pussy & Pooch has received many awards and accolades in their industry, but Gaudio feels their biggest reward is "when you know you've made that big difference in a person's life. That goes from training a dog with huge behavioral issues to being a normal dog and opening their eyes to healthier foods that change their lifestyle."
To check out the flagship location, the address is 9388 S. Santa Monica Blvd, 90210 and the hours are Monday through Saturday 9 am to 7 pm. Sunday 10 am to 6 pm.
Images via Annie Bang
Related: Kiehl's in Brooklyn Pampers Frenchies and Their Owners