A video has gone viral showing how much of a lifesaver dogs can be.
Posted by Spain's Madrid police department on Twitter, the clip shows a dog, named Poncho, demonstrating his CPR skills. In it, you can see the dog (who appears to be a hound type), enthusiastically pouncing on the volunteer's chest, trying to revive him. He even puts his head on the man's neck, listening to see if the officer is breathing. That takes skills!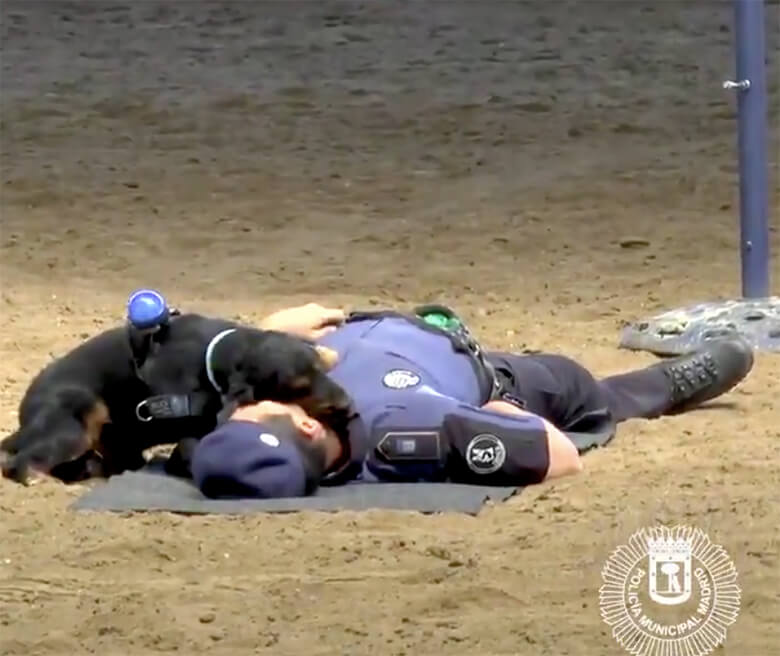 Related: 2 Dogs Believed to Have Died During Hawaii's Volcano Eruption Are Reunited With Their Owner
After the handler is "revived," the pup happily celebrates his success.
The Twitter post reads (translated into English):
"Heroic" performance of our # Compañerosde4Patas Poncho, who did not hesitate for a moment to "save the life" of the agent, practicing the # CPR in a masterful way. The dog is the only being in the world that will love you more than he loves himself- John Billings.
To date, it has been been viewed 2.75 million times on Twitter, viewed more than 1 million times on Facebook and shared by many media outlets.
No one knows exactly the circumstances on the video (there are laughs in the background), but while cute, some experts don't think a dog could actually perform CPR. 
Judge for yourself:
"Heroica" actuación de nuestro #Compañerosde4Patas Poncho, que no dudó ni un instante en "salvar la vida" del agente, practicando la #RCP de una manera magistral.
El perro es el único ser en el mundo que te amará más de lo que se ama a sí mismo- John Billings#Adopta pic.twitter.com/yeoEwPkbRc

— Policía de Madrid (@policiademadrid) June 22, 2018
Related: After Being Saved From Death Row, a Dog's 'Freedom Ride' Goes Viral