Los Angeles is a proud dog-friendly city. From doggie daycares to pet-friendly events, there's always something for pups and parents to enjoy together. But beyond the fun and games, there is also an abundant community fiercely committed to dog rescue.
Among them is a non-profit organization called Dharma Rescue, and its doing things a little differently over there. The name derives from the principle that the highest level of dharma is non-injury to all living things, and like other rescue facilities, Dharma Rescue prides itself in providing cats and dogs with shelter, spaying and neutering, medical care and rehabilitation. But unlike other facilities, Dharma also provides all fresh, holistic, real food for their pups. It doesn't get more L.A than that.
But that's not all. Dharma Rescue has recently garnered a lot of attention for their commitment to a special program they created called DAWGS: Disabled Animals Who Generously Serve. Now it its fourth year, the program takes in disabled and senior dogs and turns them into certified therapy dogs who work in the community, including at airports, schools and senior centers.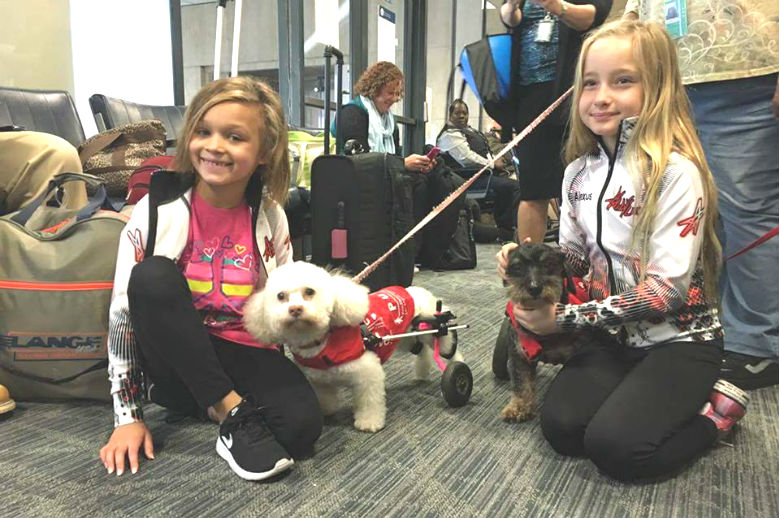 "Once a week we are committed to a local school where a big percentage of the students have some form of autism and learning disabilities," says Dharma founder Susan Fulcher. "It is amazing to see the children interact with the dogs."
Related: Adorable Dog Born With 3 Legs Inspires Us All to Overcome Obstacles
She observes that for both pups and kids alike, it's a win-win situation. The students identify with the DAWGS, because they too have some disabilities, and the dogs are happy simply visiting the kids, giving love and attention, and receiving the same back.
Fulcher added that senior facilities, prisons and detention centers have expressed interest but because they are located further away and "Dharma being such a small grassroots rescue" they must remain local for now.
The idea for DAWGS began close to Dharma Rescue's inception in 1995. As they began rescuing dogs, many they took in, were of the old, sick and disabled variety — the ones that nobody seemed to want.
But where others saw a doggie with a wheelchair as a miserable existence, Fulcher saw a second chance for these dogs to live again. So, she went to work putting them through obedience training, starting with a beloved paralyzed dog named Joey who paved the way.
"I saw Joey in an email plea from an Orange County shelter eight years ago right before he was to be euthanized. The staff loved him so much they delivered him to me personally, so they could see where he would be living. That's how special he was to them," says Fulcher. "As I watched how he interacted with people and children at adoption events, a seed was planted in my mind. I thought to myself, 'I wonder if he could be a therapy dog' and that's where the research began."
After much vetting, she settled on Alliance of Therapy Dogs as she was impressed with their high standards of testing, and for the last four years, many DAWGS have successfully completed the training at the top of their class.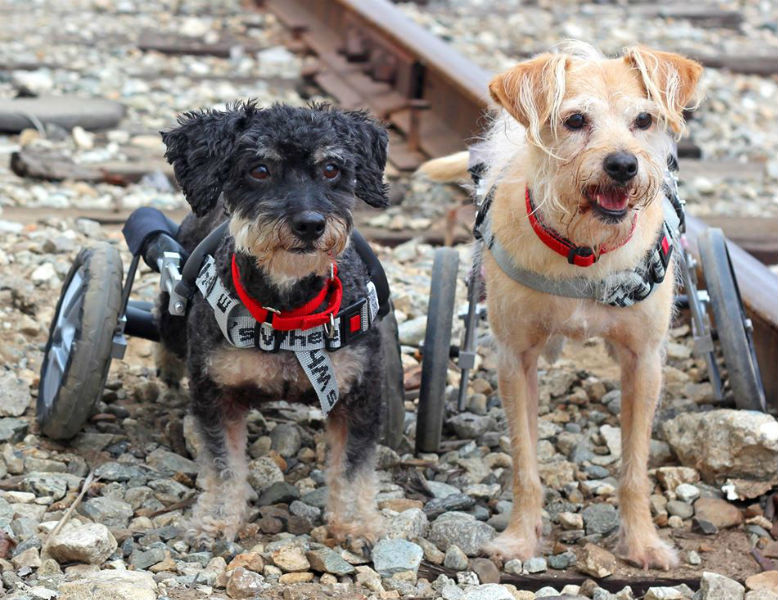 "It's really wonderful to see these dogs transform; they become comfortable" Fulcher says. "Most of these dogs were abused, or kicked out into the backyard, because they're paralyzed. And when you see them become these well-fed, well-groomed, happy dogs that everybody loves, with their big bright eyes, wagging their tails, you just well up."
Related: A Case Involving a Girl and Her Service Dog Makes It All the Way to the Supreme Court
But it isn't always easy.
When asked about the challenges that Dharma faces, Fulcher explains that education is a big issue.
"The other day a woman came in, took one look at the dogs on their wheelchairs and started crying. She said 'Oh my god this is so sad. They should be put down', she says. But it's all about perspective. "After she stayed and chatted with me, spent time with them, saw how truly happy they were and that all they really want it to be petted, she understood."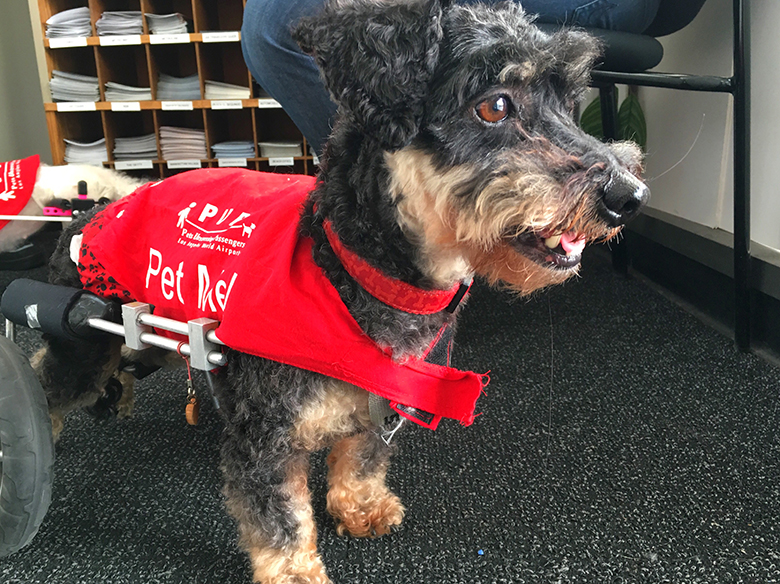 Beyond the challenge of combating the knee-jerk reaction to be sad for the dogs, the other major obstacles are money (Dharma gets no government funding), along with finding volunteers, as the city's busy culture keeps people from sometimes giving their time. But the organization keeps pushing forward.
What's next for Dharma? Well, now that the cat's out of the bag with all the wonderful things Dharma Rescue has been up to with its dutiful DAWGS in the community, Fulcher hopes the exposure will inspire people to adopt their dogs and continue to allow them to live out their new found purpose of being the best therapy dogs out there.
I guess you can teach an old dog new tricks.
Related: Abused Puppy-Mill Dog Gets Second Chance In Life as PetSmart Greeter