Despite Years of Cruelty, Pit Bulls Wagged Their Tails When Saved From Dog Fighting Ring
November 15, 2017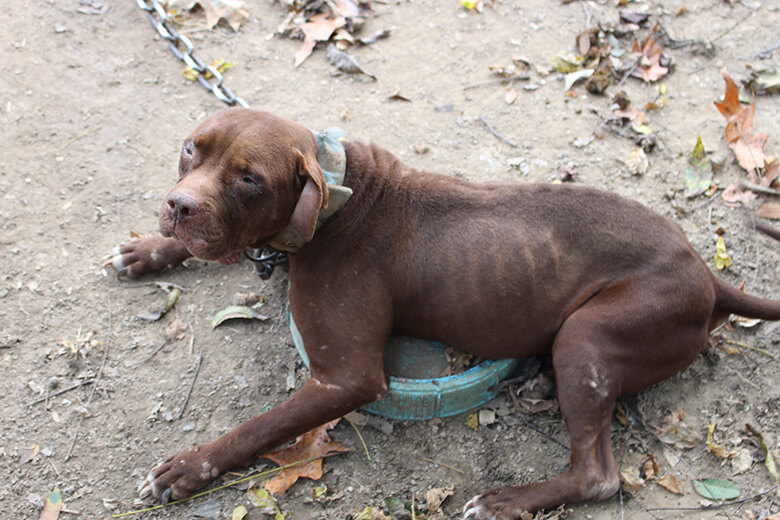 Warning: Some of the images and language is graphic. The story does end well. 
Deputies raided a property in southwestern Mississippi last week and found more than 56 dogs suffering from gruesome wounds in the largest dog fighting bust in Adams County. Many were tethered with chains so heavy, they were unable to lift their heads.
The law officials discovered the dogs after they received a call from neighbors about dog fighting. When they arrived at the property owned by Tommie Queen, they were greeted by the sound of barking dogs coming from behind the house. "Even though it was dark, they observed what they estimated to be around 30 dogs," Deputy Karren Ewing of Adams County tells This Dog's Life. "All but a few were on logging chains and staked out over about a 2-acre piece of land."
Related: See Something, Say Something: How to Report Animal Cruelty
"Entire skeletal remains had been thrown into a large pile in the woods. No one had bothered to bury them," Ewing. They recovered around 30 skulls and whole skeletons.
One dog was chained near the house. "It was confined to an area of sewage waste, and one leg had been chewed off," says Ewing. They found a small female on a logging chain that was attached to the undercarriage of a vehicle. "She couldn't move more than a foot; she was also pregnant."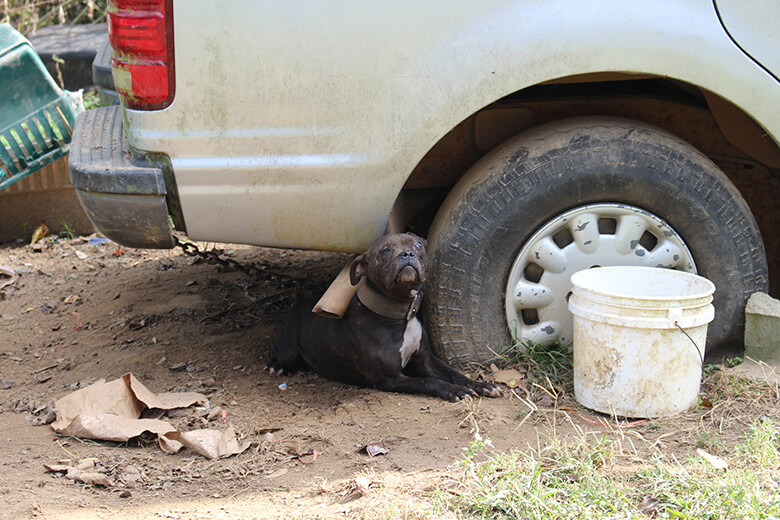 Deputies had to wait until daylight to serve a warrant. Sunlight revealed some dogs chained to each other with less than two feet of chain between them, says Ewing. Others were so injured they didn't move when approached. Others cowered and tried to hide. One dog's lower jaw was missing. As soon as deputies got close, they found they could touch them. But they were frightened at first, says Ewing. "They are not accustomed to compassion and love, yet they were starving for it as much as they were starving for food."
Related: Using Art, Program Teaches Middle Schoolers About Animal Cruelty — And What They Can Do to Make a Change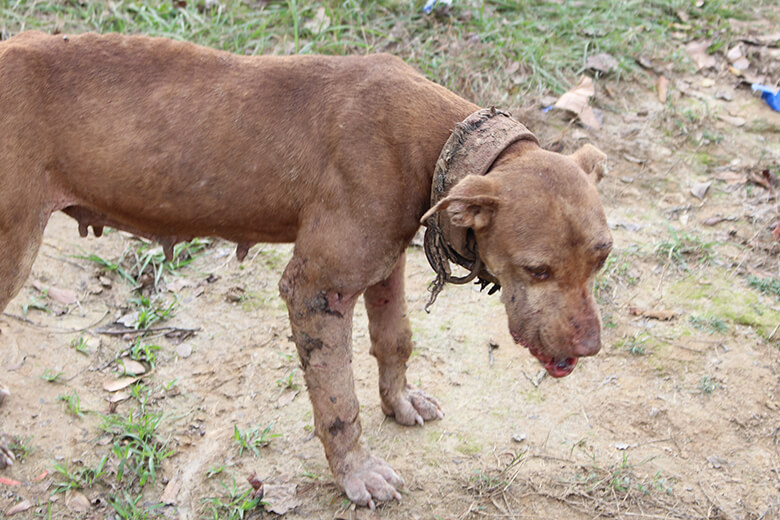 The dogs soon realized the humans were actually there to save them. The dogs that weren't chained came up to the deputies, wanting to be petted and given attention. "Several of these had more severe injuries, and it was apparent that they were in pain, yet their tails still wagged," Ewing says. "They were not aggressive towards us."
The dog missing her lower jaw brought tears to Deputy Ewing's eyes. The first night, the dog pressed against Ewing's leg. The injury was fresh, and the deputy's jeans became soaked with blood. "The look in her eyes as she followed my every move was almost unbearable," she says. "I hated to leave her, but I knew I'd be back in a few hours."
When she returned, the wound had stopped bleeding, but the dog had deteriorated. "I spent a good bit of time sitting and rubbing her head while fanning away the flies that were moving in on her," says Ewing. "It was clear she was losing her battle – inevitably the last one she would ever have to fight."
On Wednesday, Tommie Queen, the property owner, turned himself in. He is being charged with 50 counts of dog fighting and aggravated animal cruelty. Authorities also arrested HB Preyer III, Maurice Greenwood, Derrick L. Mack, and Michael Brown. They each face at least one dogfighting charge.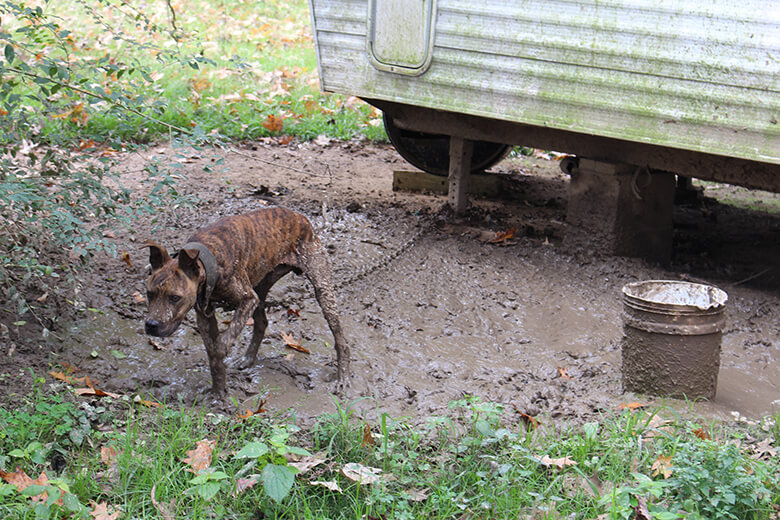 There is a light at the end of this dark tunnel. All of the surviving dogs are now in the care of the ASPCA at an undisclosed location for their protection, says Ewing. "They are in the process of being rehabilitated."
The ASPCA has the resources to care for them, including medical attention and rehabilitation. They are also assisting with veterinary forensic exams, evidence collection, and legal support from their Legal Advocacy department to ensure the best outcome for the dogs, which is to eventually be placed in forever homes.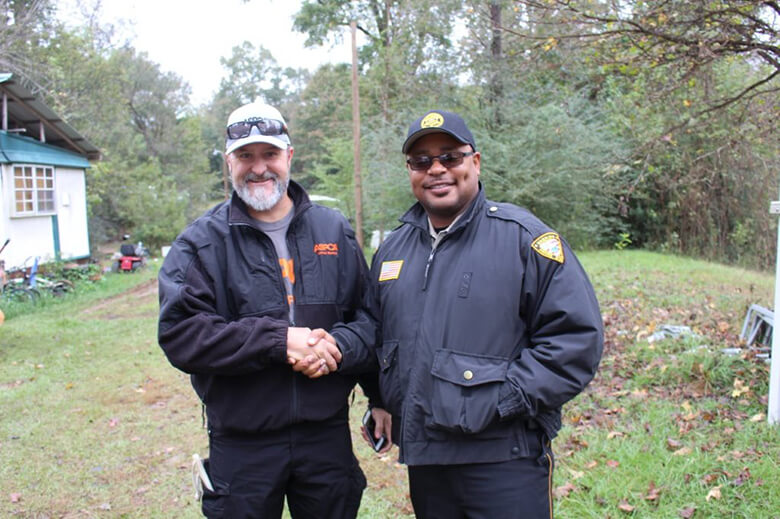 "It would be impossible for people to know exactly just how much the ASPCA means to us for all that they have done and are continuing to do for these precious dogs and our ongoing case," says Ewing. People all over the country also donated money. After the dogs' expenses are paid, the money will be donated to the ASPCA.
"These dogs left Adams County, Mississippi, in luxury that they had never imagined," says Ewing. "They traveled dry and warm. They were no longer hungry or thirsty. They were the quietest they had been in days and were ready for some peaceful sleep as they rode away."
Related: One L.A. Comic Is Standing Up for Pit Bulls, Both On and Off the Stage
The article has been updated. Originally, we stated that HB Preyer III, Maurice Greenwood, Derrick L. Mack, and Michael Brown were arrested in connection to this case, but they were arrested in a different dogfighting case.