When Norawee Wainipitapong decided he wanted to design his dream home, he wanted to build one not just for him but for dogs too.
"I grew up with dogs since I was young, and they were like one of our family," says Norawee. "If you are rich or poor, have a large or small place, they will love you until the end of their life."
But as a child, his dogs, like many during those days, always lived in a small doghouse, one with not a lot of room. So, when Norawee decided to leave the bustling city of Bangkok for a place in the Taiwanese countryside, he decided to honor his current dogs, four Great Pyrenees, by designing the ultimate house for them. The home had to respect the bond between dogs and humans by not only being functional for people but also a dog's way of life.  
Related: Frank Lloyd Wright's Most Charming Building? One Made for a Dog.
After reviewing different firms' pitches, Norawee chose Ekar, a prestigious award-winning Bangkok-based architecture firm, which is known for meticulously studying the world around them – past, present, and future – to get a better understanding of a design that works for all.
"Everything starts from empathy to other things more than human," says Ekar's founder Ekaphap Duangkaew.
Before designing the house, the firm spent time understanding canines better: how they think, feel, and behave.  
They then began drawing, "starting from the dog's eye view," Ekaphap explains, and worked backwards, focusing on how the human could fit into the dog's world. "All of the design aims to encourage [dogs and humans] living with each other, to make them closer, to make them grow together and be more respectful to the other lives on earth," the firm stated.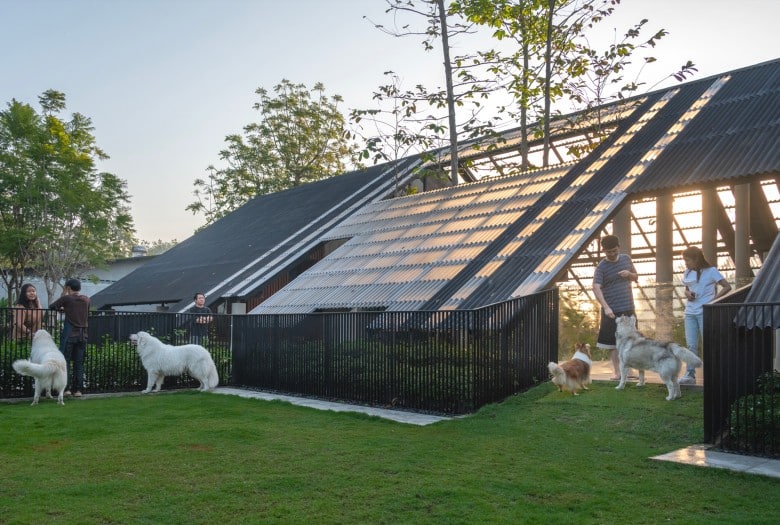 To accomplish this, the team focused on scale, meaning they had to bring people down to the dog's level. By doing so, the dog "will trust you, connect with you, and walk to you," says Ekaphap.
Related: For $200,000, Your Pup Could Have His Own Dog Mansion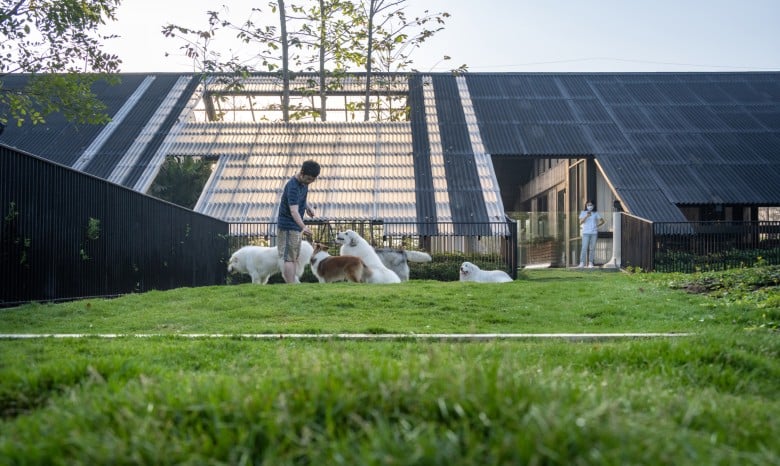 Now called "Dox House," the home's architecture looks like a classic doghouse, but at a scale large enough for both dogs and humans to enjoy. For instance, the roof has an a-frame-like style, which helps define where humans can walk and where they can't. And because of the shape, when humans stand, they can interact with other people, and when they want to engage with dogs, they must bow down to get closer to them and make them feel at ease.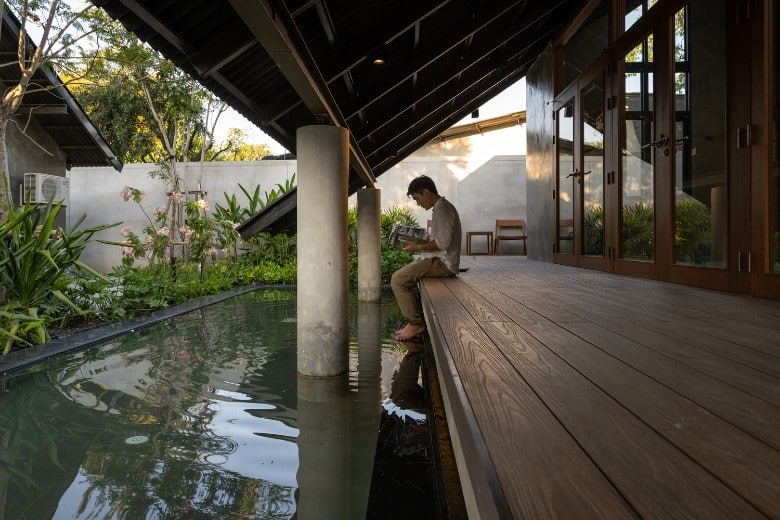 The house also has a pool that is a walk-in style (vs. just stairs), allowing dogs to wade in, two fences to stop escape artists, a lawn for running, and a garden with a stone path to allow a dog to explore and smell all kinds of scents.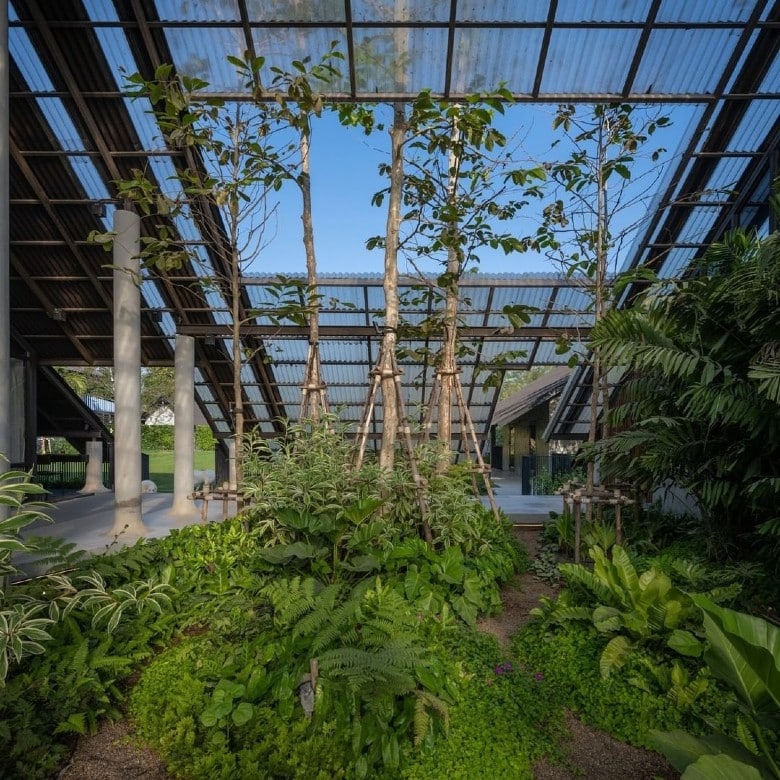 And then there is the area for the business, which wasn't in the initial plans.
"The business just happened after he lived there for a few months," says Ekaphap. "One day he realized he want to share this happiness of dogs and humans with others."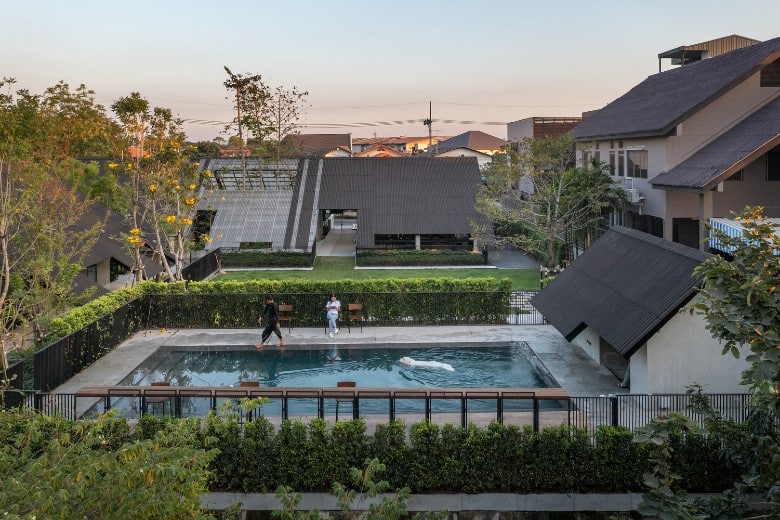 So, Norawee opened up a grooming salon, boarding facility, and doggy daycare.
Related: How to Find the Perfect Doggy Daycare for Your Pup
"I can guarantee you this is the best place for a dog," says Norawee. "They have four assistant who walk them four times a day, swimming, and they can play with a person or with their dog friend. Many come and do not want to go home."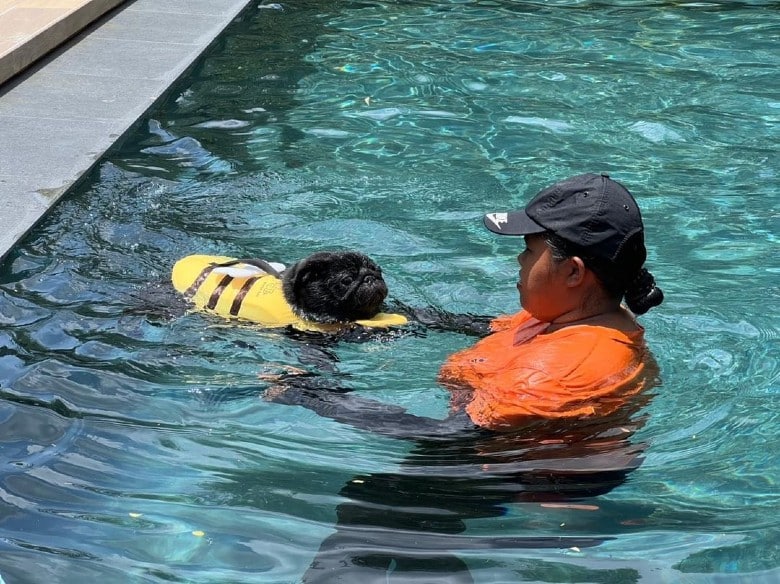 We don't blame them.

Here are a few more of our favorite pics. You can learn more about Dox House via its Instagram account or Ekar's account.