When it comes to dog food recalls, 2021 is off to a rough start.
The Food and Drug Administration announced this week that Bravo Packing has recalled its Ground Beef and Performance Dog food, a frozen raw pet food, after possible contamination with Salmonella and Listeria monocytogenes. Both can not only impact animals who come in contact with the food, but humans too.
The New Jersey company — which also produces horsemeat, reportedly in a cruel manner, and "pieces of hide for tigers to keep occupied and play with" — issued the voluntary recall after samples tested positive for both Salmonella and Listeria monocytogenes during an FDA inspection.
Related: Meet the Guy Obsessed With Dog Food Recalls
Pets who become infected with Salmonella may feel tired, have diarrhea (or blood in their stool), fever, and vomiting. Some may also not feel like eating, have a fever, or abdominal pain. But keep in mind, there are pets with Salmonella infections that show no signs. The bacteria can be spread through feces and saliva to other animals and humans in the household.
If a healthy person becomes infected with Salmonella, she may experience similar symptoms as pets: vomiting, bloody diarrhea, nausea, fever, and abdominal pain. Salmonella infection rarely causes serious issues, but it can, including arthritis, muscle pain, and eye irritation.
Listeria monocytogenes, on the other hand, is another story. While pets usually experience mild symptoms, like diarrhea and vomiting, if passed to a human, it is a more serious issue. Some may experience only short-term symptoms, like fever, headaches, stiffness, and nauseas. But if a child, senior, or someone with a comprised immune system, gets the infection, it can be fatal. It has also been reported that it can cause miscarriages and stillbirths.
Related: Do You Know About the 25% Rule for Dog Food?
Besides disposing of the food if you bought it (or returning it to the store), it is important that you wash your hands, disinfect surfaces, and keep an eye on everyone.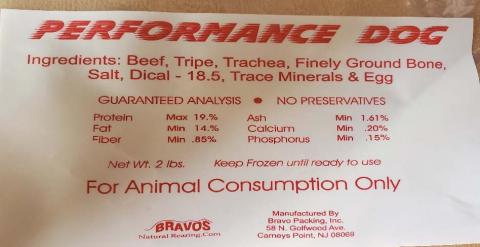 The company, unlike others who have done voluntarily recalls, pulled the entire product line, not just ones that may have been impacted in certain lots or during certain time frames. According to Petful, a pet recall website, the company has had recalls in the past, including 2018 and 2019, and both times, there was no identifier on the packaging to determine if the recall had to do with an isolated batch or it was widespread. So, the FDA is requesting all food be disposed.
You can contact Bravo Packing customer service line at 856-299-1044 (Monday – Friday, 9:00AM-2:00PM, EST).