As a dog parent it is important to pay attention to the food that you are giving your pup. You want to ensure they are getting the proper nutrients as well as the highest quality ingredients.
But that is often easier said than done.
In 2018 alone there were more than 25 recalls on dog food — ranging from salmonella-positive dog food to botulism. This past July the FDA warned that 16 dog foods may be linked to heart disease in dogs, with some of the brands being on the higher end, in terms of price point.
One of the biggest problems in the dog food industry is transparency. Some brands have been less forthcoming on where they source their ingredients, while the quality of others is questionable.
Related: Updated: We Compared the Top Dog Food Delivery Companies on Ingredients, Price and What Makes Them Special
Wild Earth, a dog food company, is hoping to combat this issue by offering dog parents an alternative to many of the other choices on the market: a vegan kibble. Made of a yeast that contains a complete source of amino acids, the company touts it as a "clean protein dog food."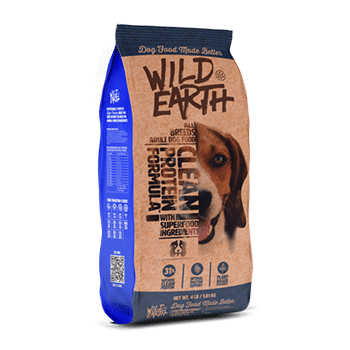 "The most dangerous ingredient in meat-based dog food is the meat itself. There have been over 180 recalls in pet food since 2009 and almost all of them are from the meat ingredients," says Wild Earth CEO Ryan Bethencourt. "Toxic chemicals, euthanasia drugs, animal growth hormones, and harmful bacteria are just some of the things found in the meat in dog food today."

Bethencourt and his team started Wild Earth to not only provide an alternative to traditional kibble, but as an attempt to prevent further abuse of animals and admission of unnecessary carbon into the atmosphere.
"Pet food has a huge environmental impact on animals and the environment. A study released by UCLA calculated that the meat-based food eaten by Americans' dogs and cats generates the equivalent of 64 million tons of carbon dioxide per year," says Bethencourt. By reducing the amount of animals that eat meat every day, the company hopes to help reverse some of the effects the industry has had on the planet.
The concept was first seen on NBC's Shark Tank, with the company reeling in $550,000 from the show's celeb investor Mark Cuban. He felt that this was exactly what the market needed: a low cost, sustainable protein option. (Since then, the company has raised more than $12 million to date.)
Yet, many people, including both dog parents and professionals, do not believe that a vegan diet is enough to sustain a dog long term. (It has been debated for years if dogs are carnivores or omnivores.)

Related: Do You Know About The Dangers Lurking In Your Dog's Water And Food Bowls?
"I think vegan dog food could be formulated to be adequate for adult dogs in maintenance; however, in dogs with higher nutritional demands such as sick dogs, dogs in reproduction or dogs with poor nutritional status, this would not be my first choice," explained Dr. Jonathan Stockman a veterinarian from Colorado State University. "New diets that are using unusual protein sources must be tested and proven to be highly digestible and bioavailable and that no harm occurs when these are fed long-term."
The main cause for concern, according to Dr. Stockman, is the digestibility of forms of protein other than meat, "Dogs need a balanced diet with sufficient protein to be healthy. This does not always need to be meat sourced.," he says. "Plant sources may also provide protein; however sometimes the digestibility of the protein can be lower, and the composition of the amino acids should be more closely evaluated to make sure all the essential amino acids are provided in sufficient amount. "
Bethencourt understands the concerns of naysayers, and believes that over the years our best friends have proven to change and adapt to their environment.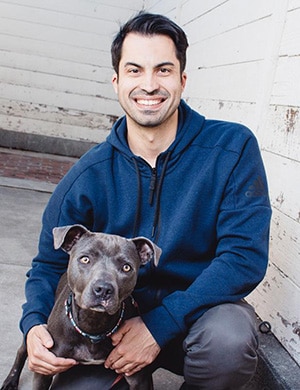 "Dogs have evolved a number of differences from wolves over the millennia," he says. He goes on to cite a study published in Nature, stating that "the genomes of dogs have evolved to not only enable them to digest plant-based starches, but to thrive on foods that include a wide variety of ingredients including fruits, vegetables, herbs, grains, meats, poultry, fish and more, making them true omnivores. "It matters that the protein is complete, high quality, bio-available and easily digestible."
While Wild Earth is available in select stores across the nation and on Amazon, the company says they will continue to focus on expanding their reach and educating as many pet parents as possible on the options for their dog.
"Right now we're focused on getting our dog food into as many bowls as possible," says Bethencourt.

Related: FDA Warns About Raw Dog Food Brand, Recalls Pig Ears Again