When husband and wife team Richard Ampudia and Lena Seow decided to open up their own restaurant, the industry veterans knew exactly what they wanted: a quaint neighborhood spot where people can connect with others, take a breath from the city grind and engage in meaningful conversations, all while enjoying food the couple enjoyed cooking at home.
The end result was Bar Bruno, a Mexican bistro at the intersection of Henry and Union Street in Carroll Gardens.
"It is Mexican flavored food but also a mixture of Richard and myself of who we really are as people," says Seow.
Related: At Five Leaves, Heath Ledger's Legacy Lives On — And the Dogs Thank Him
The café restaurant sits on a corner, the ideal spot for a neighborhood hangout, with a décor that bring customers back to a slower, simpler time. Inspired by cafeterias that marked the streets of Europe and Mexico in the 60s, the laid-back bistro provides a warm, homely feel with muted yellow, red and green tones, chrome details and a tin ceiling.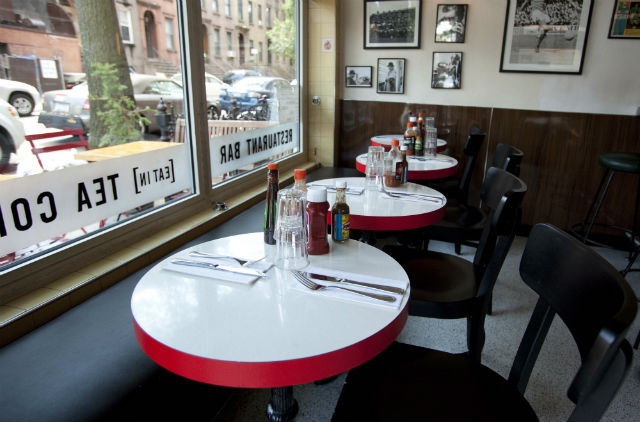 The place offers patrons round melamine café tables up front, cozy leather booths along a wall or family-style seating in the back. Customers can also take one of the seven chairs – some wood paneled, others wicker – at the bar, while surveying the pictures hanging on the walls — each with its own story; its own reason for being at Bar Bruno.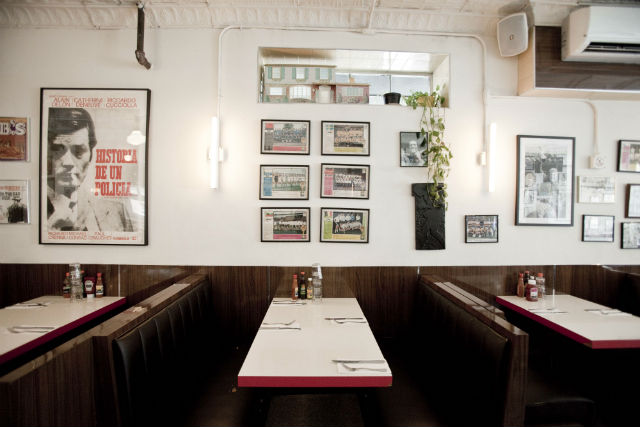 This relaxing atmosphere is also the perfect place for dog owners to bring their pups and enjoy some delicious food and refreshing drinks at one of its outside tables.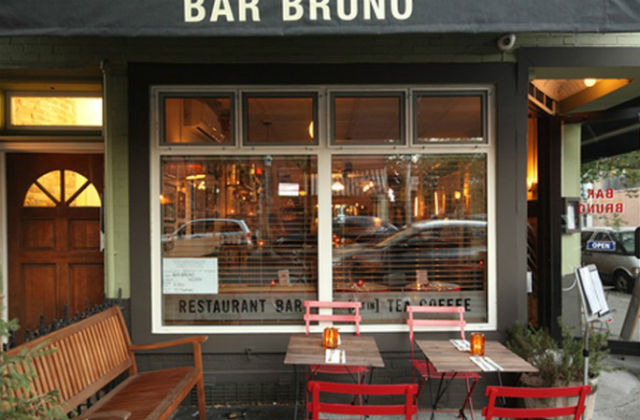 "When people have dogs, you take that moment and realize that is what is important, this is what life is about," says Seow. She continues, "There is friendship that goes along with dogs as well. We always make sure there are dog bowls outside and encourage to let the leash go a little, if friendly, so they don't feel like they have to protect you but instead relax."
Related: The Little Bar That Gives Back Big
Bar Bruno is known for a few things but most notably its fish tacos and variety of micheladas (a kind of tomato juice beer cocktail).
The inspiration for the tacos comes from a place in Mexico called Ensenada, a coastal town on the Baja peninsula. Ampudia told The New York Times that during his teenage years, he would often take bus trips to this remote area, just so he could get his hands on fresh, fried tacos made from snapper or sea bass. In his adult life, he traveled back to this area to research how these beach snacks were made and looked to emulate the cooking method at Bar Bruno.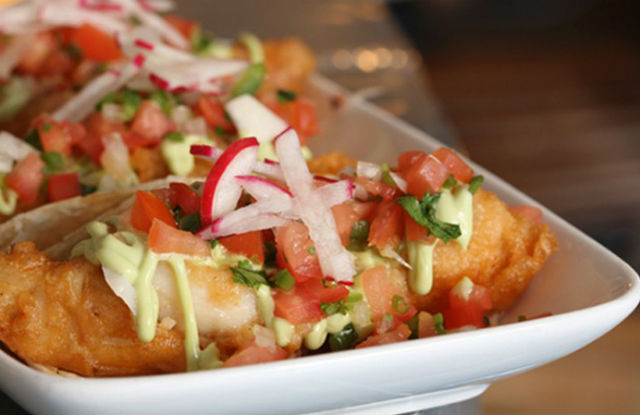 The tacos at the restaurant are battered in beer and topped with pico de gallo and avocado tomatillo salsa. Three come per serving and currently are priced at $10. There is also a brunch variation for $15.
And there is no better way to eat these delicious bites than with one of Bar Bruno's micheladas. While most people know this concoction in its most popular form: beer, tomato juice and lime rim, the restaurant has four varieties including one with Clamato juice and another with a chili mix. All are priced at $6.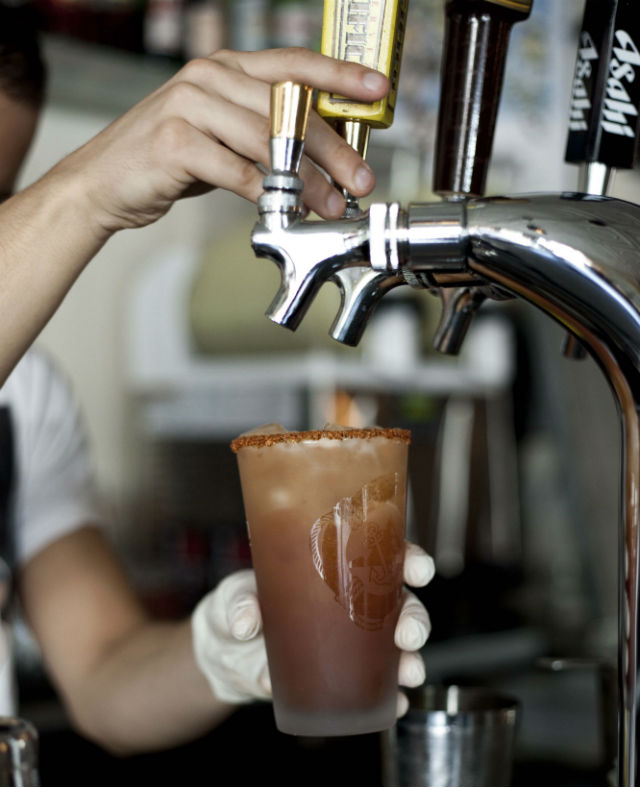 Other popular items include the chilaquiles verdes dish served at brunch, which Seow says is perfect for hangovers. "Originally, we didn't have on menu, but we had customer from Mexico City who begged us to put it on." It comes with tortillas, epazote, two fried eggs (Seow swears the eggs from Mexico are better than the ones in the U.S.), tomatillo salsa and queso fresco for $13. People can add a selection of meat for an additional charge.
They also have a classic burger called the Bruno Diaz and is made of four different cuts of meat: short rib, brisket, sirloin and chuck, which provides a very flavorful burger no matter how you have it cooked. It comes topped with lettuce, tomato, caramelized onions and cheese with a side of hand-cut fries for $16.
For dinner Seow is a fan of the huge steak platter. It is made from Pat LaFrieda NY Strip and is seasoned with just salt and pepper. The entrée comes with tortillas and really charred onions, peppers, salsa and avocados. Perfect for sharing. It is priced at $28.
Obviously, things come and go, but Bar Bruno will always have something for you to enjoy – and hopefully a doggy bag for your four-legged sidekick.