This article is sponsored by NomNomNow but the opinions expressed in the post are our own.
While you are preparing to feast this week on delicious food and give thanks to the people and opportunities in your life, our dog Milo has been grateful for his own sort of feast for the last two weeks.
Last month, we were asked by company NomNomNow if we were interested in trying out its fresh, dog food delivery service. We agreed and had one-month of food delivered in late October.
Related: Stinky Dog Breath? Here Are 4 Simple Toothpastes You Can Make at Home
Initially, we had to make the transition slowly, despite Milo loving it. We chose Chicken ChowWow and each of his pre-portioned meals includes boneless chicken thigh, sweet potatoes, squash, spinach and fish oil, plus, a nutrient mix from NomNomNow to balance it. It is also formulated by a veterinarian, so I don't have to worry about him not getting the nutrients he needs. (Have you read the first post in this series about his diet of Vienna sausages?)
While it sounds delicious (yes, even to humans), introducing a new food takes time, otherwise, Milo, like most dogs, will experience an upset stomach, along with diarrhea. Gross. We slowly introduced the diet and were grateful for the company's transition packets — ramps up slowly with 25 percent their food to 75 percent your kibble and then.
So, now that he has completely switched over  (surprisingly, never had any messy poop), Milo continues to enjoy NomNomNow – and we have noticed some benefits.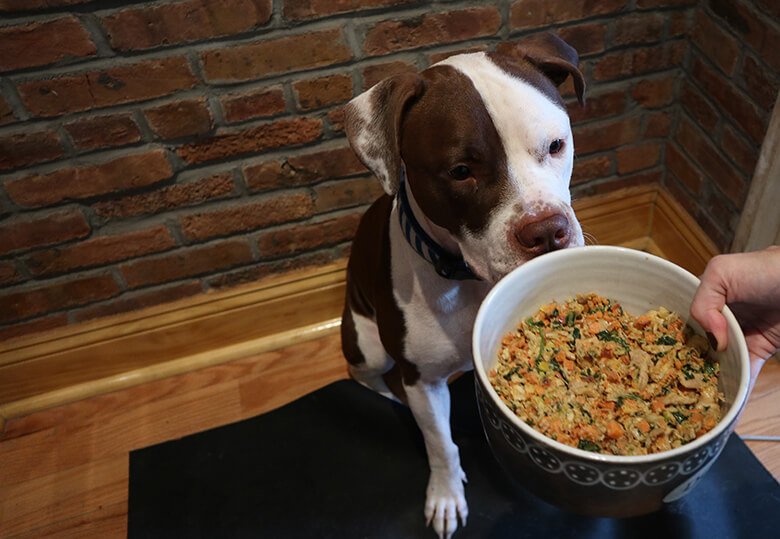 Related: 30 Super Easy Dog Treats Recipes Using 5 Ingredients or Less
First, again, speaking of poop, it is more solid and smaller. I am taking this as a sign he is absorbing my nutrients. His skin is better, too. Before he was itching a lot – and this has stopped.
And Milo continues to devour it – getting excited each time it is meal time.
Everything is going well – maybe too well. We love giving him the food, but on average, for him, each week costs about $50, which definitely isn't cheap. However, we need to weigh the pros, too. A healthy diet is extremely important to any dog – and it is definitely to us. With meals being easy, nutritious and delicious, it's a hard to say no.
And seeing Milo happy, energetic and healthy is something we strive for – and that is exactly what NomNomNow provides.
If you are interested in trying the food, head over to NomNomNow. They are offering our readers a special deal. You can get 50% off first purchase.