After spending 400 days at a Kanas shelter and having a man move into her kennel, a dog finally gets adopted.
Named Queen, the 3-year-old terrier mix had been overlooked for more than a year at the Great Plains SPCA in Merriam. On Sept. 17 Scott Poore decided to do something about it. The animal advocate and founder of Mission Driven, a clothing line to fund his rescue efforts, announced on social media he was moving in with Queen. Yes, he was going to be her "roommate" in her 10-by-7-foot kennel.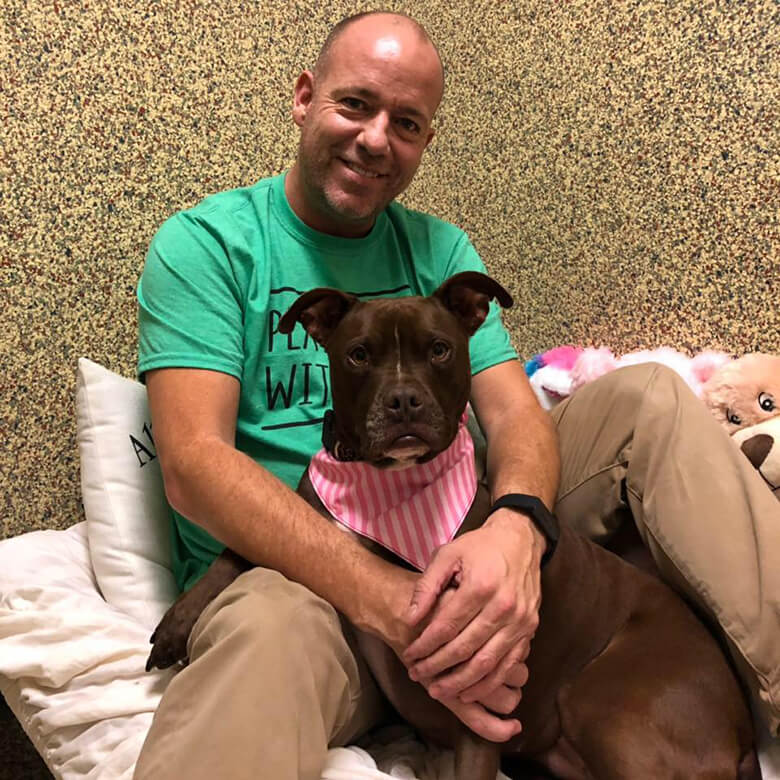 "I tend to work exclusively with the shelter pets that have lived in the buildings the longest, literally the ones that are becoming forgotten, those are the ones that I really want to help the most," he told Kansas City KSHB.
Related: Senior Shelter Pit Bull Gets More Than 500 Cards to Celebrate Her Birthday
Well, he wasn't with her too long. A week later, Poore walked Queen out of the shelter on Tuesday, after she was adopted out by Tony Puluso
"Queen has left the building, thanks to an amazing man who fell in love with her story," Poore posted on Facebook. "This week has been exhausting and an emotional roller coaster, but this video makes it all worth it."
Interesting, Pulso told local news station KMBC that he had not heard of Queen's plight.
"I could not believe that she had been here as long as she had," Puluso he said. "She is a perfectly sweet dog and she just reminds me of a little stuffed animal. And I just immediately fell in love with her."
Related: Cheers to This: 4 Wineries That Donate to Dog Shelters and Rescues