After losing his house to a fire, a man had to make a hard decision: stay with his dog with no shelter or drop him off at the pound.
Jeffrey "Boe" Sievers, 67, of Iva, South Carolina chose the latter and is now sleeping outside with his dog, Manson, under a red umbrella.
"You have to take care of your baby. He's my baby. He's a good baby," Sievers told WYFF.
Sievers rescued Manson when he was just a puppy – found starving, covered in fleas and fearful of people. He nursed the dog back to health and has been by his side since.
Related: Decked Out Bus Lets Homeless People and Their Dogs Get a Good Night Sleep
As he works on saving for a camper and to rebuild his home, his health – he has a pace maker and foot injury – is slowing down the process.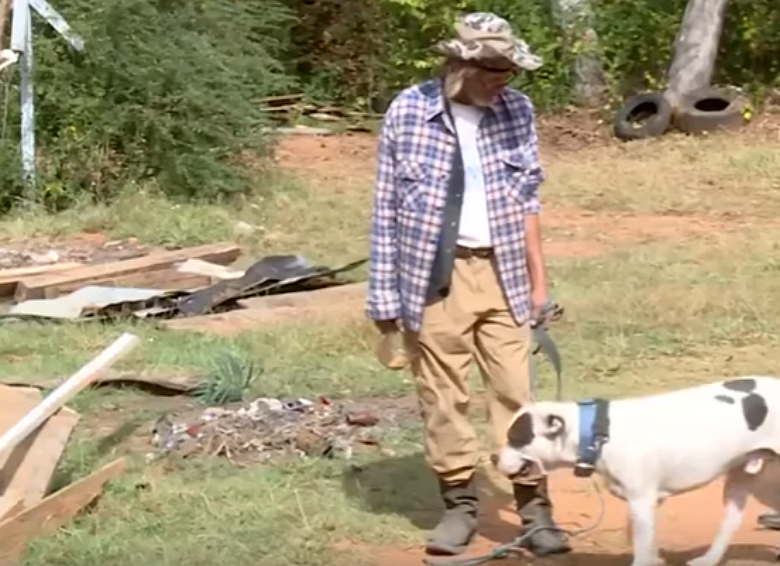 And while at the moment he is fine sleeping under the stars, he is concerned about the upcoming winter. "Cold don't really bother me," he told the outlet. "I don't like to have to sit out in it without being able to move around."
His situation, along with his loyalty to his best friend, caught the attention of neighbor Christine  Hiatt, who started a GoFundMe page to help Sievers get back on his feet. Called "Help Boe rebuild his home," Hiatt asked people to fund a new camper. With an initial goal of $10,000 the GoFundMe campaign is nearing $20,000, with people not only providing funds but also looking do donate goods – like a dog house.
Related: Nonprofit Collide Steps Up to Help the Dogs of New York City's Homeless
"I am speechless. I started this campaign in hopes for enough to buy a small camper and hook up power. And now we have even bigger and better options," Hiatt writes. "Turns out I needed reminding of how great humanity it as much as Boe needed this money to start over, change his circumstances and move forward. He has such high hopes of bettering the community locally and spreading the love and joy to others in need. His faith is renewed! My faith is renewed."