Australian entrepreneur Simon Rowe is looking to make a difference in the homeless population by creating a vehicle that gets people and their pets off the street and into a safe place for the night.
Known as the Sleepbus, the bus lets people living on the street get a good night's sleep, with the hope that rest will allow them to have a better outlook on life.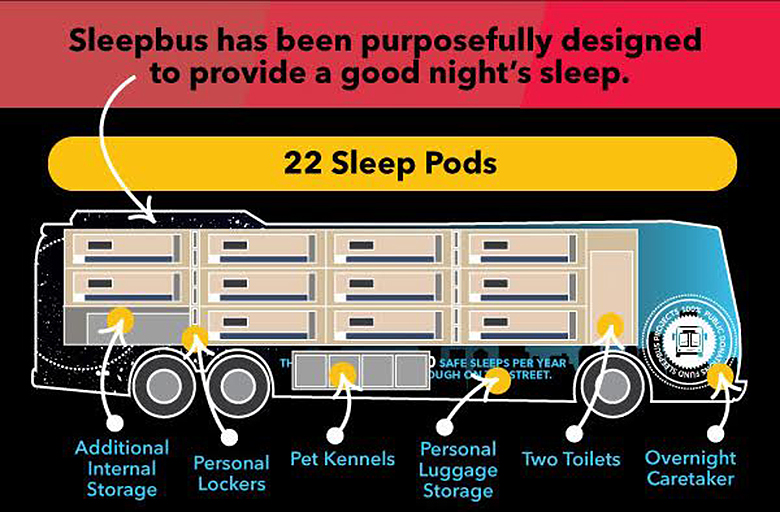 Related: San Francisco Man Opens His Heart to Neighbors' Homeless Dogs, Feeding Them Every Day
Arriving at a designated parking space at 8pm, anyone is free to use the bus, as long as they respect others and are quiet. The bus can sleep 22 people at a time, with each having their own air-conditioned pod. The pods include a single bed, with clean pillows, sheets and blankets; television, which broadcasts local resources for the homeless; a USB charger to power phones; and intercom and locker.
The pods can be adapted to fit families, with the intercom used to communicate and parents able to lock their children's doors to keep them safe.
For those with dogs (and cats), the bus has eight vet-approved kennels that are well-ventilated and protected, ensuring they, too, get a good night's sleep.
Rather than provide additional resources – including food, clothing and healthcare – Sleepbus will complement other services already offered through organizations.
Related: Nonprofit Collide Steps Up to Help the Dogs of New York City's Homeless
"Sleepbus is there to fill a gap," Rowe tells This Dog's Life. "There are many organisations working on the long-term solutions. Sleepbus will get people off the street for the night, hopefully preventing people falling deeper into the cycle of homelessness until those long-term solutions and permanent housing are ready."
The vision came to life after seeing a homeless person during lunchtime in Melbourne near his local supermarket and a brand new bank. Rowe, who was once also homeless, was struck by the stark contrast of the situation. He asked if he could help, and after giving the person $20, he went home and cried.
Related: Homeless Man Can't Afford to Treat Dog's Deadly Sickness, So Stranger Offers to Pay for It All
"That man, trying to sleep on a concrete floor in the middle of the day on a busy city street affected me in a profound way," he writes on his GoFundMe page. "And that's a mild story; for many sleeping on the streets are being subjected to terrible weather, harassment, bullying, being robbed and worse. No one should have to live like that."
He decided then and there he would be part of the solution for the homeless problem.
Using his 20 years of experience, Rowe spent a year researching and planning before launching a GoFundMe campaign in February. In the first six days he reached his goal of $20,000 – the cost of buying the first bus. From there, he raised $50,000, enough to equip the bus, and then $85,000, the amount needed for a 90-day pilot program. To date, the campaign has hit the $110,000 mark.
Besides seeking donations from the public, Rowe is also working corporations to scale the business. Because of the two-tier financing approach, he is focused on remaining transparent on how the funds will be used.
"During the research phase, I heard a lot from people who would say that they were disenchanted with donating money to charities "because it never goes where they say it does," so I decided to run two accounts and prove where every cent went," Rowe tells us. "We run the 100 percent model; whereby, 100 percent of public donations go directly to Sleepbus project, putting buses on the road and keeping them there," adding that when a person donates they will receive updates and pictures.
Overheads like rent and wages will come from corporate sponsors and other funding.
The first bus is almost complete and Rowe plans on launching the pilot program this month. The goal is to have 319 buses in Australia in the next six years and Rowe has plans to expand worldwide
"Once the pilot program has been completed and any wrinkles have been ironed out, we will package up Sleepbus and bring it to wherever it is need with the assistance of organisations and people on the ground in those areas."
Related: Community Unites Around Heartbroken Homeless Vet Looking to Give Up His Best Friend of 9 Years, So She Can Have a Better Life
Main image Flickr/turismotorino.org