After a woman's dachshund passed away, she paid tribute to her best friend by giving a special gift to her local dog park.
In February, Clare McGrogan of England lost her beloved dachshund Elwood after he suffered from multiple ruptured discs in his back.
It was devastating; Elwood has not only been a pet to McGrogan but also her rock.
Related: 10 of the Best Interactive Puzzles and Games for Your Bored Dog
"He was my world, the reason I got up on a morning and the reason I went to bed," she tells This Dog's Life. "He was my support when I cared for and subsequently lost my mum to lung cancer last year. He wasn't 'just a dog' he was my boy."
So, when his would-be birthday of June 4 was approaching, McGrogan wanted to do something special to celebrate his life. She decided to go to Elwood's favorite park, Roundhay Park, the one where he'd "happily trot round and pee on EVERY blade of grass," and place a basket of balls, along with a note, to honor him.
"To add a bit of happiness to what is a difficult day, please take a ball and have some fun with your fur friend," read part of the note.
It continued, "You can either replace it when you are done for another dog to enjoy or take it home. The most important thing is you have fun and enjoy your time together as god knows we're not together long enough."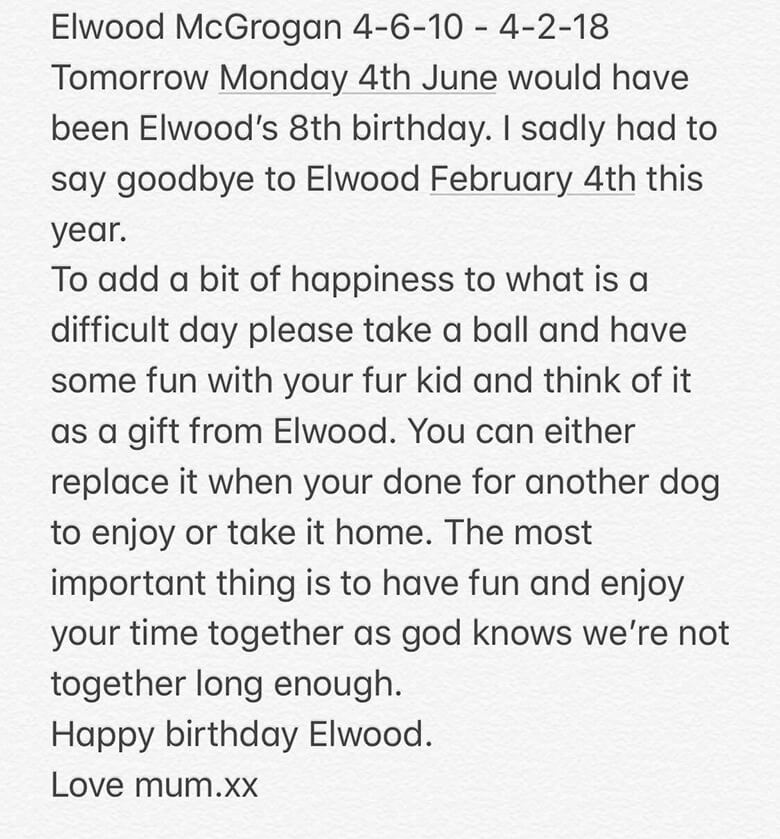 McGrogan said she "watched a couple of people take a ball and felt amazing." She left the park, thinking that was it.
Related: To Remember His Dog, Man Sends Tennis Balls All Over the World to Owners
But it wasn't. Someone posted the sweet gesture on Facebook — and hundreds of comments and messages poured in.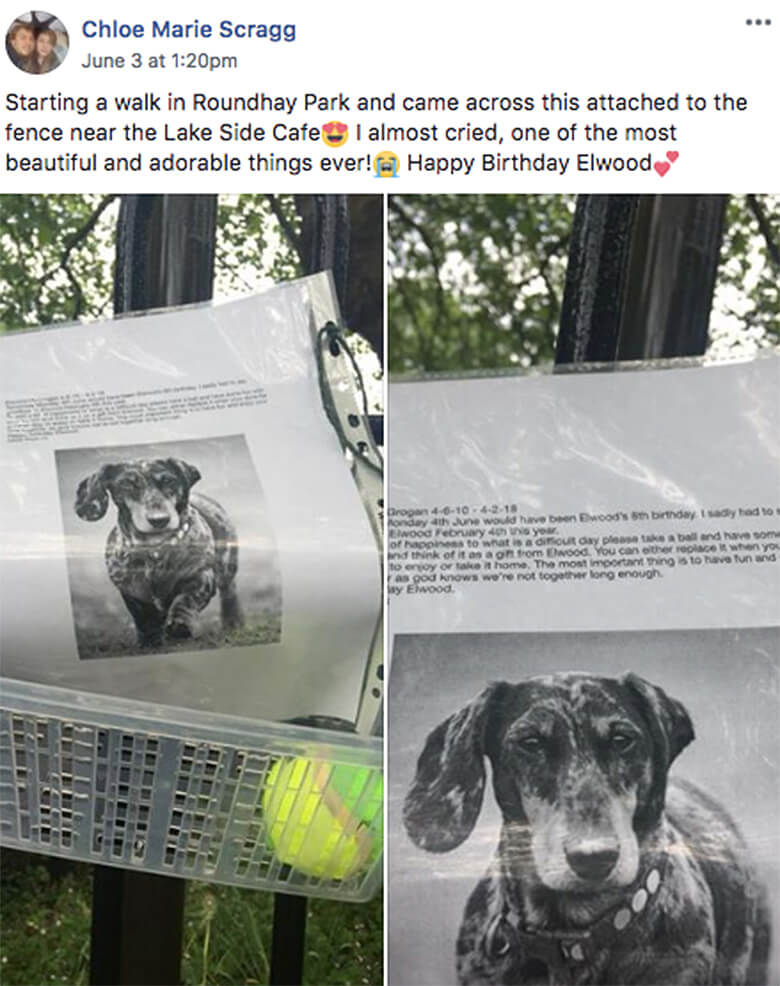 "I started to read the messages and every single one of them wished Elwood happy birthday!" she says. "The fact that all these strangers took time out of their day to wish Elwood happy birthday is mind blowing and humbling. I also got a lot of private messages from people saying they too had lost their best friend and they found comfort in what I had done."
To date, it has more than 300 shares, with McGrogan posting a heartfelt thank you.
While Elmwood is in doggy heaven, his legacy lives on.
Related: Here's a Toy That Will Let You Play With Your Dog From Afar