As Kevin Li tells it, technological advancements skipped over dog toys.
With the ability to FaceTime people across the globe, have a car arrive in a minute and get anything delivered to our house in snap, we still only have tennis balls and nylon Kongs for our dogs to enjoy.
He is looking to change that.
The founder of New York City-based PlayDate created a toy allowing dog owners to control a ball anywhere, with the simple touch of your phone screen. You can roll the ball, have it go in circles and have your dog chase it. You can watch every exciting minute, as the ball has a stabilized HD camera in it. There is also a built in squeaker, a speaker (in case you want to "bark" at your dog) and a microphone to hear all your dog's noises.
Related: A Vet Explains: 8 Ways to Ensure a Calm and Easy Transition When Adopting A Dog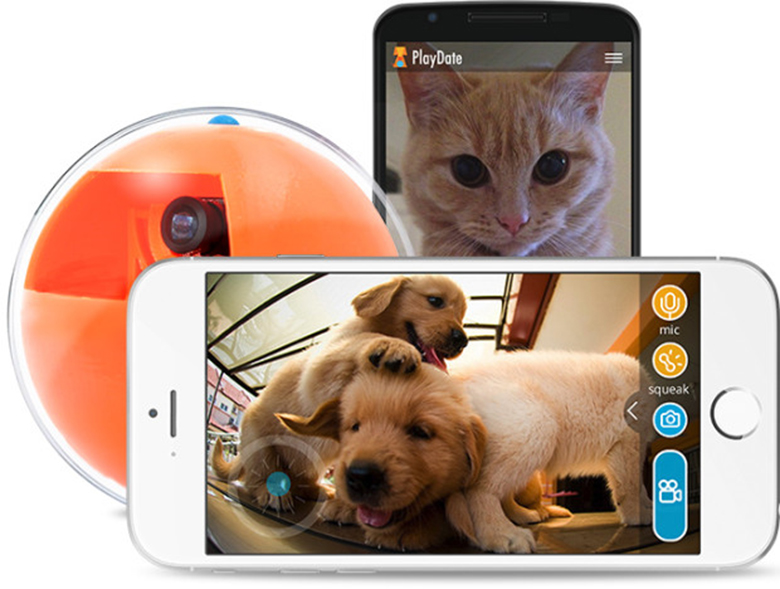 The toy is currently available on Indiegogo and has far surpassed its initial $60,000 goal. To date, PlayDate has raised more than $225,000, and still has 21 days left on the campaign.
Li was inspired to create this pet-cam toy after he adopted his Rhodesian Ridgeback/Lab mix named Hulk.
When he first welcomed his pup into his home, he became obsessed with wanting the very best life for Hulk. Reading up on training, canine psychology and behavior, he decided to create an activity tracker for his dog, and others, living in urban New York City. However, when he talked to fellow dog owners about it, the bigger struggle was the guilt they felt leaving their dog home.
"That's when we realized the bigger pain point was dog owners needed a better way to connect with their pets remotely," Li tells This Dog's Life. "Up until now, the best way to do that was with a pet web camera. But the problem with those is they stay stationary, so if your pet is out of the view of the camera, you can't see them. And they're not interactive in the same way a ball is." Soon PlayDate was born.
Related: 5 Ways to Tire Out Your Dog Before Leaving the House
Taking away that guilty feeling, doesn't come cheap. The retail price is $249. That said, there are still less expensive options for early supporters on Indiegogo. The expected ship date is this December and Li assures us they are prepared for the already huge demand.