A former bait dog who lost one ear and became an ambassador for her breed and the face of dog fighting has now found her forever home.
Now named Abigail, the pit bull-type dog was rescued in November 2016 as a stray, wandering the streets of Fort Meyers, Florida, with one ear ripped off down to the ear drum. Believed to be a victim of dog fighting, Abigail was believed to be a "bait dog," or a dog used to train other dogs to fight. The abusers make it impossible for them to defend against the "lead" fighting dog, by doing things like filing their teeth, taping their mouth shut or not allowing them to run away.
[Warning: graphic image]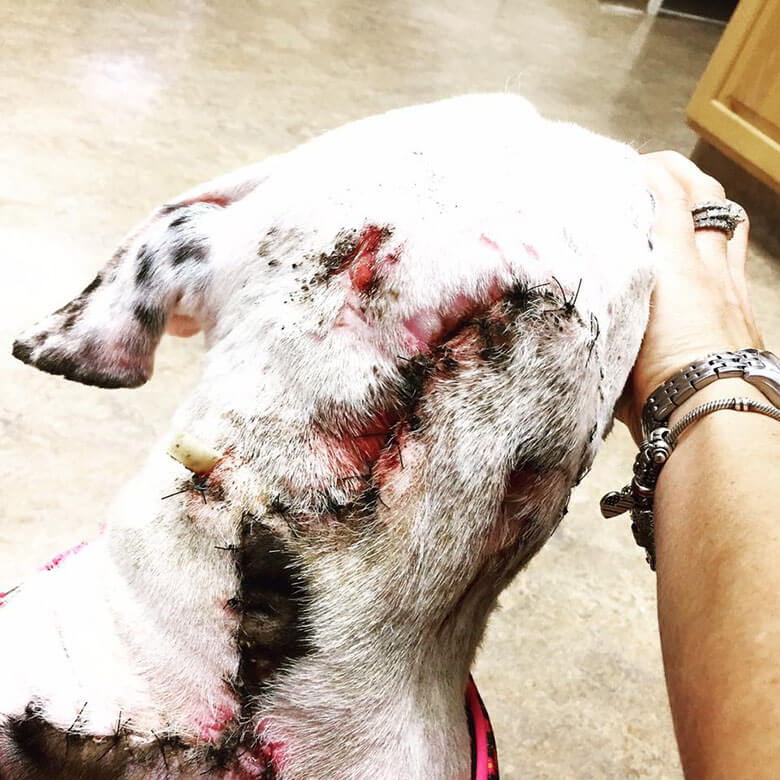 Brought to a local animal shelter, the staff did what they could, but with limited resources, it wasn't enough.
Luckily, Abigail's photo attracted the attention of Victoria Frazier, founder of Love Is Fur Ever Dog Rescue, who brought her to a veterinarian. During surgery, old wounds confirmed the dog's past as a bait dog.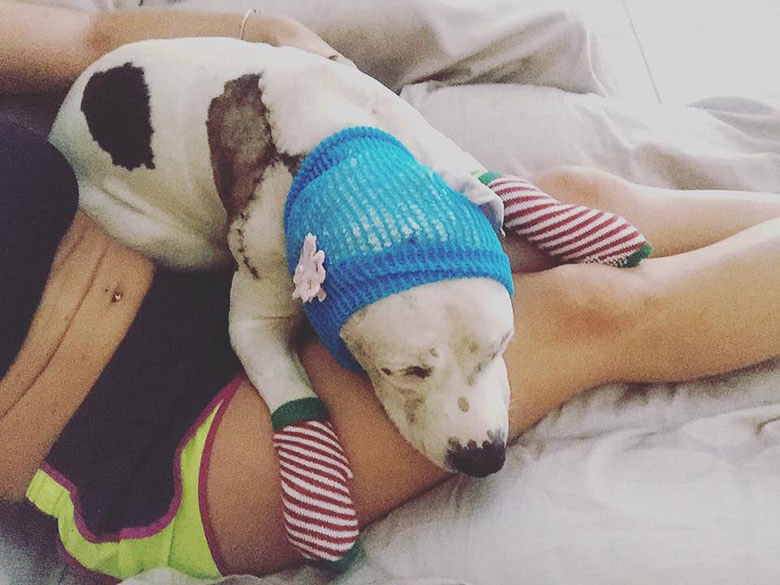 Related: NFL Players Are Speaking Out Against Dog Fighting and Helping Get Justice for This Bait Dog
Frazier began to use hats and headbands to cover Abigail's stitches and keep her comfortable. They also appeared to raise the dog's spirits. At first, the rescue's volunteers knitted her headgear, but as photos of the sweet pit bull circulated, hats began to arrive from people around the world.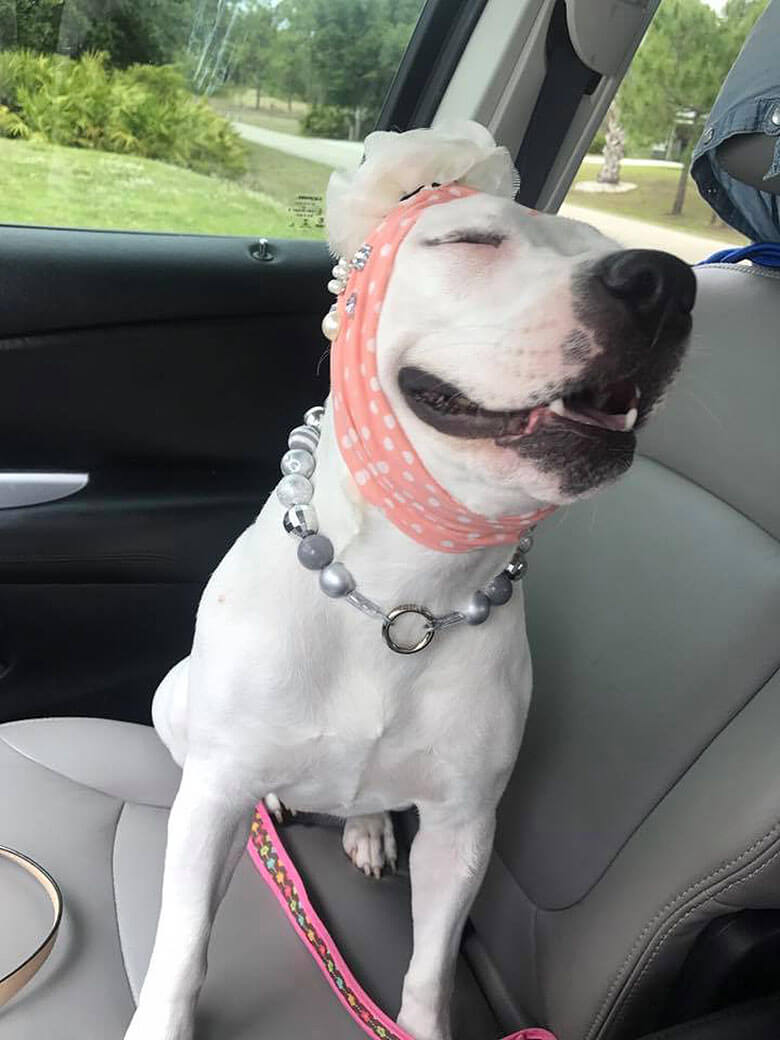 Soon, Bonnets for Abigail was launched to document her journey, share her photos, and post fundraising projects to cover the cost of multiple surgeries.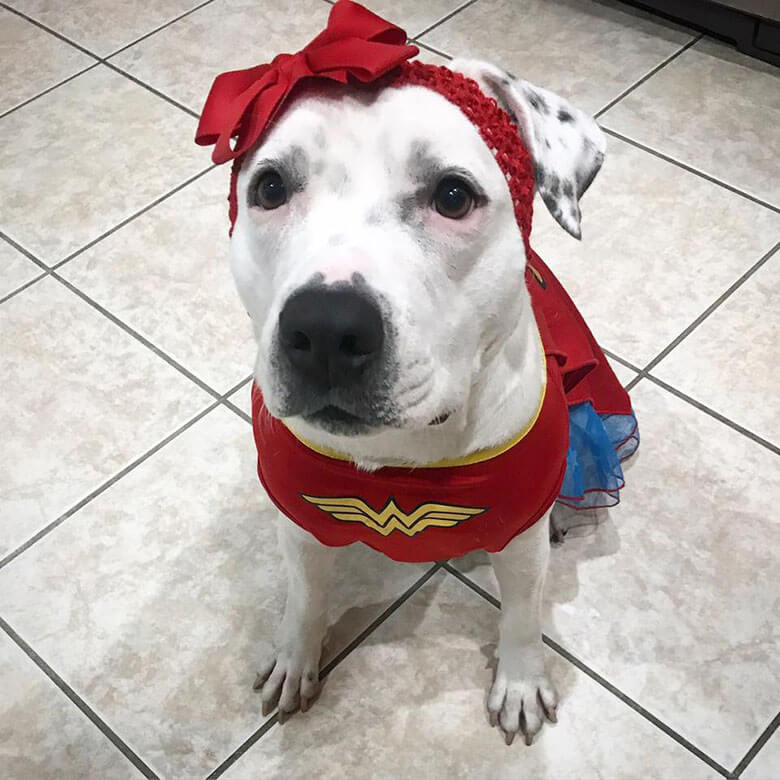 Her story caught the attention of Megan Contreras of Fort Meyers, Florida. Contreras, a television report at the time for a CBS station in the area, had been covering Abigail's story.
"Her story broke my heart, but her sweet, gorgeous face melted my heart, and I fell in love."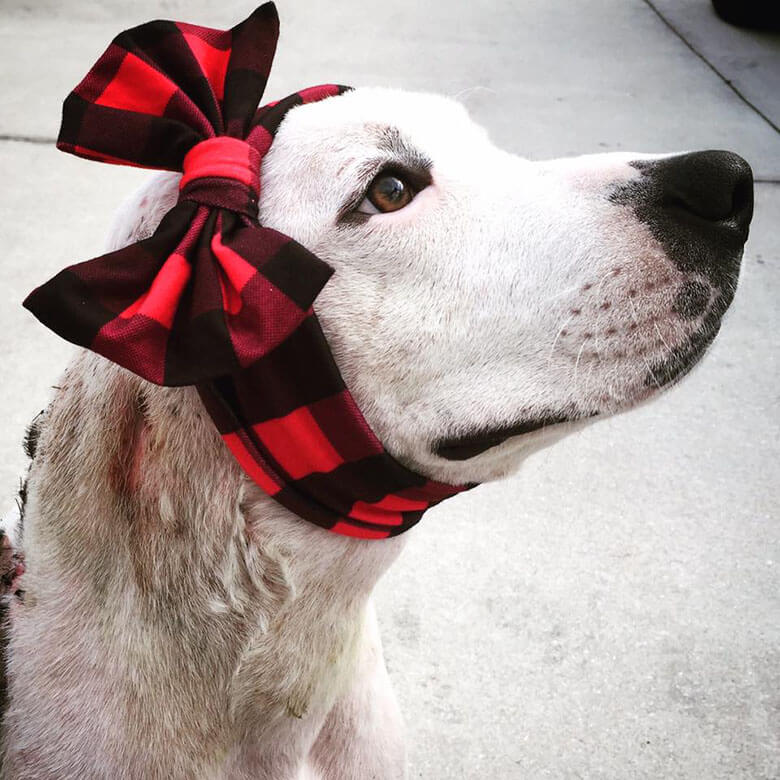 Related: One L.A. Comic Is Standing Up for Pit Bulls, Both On and Off the Stage
She filled out an application (and so a hundred other people), knowing that her family could provide all the love and security that the dog needed.
"Abigail would never again feel any pain or hurt if we had her," Contreras tells This Dog's Life. I knew she was a special girl from the start and was destined to do great things. I wanted to be part of her mission to end dog fighting and to change the stigma of the pit bull breed."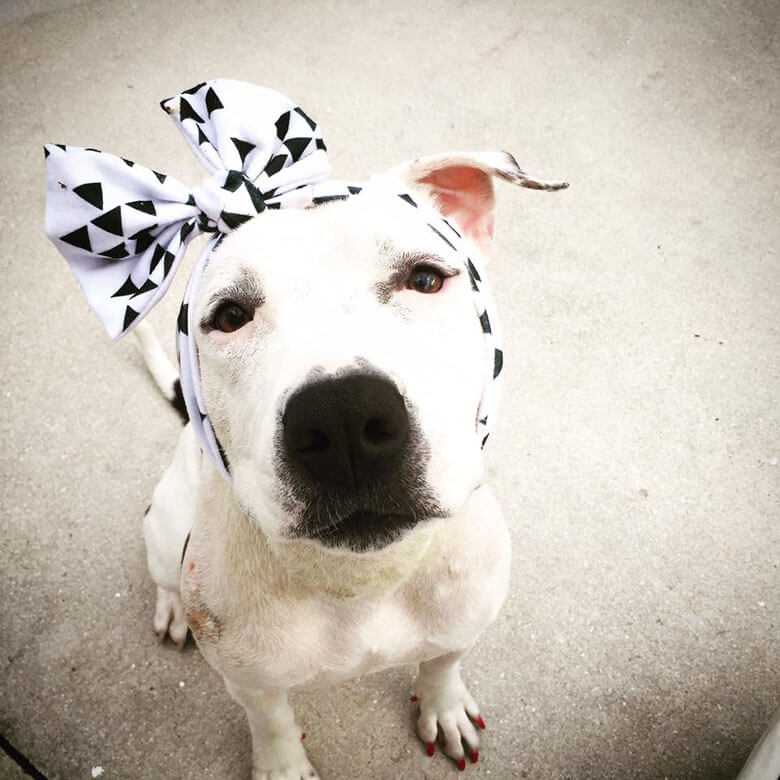 Eventually, it was between Contreras and another family. It was hard waiting for the decision, but eventually, Frazier decided that Abigail was going home with Contreras.
To tell the family, Frazier invited Contreras, along with her husband Jason to a restaurant under the pretense that they were just going to meet up to chat.
But when Contreras arrived at the location, there was a big box of pink balloons, with paws prints on it and the words "Happy Adoption Day."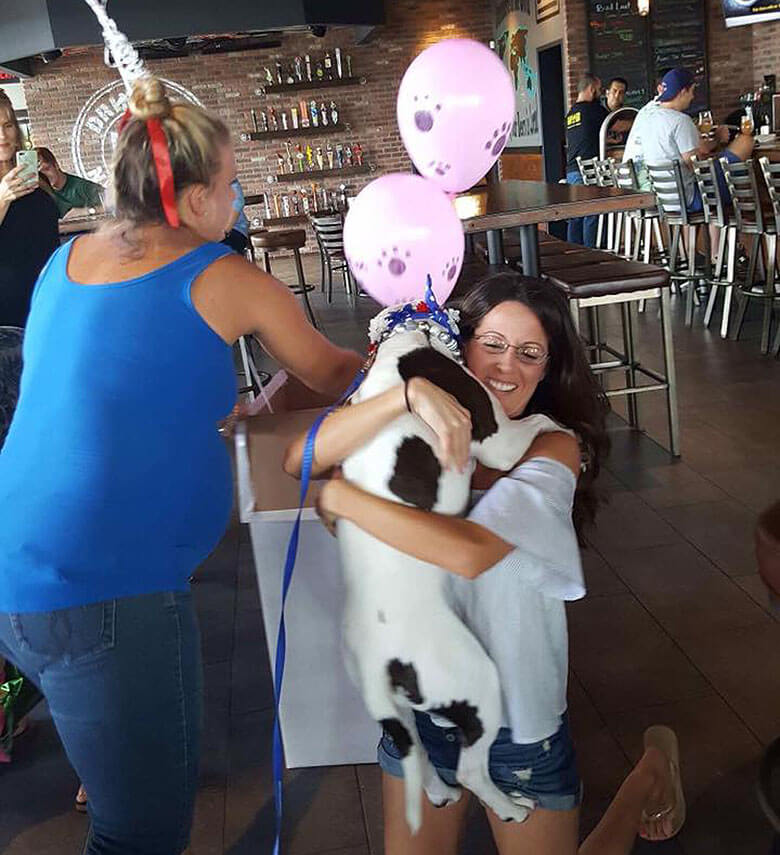 "I was overwhelmed with emotions," she says, "so happy, excited, shocked, and honored. Our family feels complete."
The family has another dog, a rescue named Tala, and Contreras reports that the dogs fell in love at first sight.
"I often wonder if Tala knows something bad happened to Abigail before because she likes to protect her," says Contreras. "When Abby lays on the couch, Tala will cuddle up next to her and lay her head on Abby's head or back and put her paws across Abby's."
Contreras is hoping that the photogenic pooch will change some minds about the breed. Contrary to misconceptions, pit bulls are usually gentle and loving. Indeed, they were once known as "nanny dogs" because of their gentle nature around children.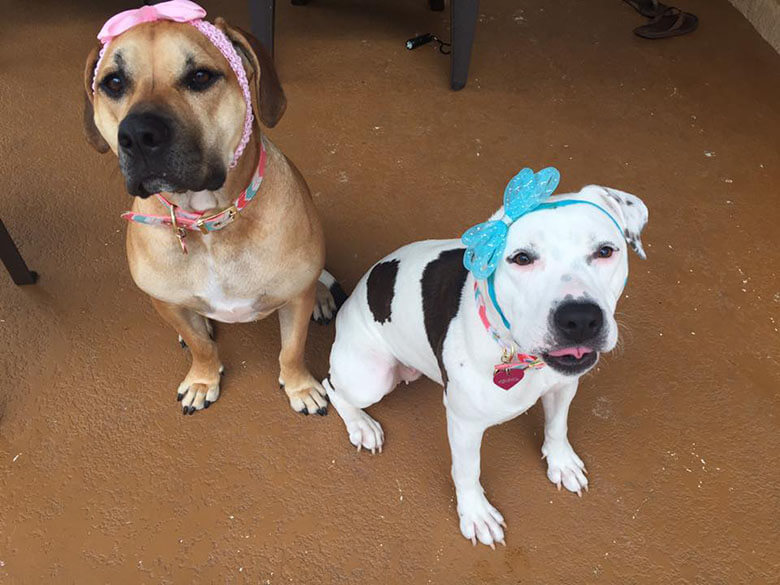 Related: Remember Murdock, the Former Bait Dog? You'll Never Believe What Happened to Him.
"Abigail is very loving, cuddly and friendly," says Contreras. "It's amazing to see how forgiving she is and how trusting of humans and dogs she is after being forced to live such a horrific life."
She hopes Abigail's story will raise awareness about bait dogs and dog fighting. "I'd like to see stricter punishments for these acts of animal cruelty. Abigail is a survivor. She defied the odds and I believe she has a true purpose in life."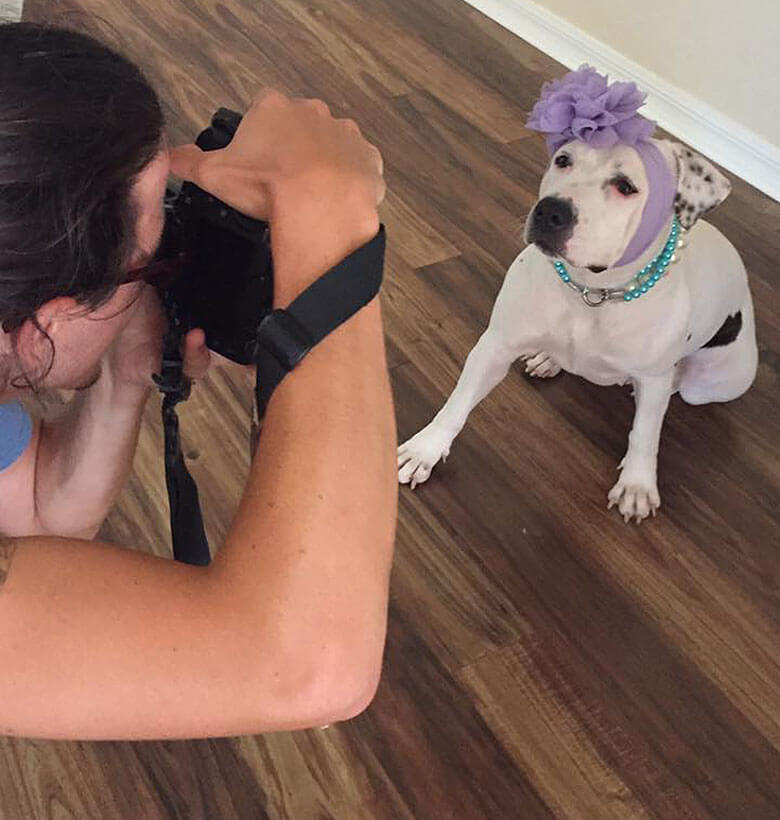 The dog now has over 18,000 followers from all over the world. "She is changing lives. I also hope that the bad stigma of the pit bull breed will change," says the proud mom. "Abigail is a pit bull, and she is one of the sweetest dogs I've ever met."
Abigail is training to become a certified therapy dog. Contreras plans to take her to hospitals, schools, and senior residences to share her message of hope and inspiration. "We are so proud of Abigail and her will to survive," Contreras says. "She has taught us a lot. We are so lucky to have this angel baby in our lives."