Manny the Frenchie, dubbed "Chicago's most famous dog" by Chicago magazine, has already achieved a lot in his young life. He's an Instagram star, philanthropist, model, and TV commercial actor. He even has his own iPhone app where his fans can watch him chase bacon. He counts numerous celebrities among his close friends, including Snoop Dog and Miguel Cotto.
Now this Frenchie can add "author" to his resume. Manny the Frenchie's Art of Happiness, published by Simon & Schuster, is available in paperback or ebook form.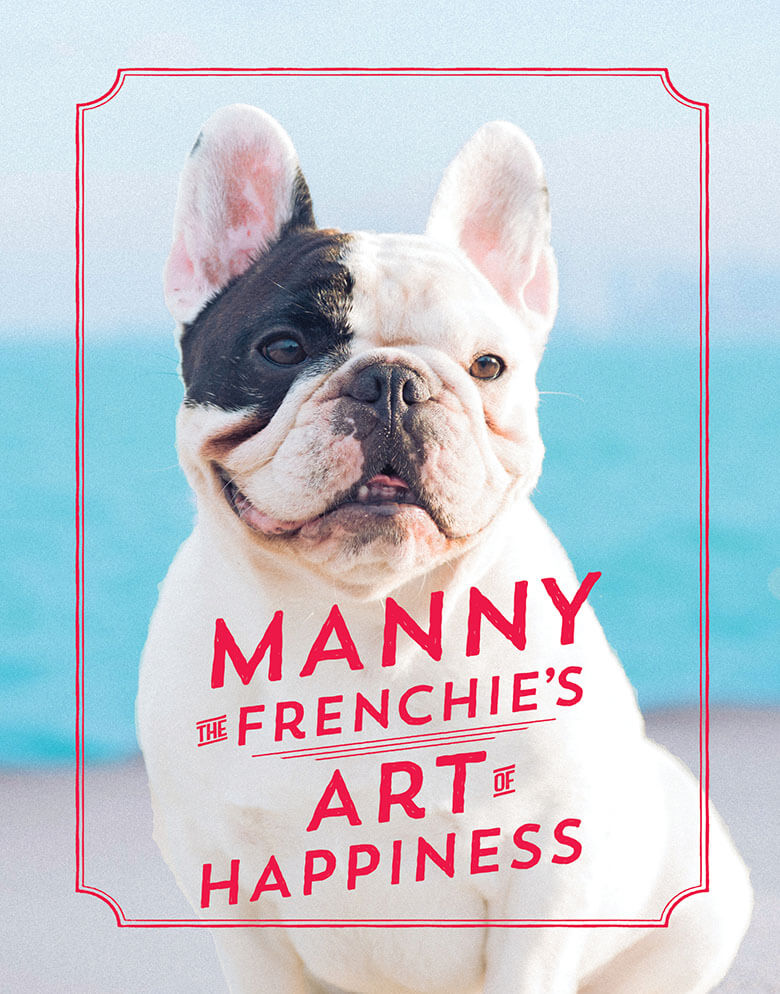 Related: Famous Instagram Frenchie Shares His Favorite Spots in New York City
"The book is a compilation of Manny's popular social media photos and fun new photos​ with adorable captions and tips on how to live a fulfilling life according to Manny," says owner and manager Amber Chavez.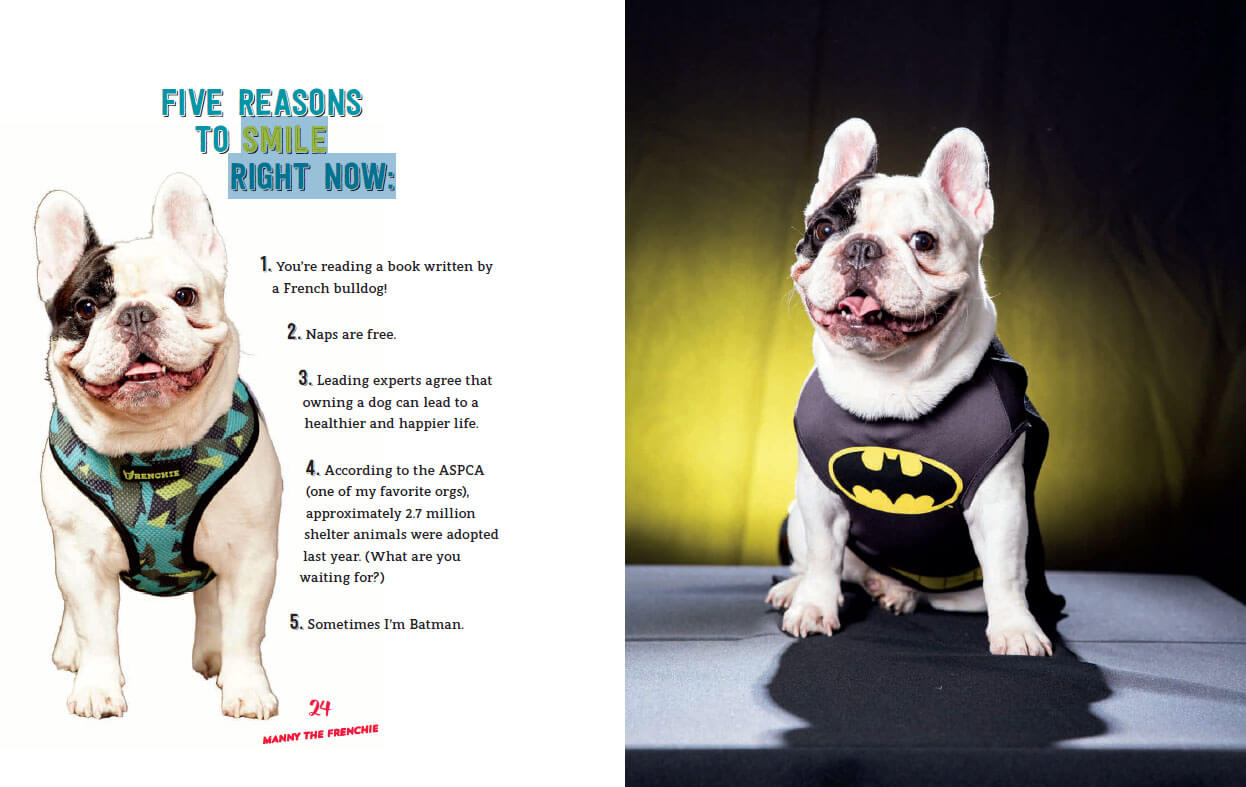 Manny has become so popular, Chavez now runs his social media and philanthropy empire full time. Besides arranging his touring schedule, making sure he has time to write (and play with his toys), she manages Manny's online merchandising store where his fans can order a Manny T-shirt.
Chavez bought the dog from a breeder at a deep discount because he was considered unsellable. As the runt of the litter, he didn't get adopted until he was over 4 months old. The breeder was about to take Manny to a shelter, but Chavez showed up just time.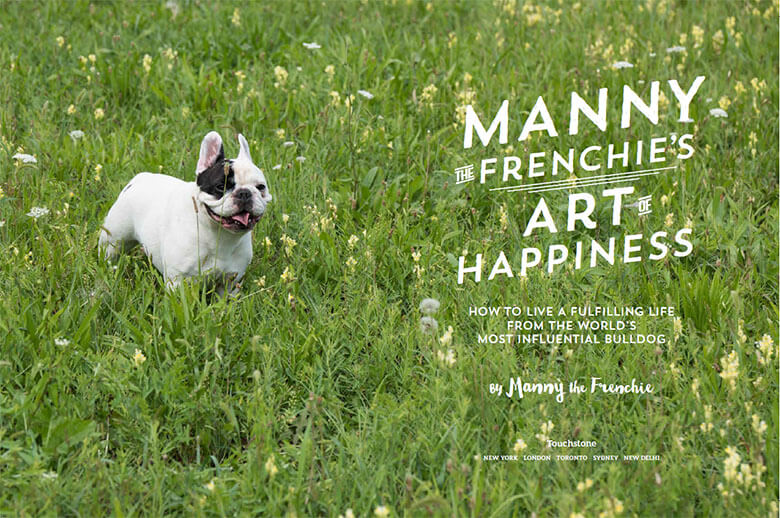 "Manny has always been such a good dog, very easy going, and he loves people. He's known how to work a room since he was a pup and is never shy in front of the camera," says Chavez.
Related: A French Bulldog and Fish Play Kissy Face Every Day
Between Facebook, Instagram, and Twitter, Manny has more than 2 million followers. He is truly a rags-to-riches story, but Manny loves to pay it forward. He's hosted fundraisers, collaborated with American Apparel on a t-shirt for the ASPCA and the French Bulldog Rescue Network, and toured the U.S. to benefit various charities.
​"We always had the idea to tell Manny's story, and a book just made sense," says Chavez. "It was definitely a joint effort with our book agent and publishing company. We wanted not only to tell Manny's story, but make it creative and share never before seen pictures."
​Chavez receives constant comments telling her how Manny brightens their day. "We get emails and direct messages explaining how his posts gets them through rough times. He has brought us so much happiness and spreads joy wherever he goes, so it just seemed like the right direction to go in."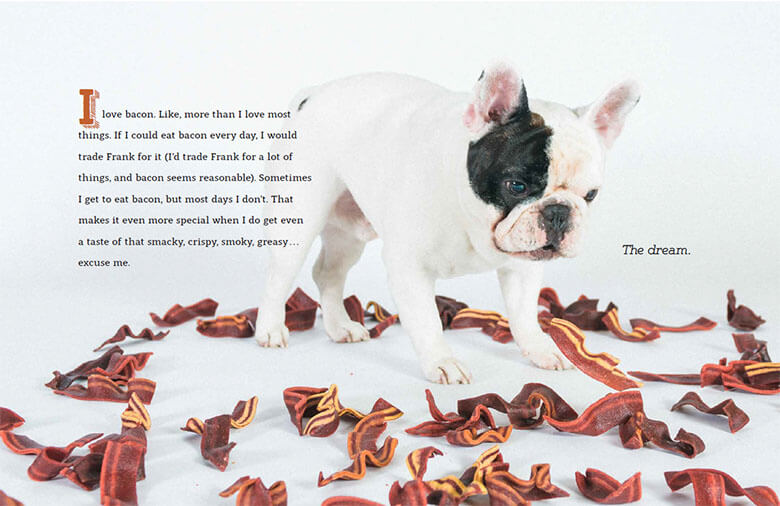 Ever the overachiever, Manny has a busy schedule. He's currently in a national commercial for Turtle Wax and their cleaning supplies, says Chavez, and is also the "official spokesdog" for Dremel's new pet grooming tool kit. "Manny also now has his very own 501c3 non-profit foundation called Manny & Friends Foundation."
Besides spreading laughter and light wherever he goes, Manny shares his tips for a happy life in his new book.  Chavez notes, "Some of Manny's keys to happiness are family hangs, traveling, lots of good food, especially bacon, sleep, and always trying to make world a better place."
Related: French Bulldog Miss Pickle and Her Mom Break Down Art Basel for Us