The great outdoors aren't for everyone, or every dog. Mosquito bites, no running water, food from a tin can and the whole complicated bathroom situation can turn off many folks.
And for those wanting to bring their canine sidekicks into the wilderness, some outdoor "adventures" can stress them out, having both the owner and their dog running for the hills, or in this case the nearest hotel. Fortunately, a compromise has emerged: "glamping," a term defined as glamorous accommodations for those travelers and that want to enjoy the wilderness but in a more comfortable environment. So, basically fancy camping amenities for those that would rather stay in a five-star hotel than sleep under the stars.
Related: A Company That Takes New York City Dogs on Amazing Hikes in the Country? Yes, Please.
A site called Glamping Hub not only has amazing lodging accommodations but many pet-friendly options for those that want to bring their canine sidekick with them to relax and enjoy the great outdoors…with a functional toilet.
Here are our nine favorite glamping experiences for New Yorkers:
1. Luxury Safari Tents from $201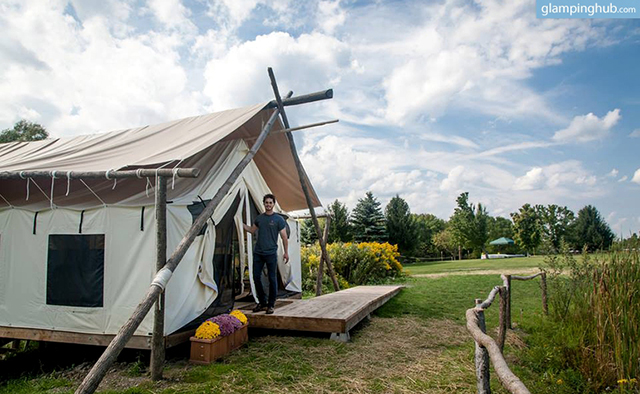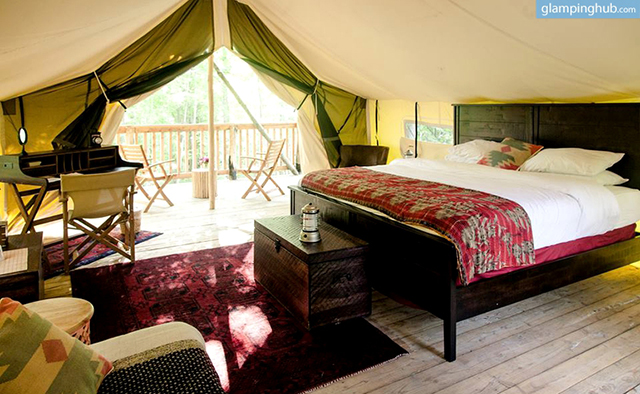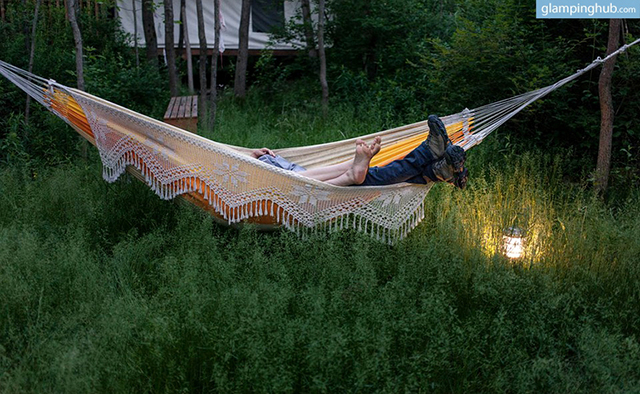 Area: Finger Lakes region
Description: Each safari tent is fully furnished with hardwood floors, a bed, a private balcony, mesh screening and battery-powered lanterns. After a long day hiking, guests can kick back and relax (or take a quick nap) in one of the hammocks hanging from the trees.  Keep in mind, these safari tents offer a more rugged glamping experience, meaning there is no electricity.
Pet policy: dog-friendly, additional information not provided.
2. Tree house cabin from $170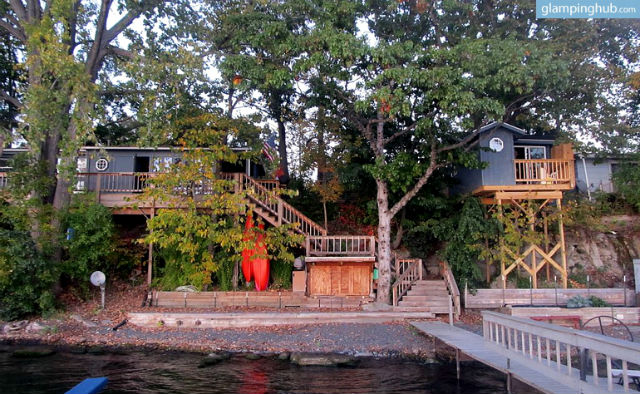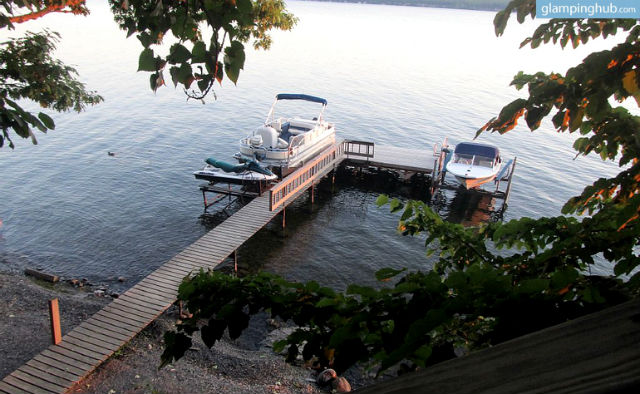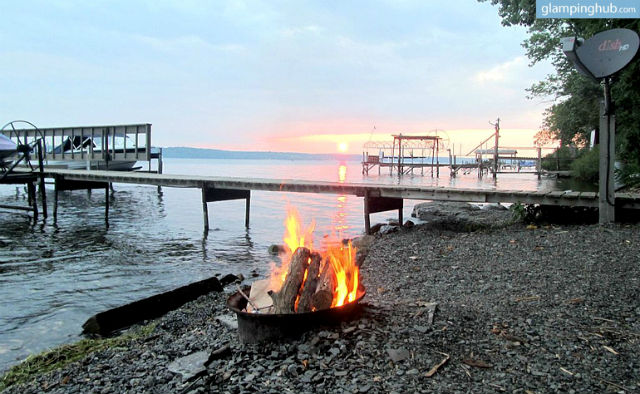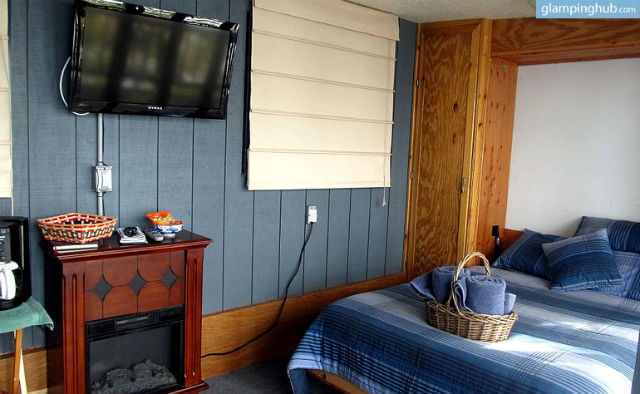 Area: Cayuga Lake, N.Y.
Description: This location offers two different "tree house" rentals. Both offer sleeping accommodations (sofa bed or double bed) a shower and either a balcony or an electric fireplace. There is also air conditioning and heating, along with satellite television.
The cabin is tucked away in a gated property in Finger Lakes wine country and near Long Point state park and the cute village of Aurora.
Pet policy: dog-friendly, additional information not provided.
3. Remodeled  Barn from $1,021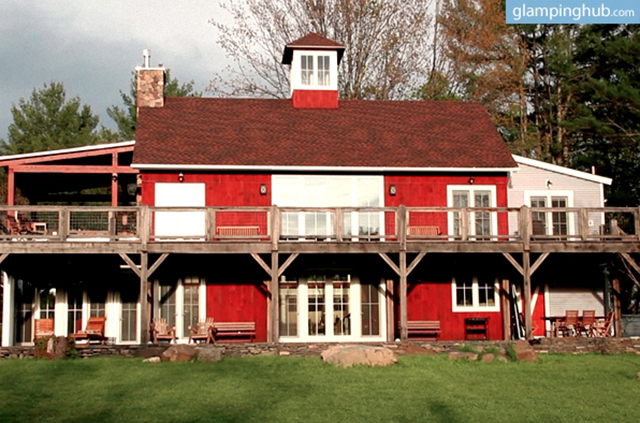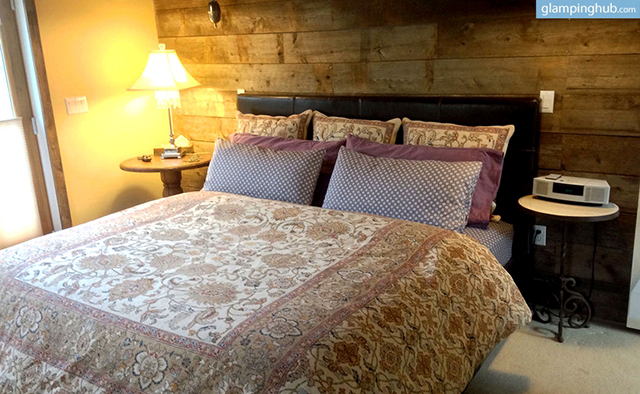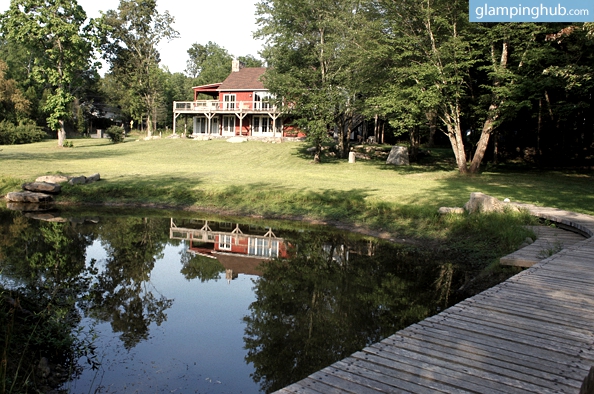 Area: Woodstock, N.Y.
Description: This is the ultimate glamping experience for people that like to enjoy the great outdoors in a group. The barn sits on four acres and sleeps nine guests. There is also a camper on site (included in the price) that sleeps an additional three people. The barn has a stunning gourmet kitchen, two full bathrooms, a rec room and two gas fireplaces, one inside and one outside. There is also a fire pit and an outdoor floating bed.
The lot overlooks the Catskill Mountains and has a pond on site with a walkway and bridges.
Pet policy: dog-friendly, additional information not provided.
4. Cabin Barn Retreat from $382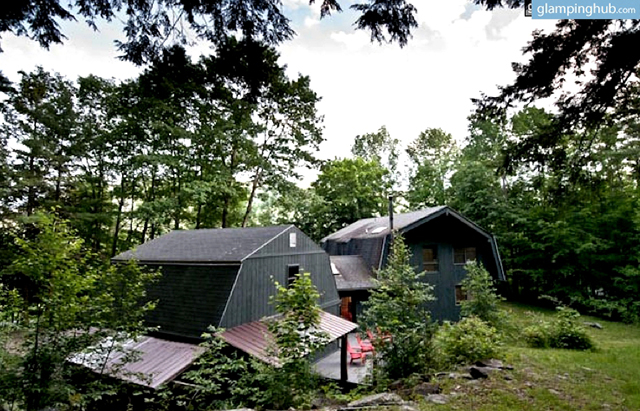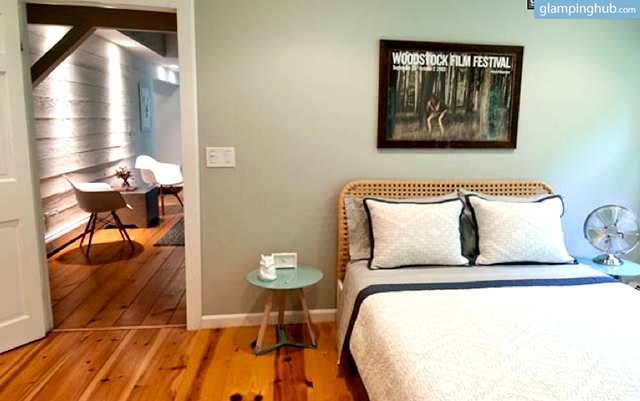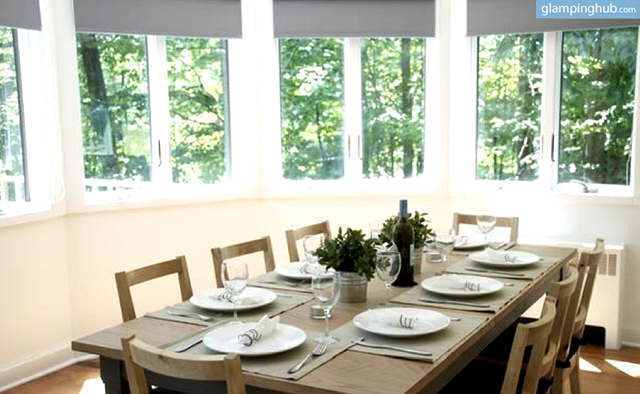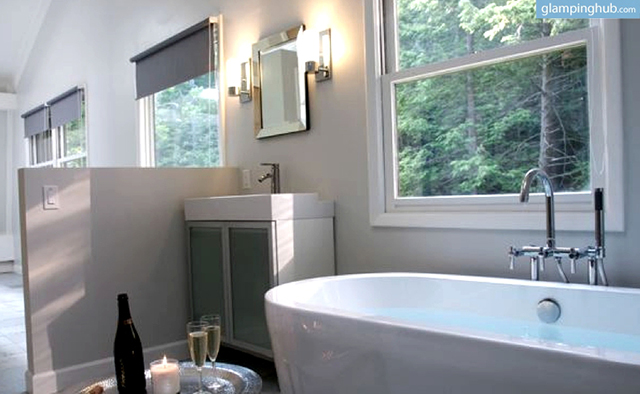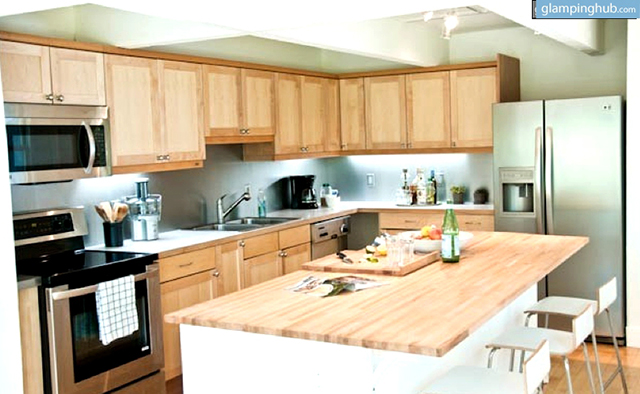 Area: Woodstock, N.Y.
Description: This gorgeous two-story barn provides 2,800 square feet to spread out and take in the great outdoors. Each bedroom has windows looking out into the woods, with beds ranging from full to king. The master bedroom has a bathtub that can fit two people in it and two of the bedrooms have heated floors.
The barn is close to Overlook Mountain and the Shawangunk Mountains, along with the Mower's flea market and the River Rock Health spa.
Pet policy: There is a pet fee of $75 per dog and guests must notify the host and be pre-approved. If the stay in longer than a week, the fee increases.
Related: 16 Breathtaking Photos of Dogs Camping
5. Modern Renovated Barn from $294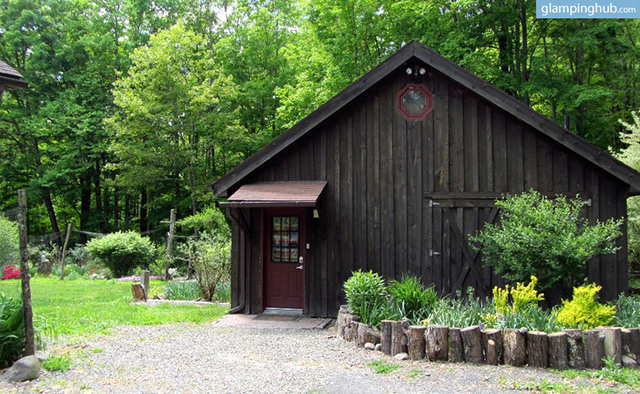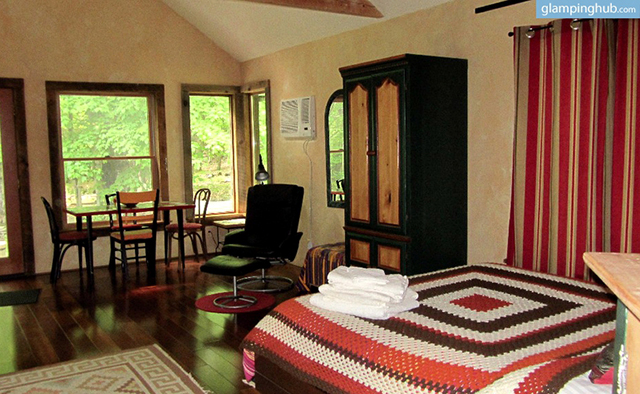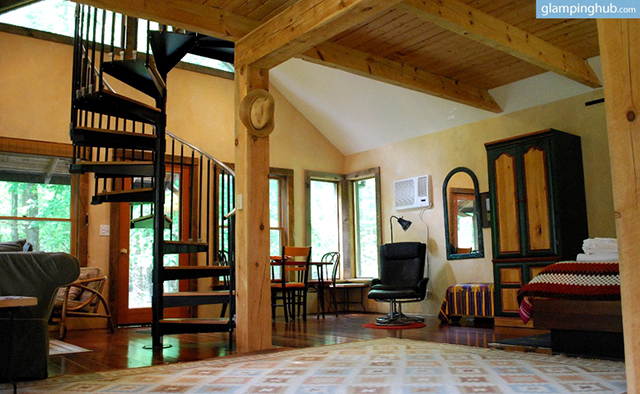 Area: Woodstock, N.Y.
Description:  Four "glampers" can sleep comfortably in this remote two-story barn in Catskills Park. The barn comes with a queen-sized bed, double bed and sofa bed. Besides a kitchen, dining room and living room, the place has a spiral staircase and stone patios with a private hot tub and BBQ.
Because it is located right in Catskill Park, there are many great hiking trails that are only a few minutes away.
Pet policy: $55
7. Renovated Barn With Steam Shower $150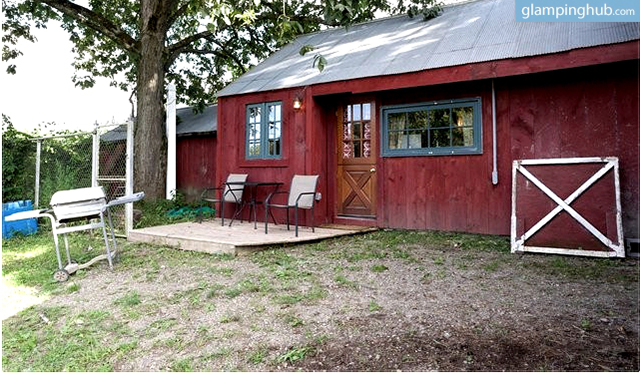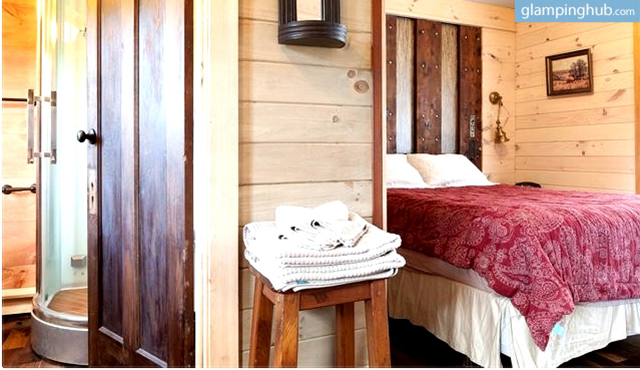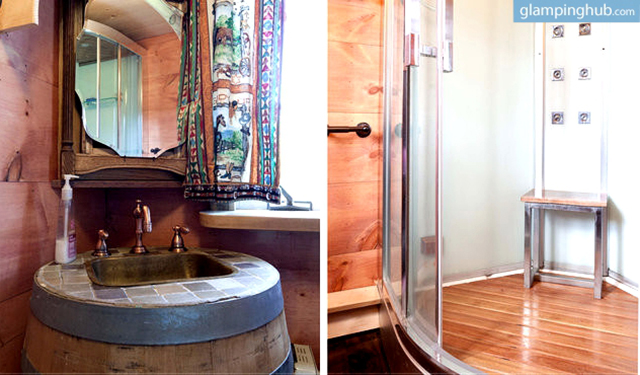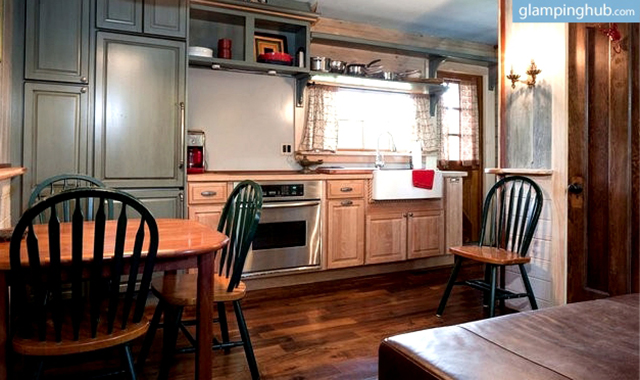 Area: Hudson Valley, N.Y.
Description: This glamping accommodation is part of a horse barn that sits on a 27-acre farm that has horses, chickens, bunnies, cats and dogs. The interior has a country feel to it and has a gourmet kitchen, steam shower and bedroom. The kitchen comes equipped with a glass cook top, full-sized over and bar area. The bathroom's steam shower has six jets, an overhead rainfall shower and steam, music and lights.
There is also nightly bonfires, a wood-fired pizza oven and therapy hot tub.
Pet policy: dog-friendly, additional information not provided.
8. Deluxe Cottage with Outdoor Pool $278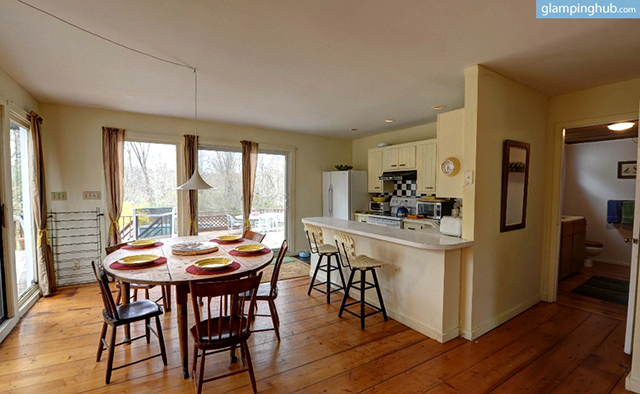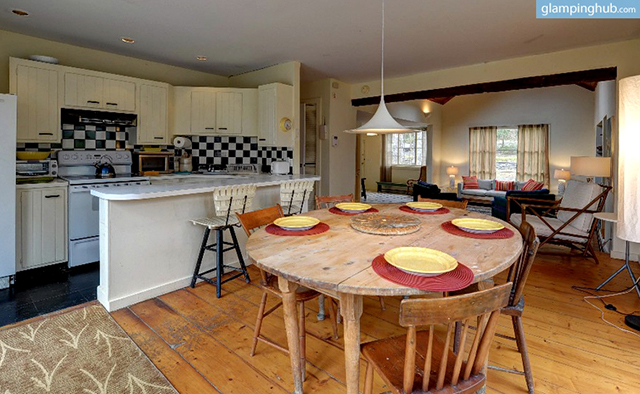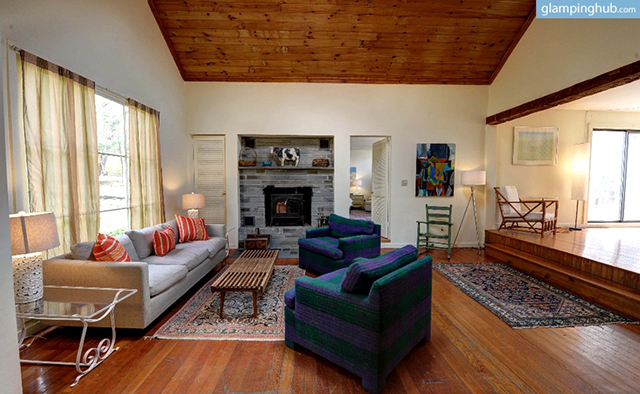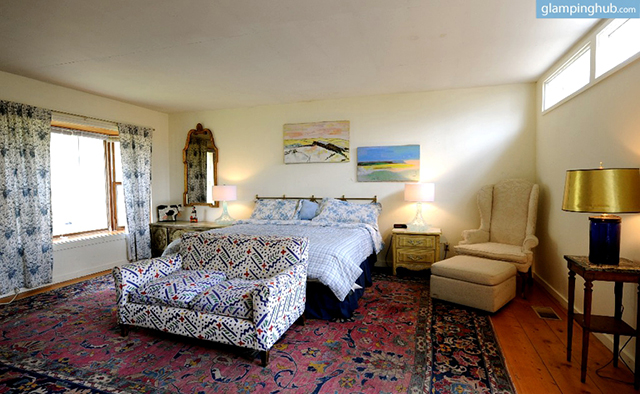 Area: Woodstock, N.Y.
Description: This cottage sleeps four people and has two bedrooms and one bathroom. The house comes equipped with two fireplaces, two flat-screen televisions, a Jacuzzi and a pool!
The kitchen and dining area provide floor-to-ceiling windows, a stove, toaster over, two coffeemakers, a microwave and refrigerator, along with other amenities.
The area provides a ton of outdoor activities, shops and cafes for glampers to enjoy.
Pet policy: dog-friendly, additional information not provided.
9. Luxurious Farmhouse $459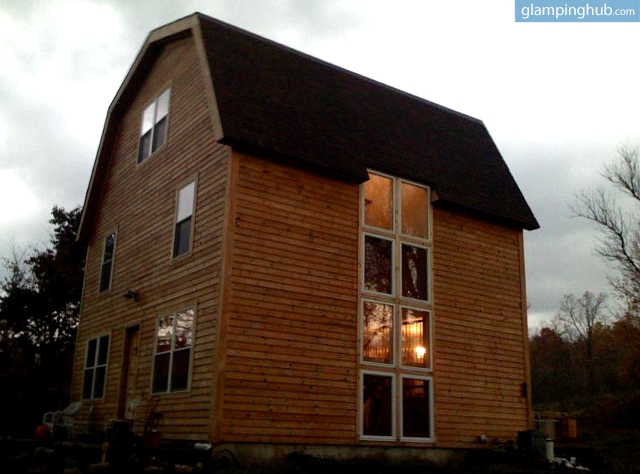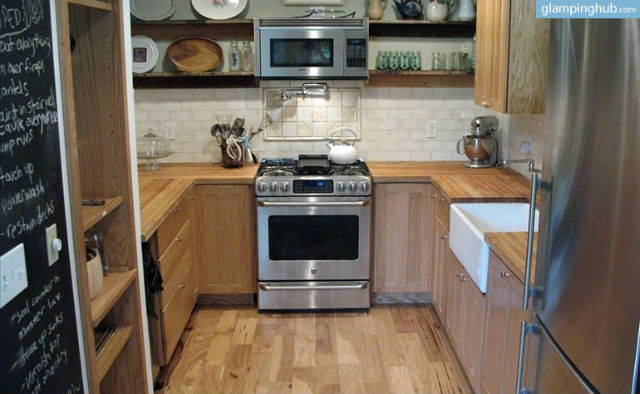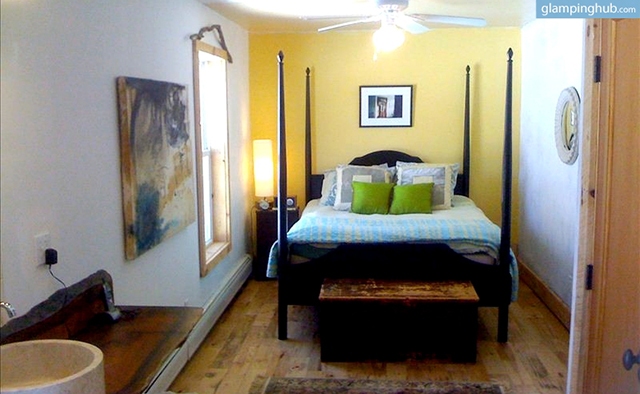 Area: Hudson Valley /Catskills
Description: This four-bedroom farmhouse sleeps up to eight guests with amenities to make anyone feel comfortable glamping. There are four bedrooms, three full bathrooms and one half bathroom. The living room has books, board games and basic cable. The kitchen comes with three different coffeemakers, a dishwasher, microwave and refrigerator. There are two patios and a screened-in porch. There is also a three-season spa tub and the farmhouse is close to a golf course and a place to ski.
Pet policy: dog-friendly, additional information not provided.
To find more dog-friendly glamping places, head over to Glamping Hub