As natural omnivores, dogs eat a whole lot of meat. Indeed, if pets were their own country, they would rank fifth in the world for meat consumption, according to research.
Luckily for us, more dog food brands are putting an emphasis on sustainable and ethical business practices.
For those dog parents looking for ways to reduce their carbon footprint while providing your pup with the nutrition needed, here are a few of our favorite eco-friendly, sustainable dog food brands that will nourish your pet while preserving the planet.
Related: We Compared the Top Fresh Dog Food Delivery Companies on Ingredients, Price, and What Makes Them Special
This post contains products independently chosen (and loved) by our editors and writers. However, This Dog's Life may earn a small commission on qualifying purchases of the products we link to.
1. Open Farm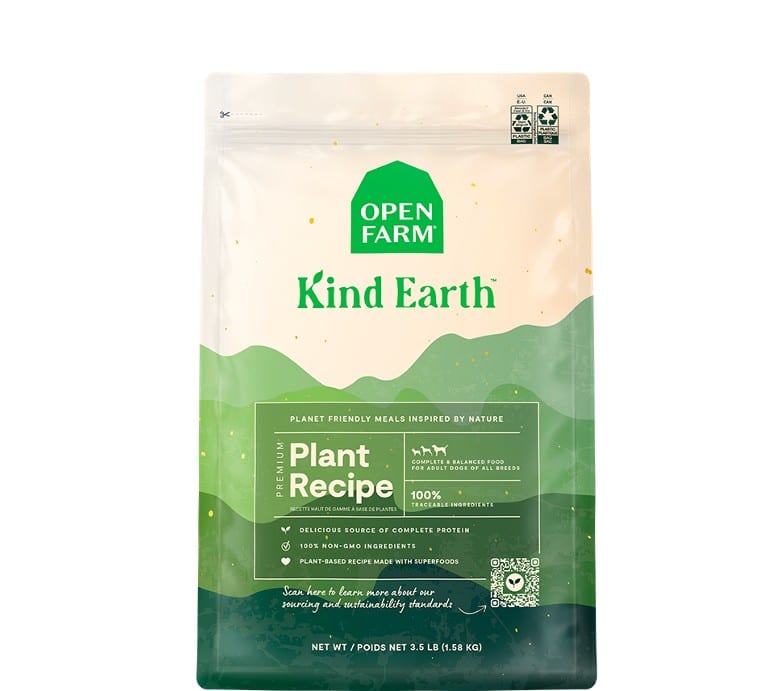 Founded in 2014 by Isaac Langleben, Jacqueline Prehogan and Derek Beigleman of Toronto, the trio's mission was to create a transparent, sustainable and ethical dog food that also our pups would love.
Why We Love It
The company is on the forefront of sustainability, with a goal to minimize its impact on the planet while never compromising on taste. Open Farm's dog food uses humanely-raised meat, wild-caught fish, non-GMO ingredients, and no artificial flavors.
It is also extremely transparent about its initiatives, measuring its impact, reporting on its efforts, and progress. It even allows dog parents to scan lot codes from dog food bags to see where every ingredient comes from.
Sustainability Efforts
Open Farm works with a number sustainable initiatives, including Darkwoods Forest Conservation Project, to offset its carbon footprint. The company has also teamed up with recycling business TerraCycle for recycling its dry food packaging. With its commitment to transparency, the company says it will reduce its carbon footprint by 42% by 2030 and shares exactly how it will do so.
Cost Range
Open Farm's dog food ranges from $22 to $95 in price, according to the size and type of dog food. It can be bought on its website, Amazon, and other retailers. 
2. Honest Kitchen
Located in San Diego, California, The Honest Kitchen was founded in 2002 by Lucy Postins and was one of the first companies to produce 100% human-grade food for pets.
Why We Love It
The Honest Kitchen makes food to promote optimal dog health and is free of GMOs, feed-grade ingredients, and chemical preservatives. About 97% of its ingredients are sourced in North America, including MSC-certified and organic products. The company is extremely transparent about the origins of their ingredients and shares a list of their sources on a public-facing Food Source Map.
Sustainability Efforts
The Honest Kitchen's suppliers must provide proof of its food origins and use fair-trade channels whenever possible, ensuring the Honest Kitchen only uses ethical, eco-friendly ingredients in its recipes. The Honest Kitchen makes its food in small, controlled batches and the food is dehydrated to take up less space during shipping, reducing emissions.
The company offers discount programs to non-profit animal rescues. All of The Honest Kitchen's packaging is recyclable or reusable.
Cost Range
The Honest Dog dog food line ranges in price from $6-$93, depending on the size and line of the food. Its dog food line can be bought at Chewy, Amazon, on The Honest Kitchen website, and other retailers.
3. Wild Earth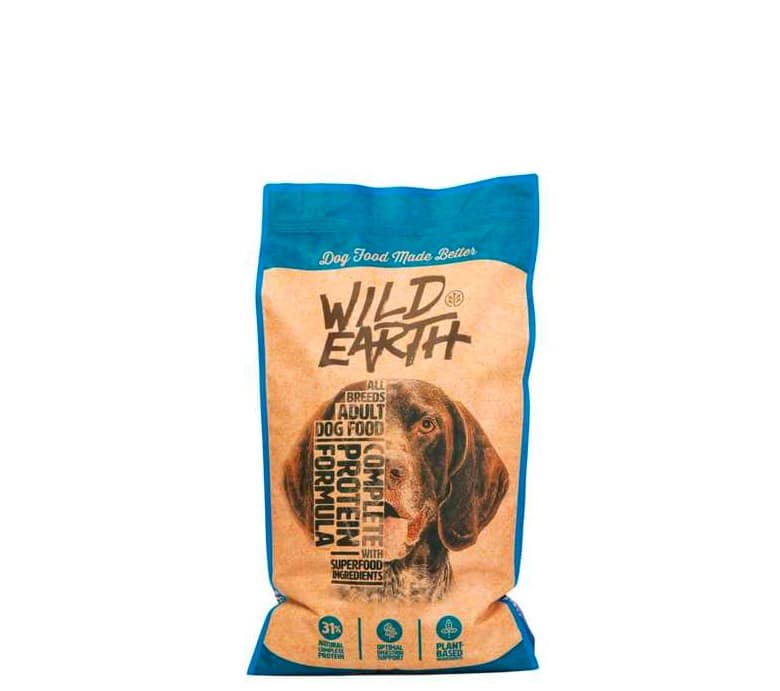 Featured on the show Shark Tank, Wild Earth makes 100% plant-based dog food health.
Why We Love Them
According to a Wild Earth survey, 78% of the respondents saw health improvements in their dogs after just three bags of Wild Earth.
Instead of fillers, the company uses sustainable, vegan ingredients, such as oats, sweet potato, and dried years. The yeast is a 31% natural clean protein and supports joint and digestive health. It also has prebiotics and fiber for digestion, healthy fat for skin and coat, and amino acids for heart health. Plus, the company is heavily focused on cell-based meat.
Sustainability Efforts
Wild Earth's sustainable, meat-free ingredients can reduce your pet's carbon footprint by up to 90% (vs. meat-based kibble), while promoting cruelty-free practices.The company makes its food in the U.S.
Cost Range
Wild Earth's dog food ranges from $39 to $90 in price, according to the size of the bag. It can be bought on its website, Chewy, and other retailers.
Related: When's the Best Time to Switch Your Puppy to Adult Dog Food?
4. Jiminy's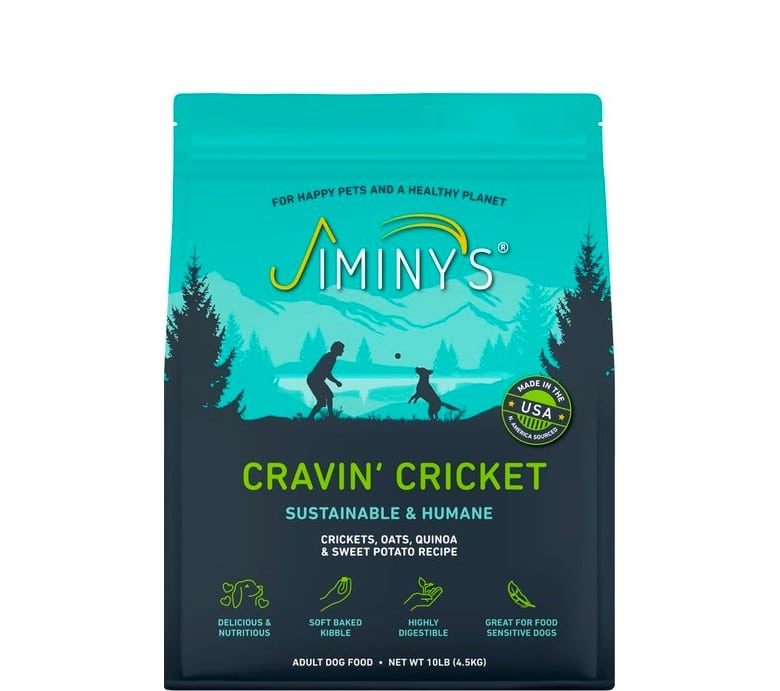 Founded by Anne Carlson, Jiminy's is a woman-owned dog food company based in Berkeley, California. Because of its innovation and integrity, the company was awarded the 2020 SupplySide Nexty Winner for "Best Product for Pet/Animal Health" for its dog food and a winner of the Pet Age Women of Influence award.
Why We Love It
Jiminy's helps dog parents make better sustainable choices with every bag. Rather than traditional proteins, the company is one of the first to add powered cricket protein to its dog food recipes. This significantly reduces their environmental impact, while providing your pup with the protein his body needs for optimal health. Additionally, insect protein may be better for dogs with tummy troubles, is a good source of prebiotics, and doesn't contain pathogens that are found in traditional meat. It also has more beef than beef, more iron than spinach, and more B12 than salmon.
Sustainability Initiatives
Made in small batches in the US, all of Jiminy's insect protein is ethically raised and only harvested at the end of the insects' life cycle. They also use recycled or recyclable packaging.
Cost Range
Jiminy's dog food ranges from $16.95 – $58.95, depending on the size and line of the food. It can be bought at Chewy, Amazon, Jiminy's, and other select retailers.
5. Petcurean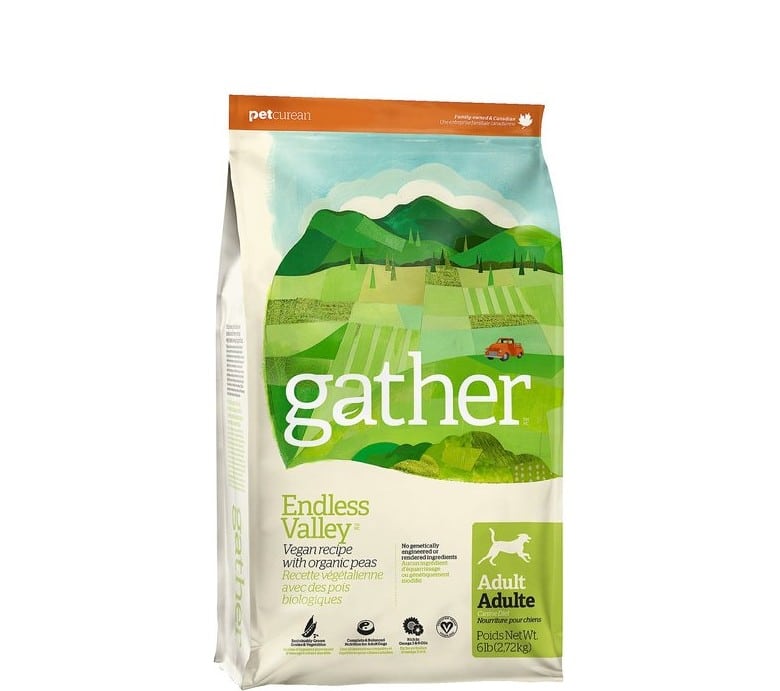 Petcurean makes sustainable food for dogs and cats. Headquartered in British Columbia and founded in 1999, the company uses high-quality, grain-free ingredients, including de-bonded turkey, flaxseed, potatoes, and apples. Its recipes are developed by a team of qualified nutritionists
Why We Love It
The company does not take a one-size-fits-all approach to its dog food. Rather, it develops recipes for dogs of different sizes, ages, and backgrounds.Not only does Petcurean keep dogs healthy, but it also empowers its people with competitive compensation.
Sustainability Initiatives
For its Gather line, every producer Petcurean chooses to partner with must meet stringent sustainability criteria, including treating their animals humanely and actively promoting biodiversity. Petcurean's Gather dog food line is also organic and when using fish, it only uses 100% line-caught cod. Additionally, the brand encourages its employees to carpool, walk, bike, or use public transit whenever possible. Petcurean's bags can be recycled. They print all of their product brochures on FSC-certified paper.
Cost Range
The Gather dog food line ranges in price from $45-$88, depending on the size and line of the food. Petcureans's Gather dog food line can be bought at local retailers or on Chewy.
6. Steve's Real Food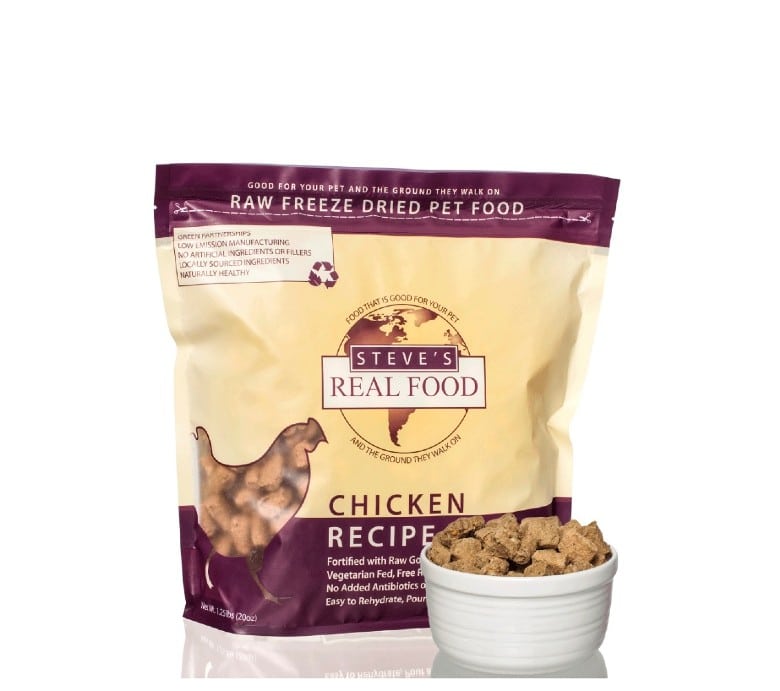 Founded by Steve Brown, Utah-based Steve's Real Food has been offering dog food since 1998. The company uses only USDA-inspected, human-grade meats from free-range animals. The brand is now woman-run with Nicole Lindsey becoming the owner and operator in 2010.
Why We Love It
The company is a member of the Pet Sustainability Coalition and only sources its protein from ethically-raised animals. Steve's Real Food strives to educate pet parents to help them make better decisions when it comes to the health of their dogs. Steve's Real Food is also one of the much more affordable sustainable dog food brands on the market.
Sustainability Efforts
Steve's Real Food only uses suppliers with American facilities to reduce its carbon footprint. It also uses pesticide-free produce from Norpac, a farmer-owned co-op that includes over 200 Oregon-based farmers. The company uses environmentally-responsible products and manufacturing processes. Its packaging materials are all plant-based or 100% post-consumer waste.
Cost Range
Steve's Real Food costs around $40 for a 20-ounce bag of freeze-dried dog food and can be bought locally or online.