When temperatures soar, your pooch can get overheated. Dogs, especially short-nosed breeds, are susceptible to heatstroke during sweltering summer days.
To help your hot dog beat the heat, it's essential to provide him with plenty of fresh water. And if you want to spoil your pup, give him one of these five refreshing dog-friendly treats to keep him chill all summer long.
1. Frozen Fruits
Frozen fruits are yummy, pooch-approved snacks that are super simple to make. Simply wash the fruit, pop it in your freezer, add some xylitol-free peanut butter, and you're good to go! And if you want to make it more interesting, place the fruit in a Kong or puzzle, so treat time can provide mental stimulation, too.
Some fruits that are the perfect summertime snacks for dogs include:
Bananas
Blueberries
Strawberries
Before feeding your dog any type of fruit, make sure it's safe for him to eat. Never give your dog grapes, raisins, cherries, or any fruit with a pit, like peaches, avocados or nectarines, as these can be serious choking hazards. (However, sliced peach chunks are a safe treat for dogs.)
Related: 5 Dog Food Toppers to Help Boost Your Pup's Health
2. Pup-Safe Ice Cream
While human ice cream can give your pup tummy troubles, there are ways your dog can enjoy this delicious dessert. you can whip up your own dog-friendly ice cream concoction. Buy doggie "ice cream" from brands such as Pooch Creamery or Lazy Dog Cookie Company.
If you want to go the DIY route and use this recipe to make your own tantalizing ice cream treats.
Ingredients:
Banana
Yogurt
Xylitol-free peanut butter
Directions:
Blend ingredients into a creamy puree
Pour mixture into a fun mold, like a paw print
Freeze overnight
Related: 6 Dog-Friendly Ice Cream Recipes to Keep Your Pup Cool During the Summer
3. Frozen Kong
It's no secret that dogs love Kong toys. Transform your pet's favorite toy into his new go-to summer treat by filling it with:
A banana, plain yogurt, and one-teaspoon honey mix
1/2 cup of plain cottage cheese
Xylitol-free peanut butter
Canned dog food
Shredded turkey
Put the Kong in the freezer overnight and give it to your dog the next day.
Related: Bored Pup? Here Are 15 Yummy Things You Can Stuff Inside Your Dog's Kong — And Keep Her Happy for Hours
4. Pupsicles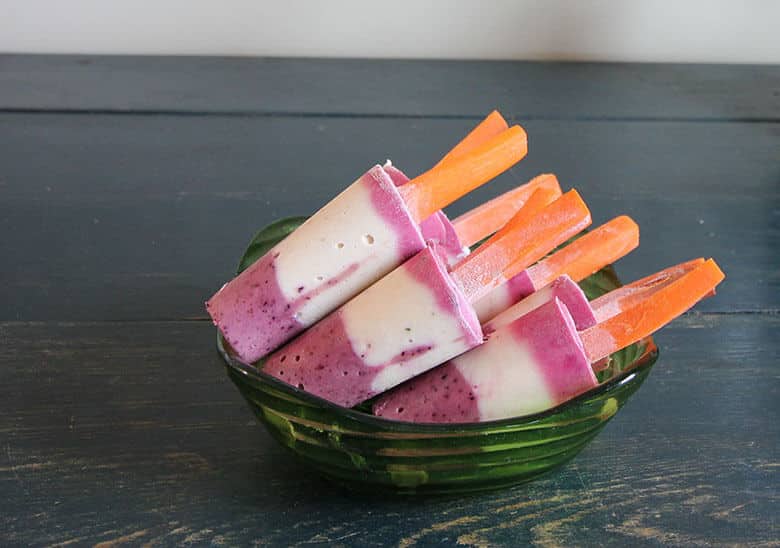 Popsicles are a summertime staple. You can share the love with your dog by making him a frozen treat of his own.
Use our very own recipe to make delicious pup pops.
Ingredients:
2 ripe bananas, cut into chunks
1/2 cup nonfat Greek yogurt
1/3 cup frozen or fresh blueberries
1 slice raw beet
6 carrots
Directions:
• Blend the bananas and yogurt to puree
• Pour 3/4 of the mixture into a cup.
• Add the blueberries into the blender with the remaining banana mixture and blend to liquefy.
• Scrape blueberry mixture into a second cup and reserve.
• Return 1/4 of the plain banana mixture into the blender and blend with the beet slice.
• Scrape into a cup.
• Spray the popsicle mold with cooking oil spray (we love coconut).
• Spoon the blueberry mixture into the bottoms of the molds, dividing it evenly.
• Gently spoon the white banana mixture evenly into the molds in the same way.
• Gently top with the beet mixture leaving about 1/4 inch of space at the top of the mold.
• Add a carrot "stick" to each mold
• Freeze for at least 2 hours.
• Unmold and feed a pop to your pup, storing the others in the freezer for later snacking.
While traditional popsicles are served on sticks, never put a pupsicle on a stick for your dog. She may choke on it while gobbling up the goodies.
Related: Super Easy 'Pup Pops' Recipe That Your Dogs Will Absolutely Love
5. Go Wild with a Frozen Doggie Toy Cake
To keep your dog cool all day long, create a backyard hydration station by making him a fun frozen cake! Use this recipe to get started.
Ingredients:
48 oz. of water
Your dog's favorite small toys or treats
Directions:
Pour the water into a pie pan or low-sided Tupperware container. Add a few of your dog's favorite treats or toys that can fit into the container. Freeze overnight and put the cake out in the yard the next day. Whenever you let your dog out, he'll love licking his toy cake!