June is Pride Month and an opportunity for LGBTQ folks, their allies, and their dogs to come together in celebration and support of a community that has fought long and hard for justice and equality.
The very first LBGTQ+ Pride Month was hosted in 1970 to commemorate the first anniversary of the Stonewall Riots, an uprising that occurred during the summer of 1969 after a violent police raid at New York City's Stonewall Inn, a gay and lesbian bar. Now, Pride Month is a month-long celebration that happens every June and includes Pride parades, concerts, and other nationwide events to raise awareness for the LGBTQ+ community.
The rainbow flag became the official symbol of the LGBTQ community in the 1970s, and since then, people (and pooches) worldwide have been donning rainbows to raise awareness.
If you want to make a splash at your local Pride parade or picnic, here are seven Pride Month pupper products to pick up right now
1. Prismatic Cotton Rope Leash from Found My Animal
This handcrafted and dyed rope leash from Found My Animal is the perfect way to celebrate Pride Month in style. Featuring a gorgeous rainbow dye scheme, this super durable leash can withstand even the most powerful of pullers. With solid brass lockable carabiners at both ends, this hands-free leash can be comfortably worn around the waist, too. You can also walk two dogs at once for a pack brimming with rainbow Pride.
Sizes: Small-XL
Price: $64
Related: Everything You Need to Know About Washing Dog Sweaters, Collars, and Bedding
2. Rainbow Bandana from Dog and Taylor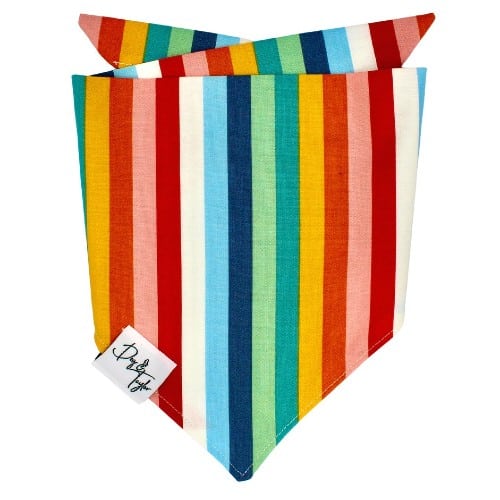 Dogs and bandanas go together as perfectly as rainbows and unicorns. This vibrant rainbow bandana from Dog and Taylor is a great addition to your dog's Pride Month outfit. You can even personalize it with your dog's name! Tie it around your pup's neck, around his collar, or even wear one in your hair. Handmade in the USA, this super-soft bandana will make your pooch the pride of the parade!
Sizes: XS-Large
Price: $20-$26
3. Rainbow Beaded Dog Collar from The Kenyan Collection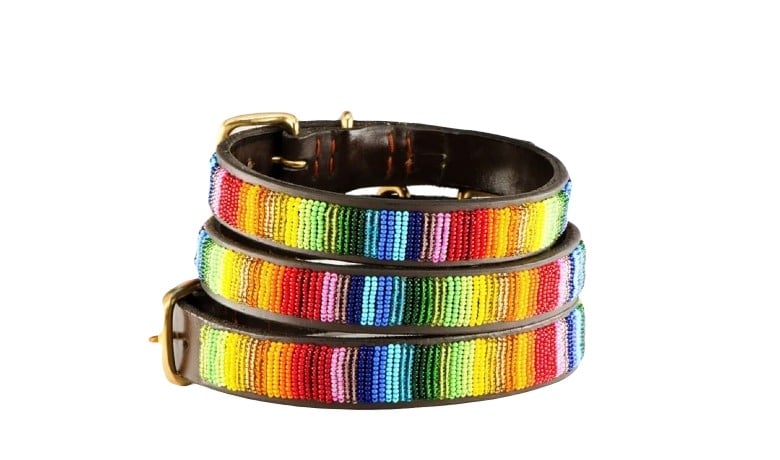 Add a touch of Prideful pizazz to your pup's outfit with this rainbow beaded dog collar from The Kenyan Collection. Made from hand-sewn leather and colorful beads, this beautiful collar features hand-casted brass buckles for additional durability.
Sizes: 8″-22″
Price: $46-$115
4. Tie-Dye Step-In Harness from WagWear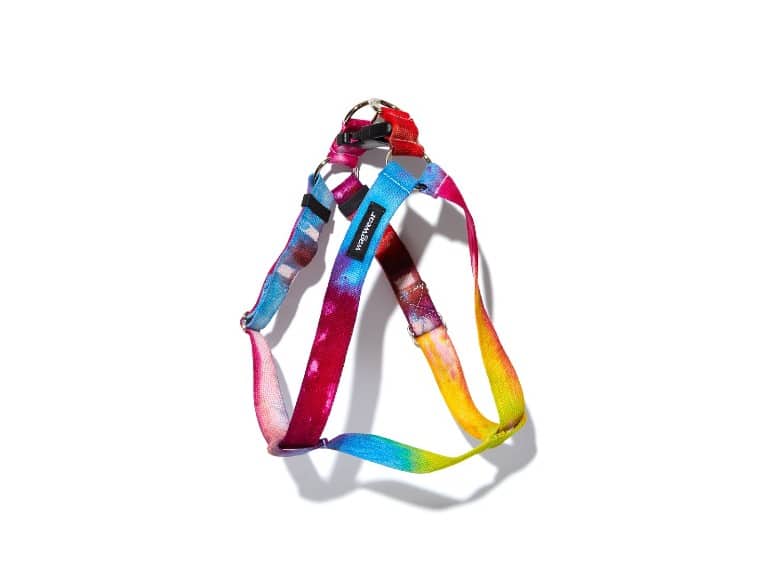 Do you feel more secure walking your dog in a harness than on a leash? Then scoop up this stylish tie-dye step-in harness! Boasting an overall rainbow tie-dye pattern, this 100% cotton rope harness is comfy enough for your pup to wear for the entire Pride march. Extremely durable, this harness will keep your excitable pet from jumping on others or pulling.
Sizes: Small-XL
Price: $40
5. Rainbow Dog Bow from The Foggy Dog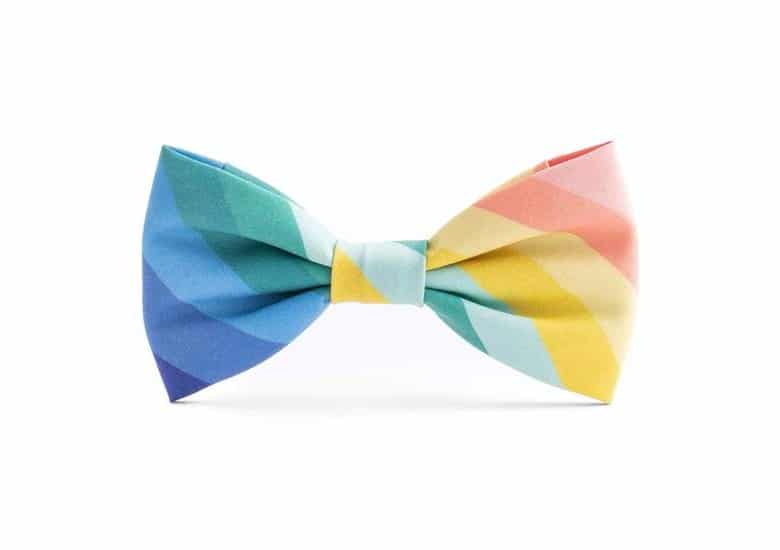 Rainbow Dog Bag Holder from
Whether your dog is sweet and sassy or jaunty and dapper, he or she will look extra special in this adorable rainbow bow tie. Simply affix this beautiful bow tie over your pet's normal collar for an iconic look that is bound to get noticed. This unique pattern was made by artist Cassidy Demkov and comes in two different sizes.
Sizes: Standard and Large
Price: $19
Related: 7 DIY Dog Toys You Can Make Right at Home
6. Rainbow Dog Toy from ZippyPaws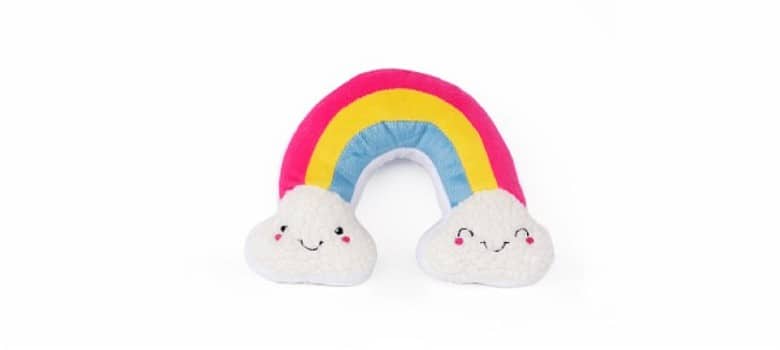 Let your pup taste the rainbow with this cute and interactive rainbow Squeakie Pattiez dog toy! Featuring a bright rainbow and fluffy clouds, this fun squeaky toy will provide hours of entertainment for any dog. Made from durable material that can withstand hours of playtime, this charming toy is irresistible to any pup!
Size: 9″ x 7.5″ x 2.5″
Price: $7.99
7. Over the Rainbow Waste Bag Dispenser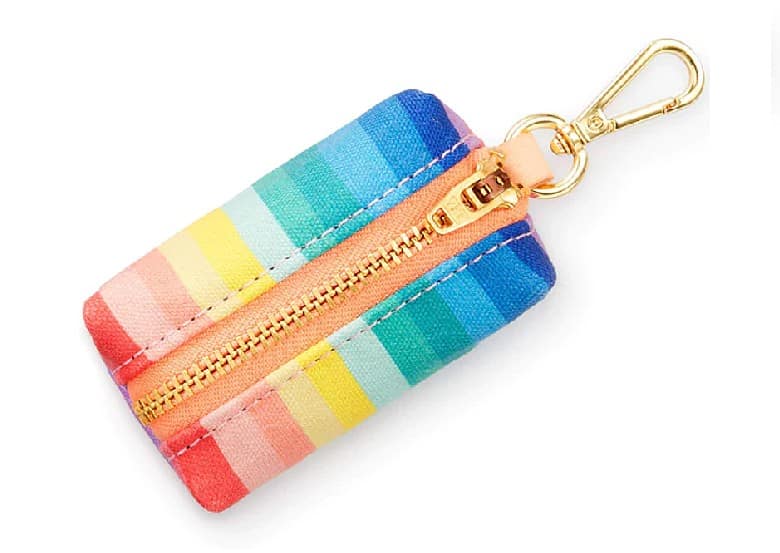 When sh*t happens, you at least want a beautiful poop bag holder to clean up the mess. From The Foggy Dog, artist Cassidy Demkov created this beautiful rainbow patterned waste bag dispenser. It clips on to any leash with its O ring, the bags dispense from a brass grommet on the bottom (each dispenser comes with one roll of poop bags), and it has enough room for keys and some treats.
Size: 3″ L x 2″ W x 1.25″ H

Price: $24
8. Rainbow Heart ID Tag from Rebel Dawg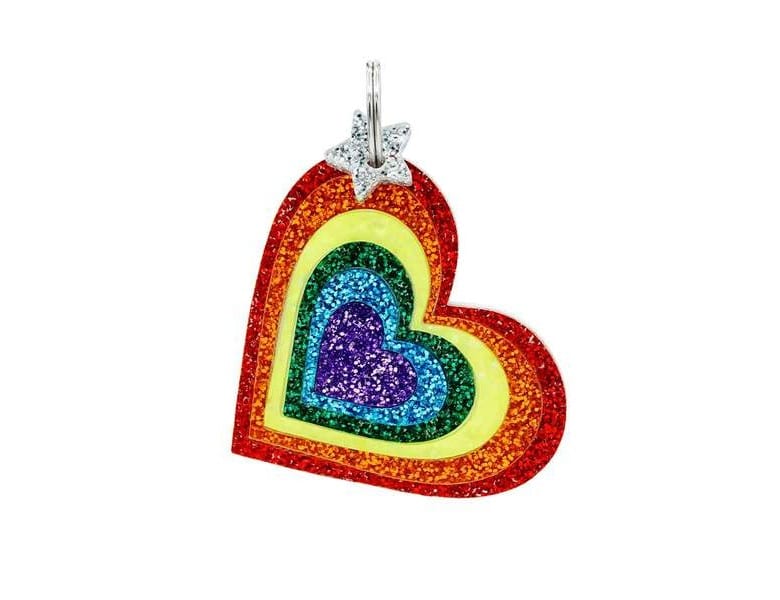 ID tags are an essential accessory for every dog parent. If your pup gets lost or loose, having an ID tag with his name and contact info will ensure he finds his way home safely. This shimmery rainbow heart ID tag is the ideal combination of fashion and function. Made from glittery metal and acrylic, this rainbow tag will keep your dog safe while always looking his or her best.
Size: Between 3 – 3.5 cm
Price: $48
9. Rainbow Leash from Boden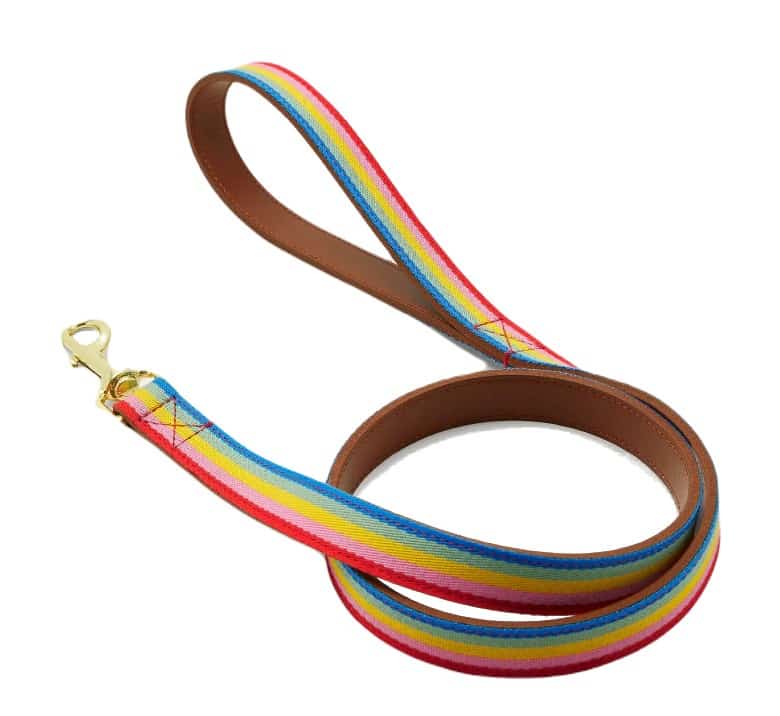 Show your pride every day with this rainbow-striped dog leash from Boden. Made from naturally tanned leather, it will for sure be a showstopper on your walks. The lining is leather, whereas the outer is a polyester/polyethylene blend. It's available in two sizes.
Size: S/M
Price: $25
10. Ceramic Rainbow Dog Bowl by Ethimaart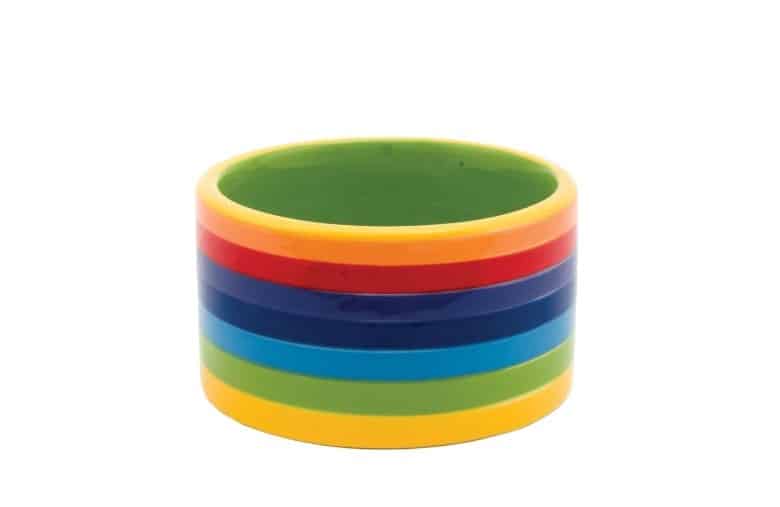 Make mealtime is even more fun for your dogs with this vibrant rainbow stripe dog bowl from Ethimaart. Each one is handpainted by artisans ensuring no two are the same. Bone appetit.
Size: 16″ x 10″
Price: $23
11. Rainbow Dog Bed from Pendleton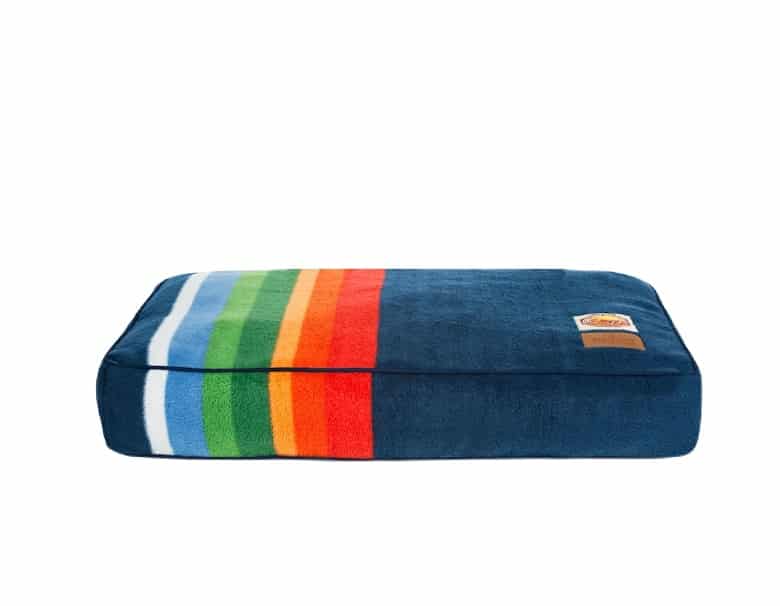 Hopefully this colorful dog bed will have your pup dreaming of rainbows and butterflies. Made from the iconic brand Pendleton, the Crate Lake National Park dog bed is pretty iconic. It is made of soft polar fleece and backed with durable cotton canvas. You can slip the cover off to easily wash it.
Size: S, M, L, XL
Price: $99-$169
Related: 6 Dog-Friendly Ice Cream Recipes to Keep Your Pup Cool During the Summer