New Yorkers are often low on time. From working extra-long hours to lengthy commute times and trying to squeeze in a social life, sometimes dog owners need to rely on a dog walker for their pups. But finding a trusted dog walker — especially in a pinch — can be extremely difficult. Well, one company is hoping to change that.
Touting itself as the "Uber for dog walkers" Wag is an on-demand dog walking service that provides dog owners a selection of vetted and insured dog walkers through its mobile app. The company just launched in New York City, after setting up shop in Los Angeles and San Francisco.
Related: 3 People Dog Walkers Avoid Like the Plague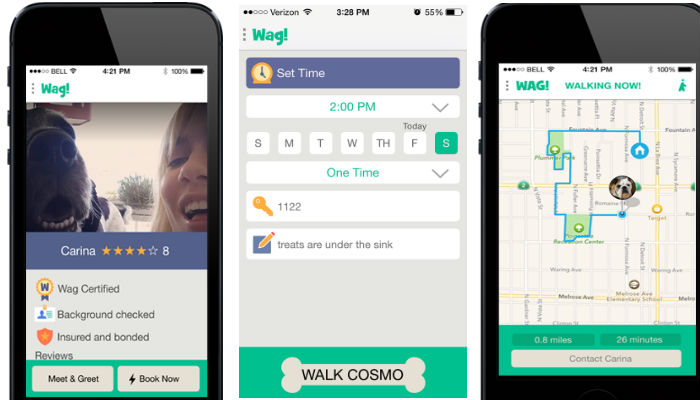 "With over 1 million dogs owned in New York City, combined with the fast pace and busy lives of New Yorkers, we believe Wag! will be greatly welcomed and will quickly become our largest market," co-founder Joshua Viner said in a statement. "New Yorkers love their dogs and we want to make it possible for even more people to have them."
Related: Swifto Ups the Dog-Walking Game With Live Poop Alerts
To use Wag!, owners must give at least 30 minutes notice to a dog walker for the one-time occasions, or they can up a regular schedule with a walker. During the walk, owners can check in on their pup through real-time GPS tracking and will receive a "report card" at the end, which will include pictures, a map of the walk and any pee/poop updates. The current cost is $20 per dog per 30 minutes and an additional $5 per dog in the same home.
Because some owners will be hesitant to give their dog to a stranger, the company offers optional "meet and greets." Also to help build trust and credibility, all dog walkers are insured and there are user reviews on the apps, so you can see how the dog walker did on past outings. Plus, the company told us that all walkers must complete a rigorous training course called Wag University and on average, only 1 in 100 who apply make the cut.
To kick off the Wag! experience, the company threw a party at Union Square. Here are some of our favorite pics:
Related: Variety Is the Spice of Life: How to Keep Your Dog Walks Interesting