While Kombucha tea has been around for centuries, it has only of late made its way to mainstream America. Much of it has to do with the major health claims, including improving baldness, helping with insomnia, boosting the immune system and everything in between. But one company is taking it a step further, wanting to add another benefit: giving back to dogs.
In just a few short years, Kombucha Dog has blossomed into a notable presence on the kombucha scene. Based in Los Angeles, the beverage company has been brewing tea since the beginning of 2013 and has produced more than 160,000 bottles of kombucha to date. Each bottle is filled and capped by hand. And to top it off, every label features a Los Angeles shelter pup available for adoption.
Related: Dog For Dog Gives Back to Pups in Need With Its 'Buy One, Give One' Model
Founder Michael Faye and all those cute adoptable dogs, can thank their luck to Lindsay Lohan. Yes, that Lindsay Lohan. Back in 2010, when Lohan was making alcohol ankle bracelets a trend, the starlet's detection device all of a sudden went off. Instead of fessing up to drinking booze, in classic Lohan style, she got creative, claiming kombucha tea – a concoction with .5 to 1 percent alcohol content – brought on the false positive. Kombucha was pulled from some grocery shelves while the U.S. government conducted investigations.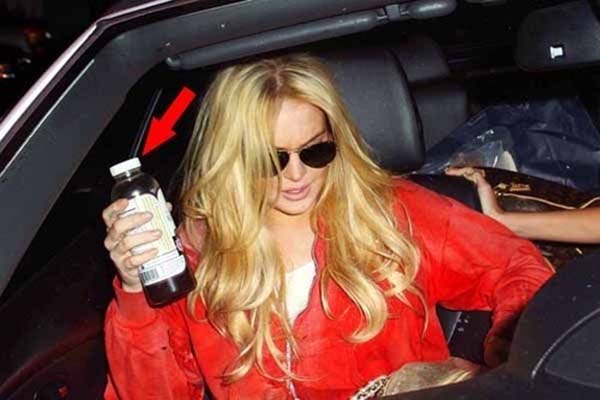 A few weeks later, Kombucha Dog founder Faye started brewing the beverage. "I got obsessive about it," he says. A commercial photographer at the time, Faye transformed his photo studio into a kombucha lab. "Through trial and error, I came up with a process and a kombucha that I really like, and everyone agreed that it was the best kombucha they ever had." And thus Kombucha Dog was born.
Related: New York City's Vino-Versity Adds Some Bark to Its Bottles
Faye says that Kombucha Dog's drink concoction is the healthiest on the market. "Our kombucha is fermented longer and has more probiotics," Faye says. "The sugar is raw, and raw sugar has a lower glycemic index. Faye notes that some mainstream kombucha companies use processed ingredients in their product, like syrupy flavorings. "Kombucha isn't supposed to be a processed food," Faye says. "It's supposed to be a raw, natural food that's been around for thousands of years."
Ginger is the company's most popular flavor. Other flavors include wild blueberry, mint, and plain. Kombucha Dog has plans to produce an apple jalapeño, wild blueberry and ginger mix, grape and pear fennel flavor within the next four to six months.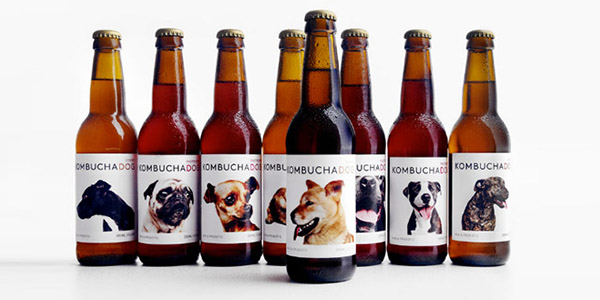 But what makes Kombucha Dog truly stand out from the pack? The furry faces adorning each bottle.
So far, Kombucha Dog has photographed approximately 80 shelter dogs. Fifty-five have been featured on the bottle labels, with the remainder to come out within the next month. And the adoption success rate is a commendable 90 percent.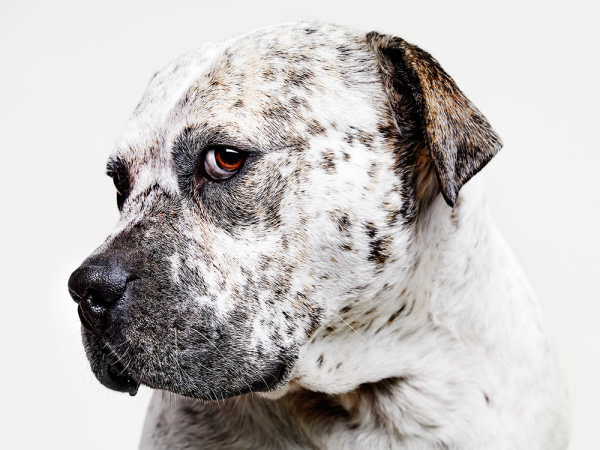 Initially, Kombucha Dog formerly worked with a variety of L.A.-based foster programs, but moving forward, they will team up with Best Friends Animal Society, a large nonprofit works with shelters and rescue groups to promote adoption. "They're going to be our exclusive source for dogs," Faye says. He cites transparency and organization for the reason Kombucha Dog decided to partner with the nonprofit.
Best Friends Animal Society will bring pups to Kombucha Dog's headquarters to be photographed. To adopt a pup, potential pet parents can visit Kombucha Dog's website and follow the instructions under the "Adopt a Dog" page.
The most common breeds Kombucha Dog sees in need of a home? Not surprising, pitbulls and chihuahuas. "Pitbulls are harder dogs to get adopted, but I love them myself," Faye says. "They're amazing because they're so photogenic."
But those aren't the only breeds that get to be put on the coveted bottles. Faye explains that much of Kombucha Dog's mission is about bringing awareness to all shelter dogs, so they feature a wide variety of breeds on their labels.
"It's about showing people that yes, you can go to a shelter and get a beautiful dog," he says. "If you're used to having pedigree golden retrievers in your house, there are a lot of dogs like retriever rescues."
Faye also hopes to dispel the myth that these homeless pups are "problem" dogs, noting that they often have wonderful personalities. "I think when [a dog is] rescued, they're so appreciative," he says. "So when people think that purebred is better, they may get a dog that's more of a nutcase than one from a shelter."
In a few years, Kombucha Dog plans to expand its efforts to giving talks to local schools about the importance of being a responsible pet owner.
"We want to go into schools and educate children. Ask them, 'Do you have a dog? Is it spayed or neutered? If no, why not?'" he says. "And as a society, we should provide a way for people who can't afford to spay and neuter their animals with a venue to do that, instead of just euthanizing."
Also in the future, Kombucha Dog hopes to build an east coast facility in New York City. Though it would be more profitable to simply ship nationwide from its Los Angeles brewery, Kombucha Dog hopes to reduce its ecological footprint by distributing locally.
As Kombucha Dog grows, they will continue to stick to their core values of quality and integrity. "Profit isn't our main concern," Faye says. "We don't have a board of directors, we're not owned by venture capitalists," he says. "We're just a grassroots little company trying to make a stab at the beverage industry." We can raise a paw to that.
Related: Rescue Chocolate Is the Sweetest Way to Save a Dog's Life
Lindsay Lohan image from Gawker
All other images courtesy of Kombucha Dog