Dog fighting is a horrendous act, hurting all parties involved. While a lot of the news coverage pertaining to broken up dog fighting rings is centered around the dogs that were forced to fight, often the bait dogs are left out of the limelight. These animals are used to boost the confidence of the fighting dogs and tend to be smaller, tied up or have had teeth removed, making it impossible to defend themselves. Their life is just as bad as those forced to fight.
Fortunately, we heard about the story of Diamond. This pit bull ended up in the Fulton County Animal Services in Atlanta after being abused and possibly used as a bait dog. An untrained person cropped her ears, and she had burns all over her body, which can be a sign of a dog involved in the fighting world. If dogs refuse to fight, battery acid may be poured on them as a form of punishment, which causes the skin to burn. Because Diamond has such a sweet temperament, she may have likely been a target, according to Mashable. She also had been a mom several times.
Related: See How a Little 'Flower Power' Magic Is Helping This Former Fighting Dog Find His Forever Home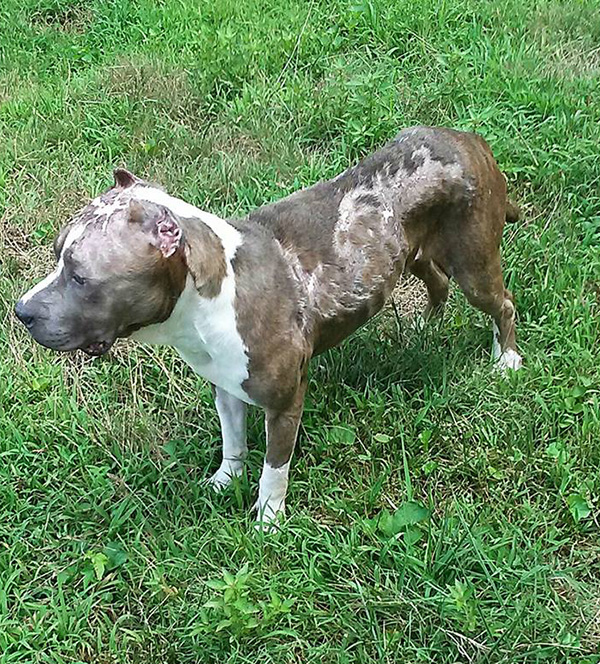 After a volunteer posted a plea on her blog for someone to give Diamond a real forever home (she had been in and out of the shelter throughout the years), Melinda McGuire came forward. McGuire was in search of a dog, not a puppy, after she recently lost her 16-year-old pooch. Once she heard the story of Diamond, she was sold.
Related: After Village Enacts Pit Bull Ban, Family Tries to Save Family Dog
Still, McGuire was a bit scared and unexpected challenges arose, one being her sensitive skin. To prevent sunburns, she began making clothes for the dog — and Diamond couldn't get enough of her new look.
"If she had not enjoyed wearing her outfits so much, then I think it may have ended that day." McGuire told Mashable. "But I threw in a pair of the little kid's sunglasses, and Diamond loved every minute of it." The nickname Diamond the Diva was born.
Related: 4-Year-Old Girl Single-Handedly Shoots Down Pit Bull Stereotype
Here are some of our favorite getups.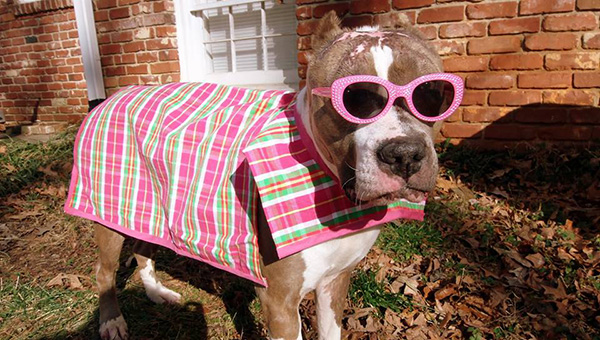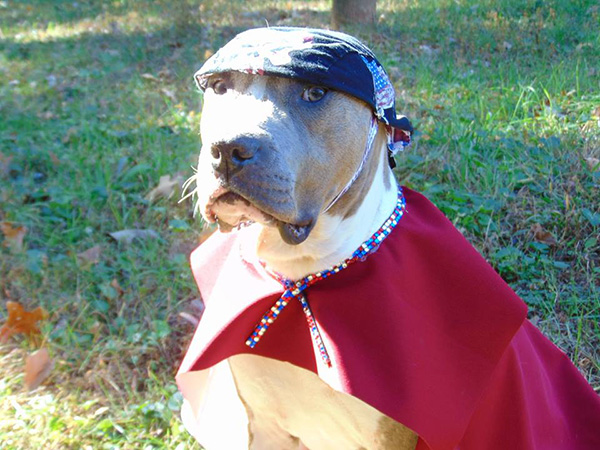 Not only did the clothes protect Diamond from weather conditions but her dresses, bonnets and tees also changed the perception of the pit bull. Instead of people shunning away from the dog (and accusing McGuire of abusing Diamond), children and adults would ask to pet her.
Related: This Cartoon Explains What It's Really Like to Be a Pit Bull Owner
To follow Diamond's story visit her on Facebook
Images via Facebook.
H/T Mashable