Subway spokesperson Jared Fogle struck a plea deal this week, admitting to distribution and receipt of child pornography and unlawful sex acts with minors. He is looking at no less than five years in jail and up to 12.5 years behind bars.
This development comes after a thorough investigation of Fogle involving several agencies — and one dog.
Bear, an electronic detection K9, played an important role in helping put Fogle behind jail. During a sweep of the Subway spokesperson's house in Indianapolis, cops seized smartphones, tablets, laptops, CDs, MP3 players, memory cards and drivers.
Related: No Monkey Business: Rescue Dogs Used to Sniff Out Rare Gorillas
But Fogle has hidden an important piece of evidence: a flash drive that contained information critical to the investigation. Fortunately, Bear, who has worked on five investigations, was able to sniff it out and provide it to police.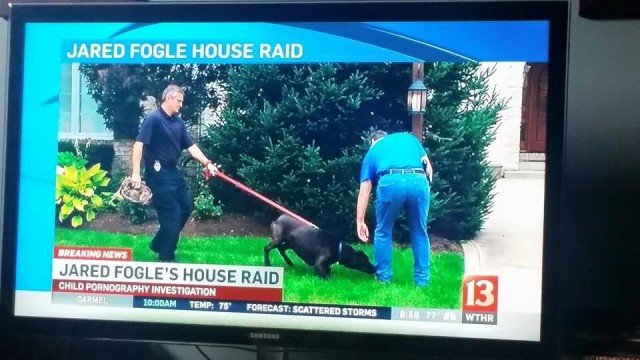 "Bear is unique because he can sniff out SD cards, thumb drives, external hard drives, iPads and micro SD cards," Todd Jordan, chief handler with Tactical Detection K9, told CBS.
The black Labrador is only one of three dogs trained in the U.S. to sniff out electronic devices, a skill that plays a huge role in child pornography cases.
"You think about investigators going into a house and trying to find a micro SD card that is as big of a finger nail, Jordan told the outlet. It will take investigators hours, especially if someone is trying to hide it."
Bear, on the other hand, can search a living room in about five minutes. When he gets a "hit" Bear will sit down and show his handler where it is. He is then rewarded with food for his good deed.
Related: Maine Officers Give Police Dog Final Salute
H/T The Dodo
Images via Facebook