We've all come home to toys completely destroyed. Stuffing spewed everywhere. Eyes chewed off. Squeakers that have gone silent. For many of us, this only means one things: It's time to toss out a beloved toy and get a new one for our sidekick to destroy. But for a pair of photographers, one man's trash is another man's treasure.
New York City-based photographers Arne Svenson and Ron Warren documented these ravaged toys for their book Chewed. Not only does the book include 140 photographs of playthings that have been obliterated by over zealous dogs, but they also got owners to open up about the toy's demise in "delightful, twisted and poignant" tales. Contributors included designers Isaac Mizrahi and Todd Oldham; food personality Andrew Zimmern, writer Augusten Burroughs and artists Roz Chast, Maira Kalman, Rick Meyerowitz and William Wegman.
Related: Bored Dog? Give Him One of These 5 Toys to Keep Him Busy
"A big ape eyeballing his fuzzy runaway arm, a cuddly teddy bear with the squeak-box ripped from its throat, an enticing pink-glazed doughnut revealed to be a rubber sham–all are photographed in celebration of their transformation by an infatuated pet," is how Svenson describes the book on his website.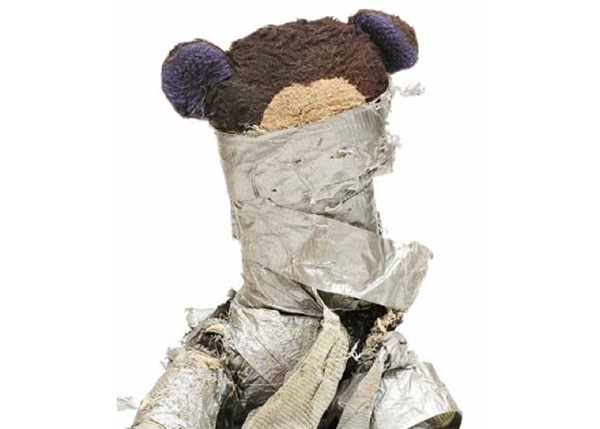 We caught up with Svenson to discuss his book and the series.
TDL How did you come up with the idea?
AS: A few years ago, a friend's Italian Greyhounds, Baby and Bo, came snarling and prancing into the room holding between them a limp, damp piece of rag in their respective mouths.  Distracted by something fluttering by the open window, the siblings dropped the object and went bounding off.  I went over to the thing on the floor, nudged it with my toe and realized that it was the gutted remains of a child's stuffed animal, a hand-made sock monkey.  As my collaborator Ron Warren and I had spent years photographing sock monkeys (Sock Monkeys: 1863 out of 2000) I was intimately knowledgeable of their standard form; it intrigued me that such a cute little creature could so easily be transformed into an eyeless, armless, one-legged slobbery monster.  And a monster who was obviously beloved by Baby and Bo; they noticed I was fussing with their prize and ran over to disdainfully snatch it away from my offending touch.
Related: Last Surviving 9/11 Dog Gets a Very Sweet 16 Birthday Celebration
Ron and I began photographing "chewed" toys because we were captivated by what a standard-issue child's toy could become when dropped into the jaws of a willing and highly creative dog or cat. Seemingly, these pets sculpted objects into something they could recognize as a loved thing; an object of desire specific only to them.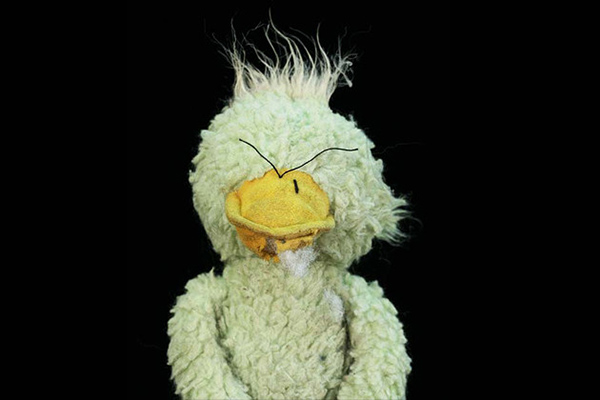 TDL: How did you pick your chewers?
AS: We began the project by coaxing these victims of tough love from pet-owning friends. Pressed, some confessed that they just might have an old pet toy or two lying around — only to produce an astonishing array of mangled remains. Soon, we were inundated with dozens of boxes containing plush animals, rubber squeakies and unidentifiable bits and pieces.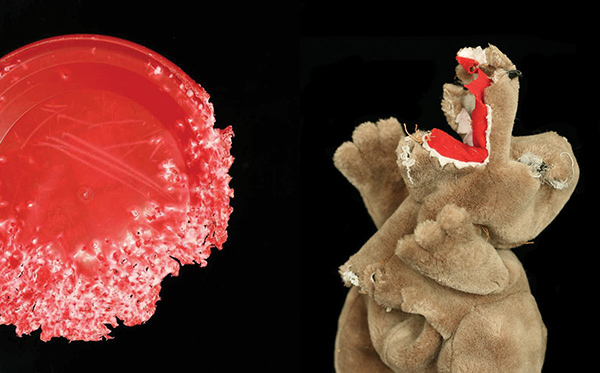 During our photo sessions a number of owners insisted on waiting in the studio, refusing to budge until photography of "their" toy was complete, as if their housebound pet's sanity was on the line. Especially poignant was the delivery of cherished toys that had been held onto long beyond the lifetime of the pet.
TDL: What kinds of feelings arise in you when you think of dogs and chewing on toys?
AS: Now, when I see a slobbery mass of yarn and stuffing being proudly carried by a dog, I don't see a disastrous mess, I see a love-thing and it's maker. Or at least I try…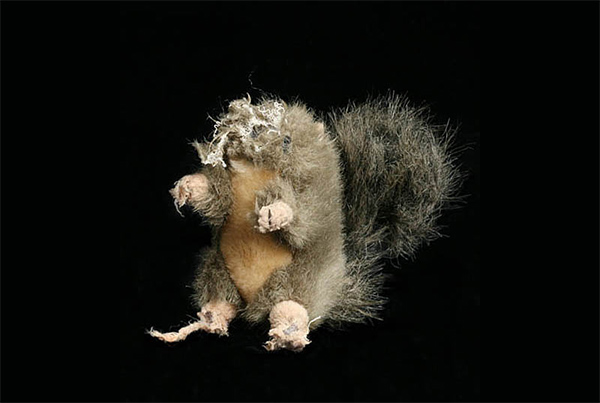 TDL: What are the reactions you received from people? 
AS: Every pet owner we spoke to relayed tales and offered examples of their pet's adventures in chewing –the dachshund who loves to rip out the squeak-boxes from the plush animals throats, the aged tabby cat who eats only the eyes of Beanie Babies and Daisy, the pit bull, who finds nothing more satisfying than ingesting the decapitated heads of stuffed rabbits, ears and all.
TDL How did you choose what toys to photograph together?
AS: The toys would either fall into logical groups, i.e. a cache of Beanie Babies, or would come from one "collection." Often a dog would chew his or her toy in a very specific manner and these we paired or grouped together.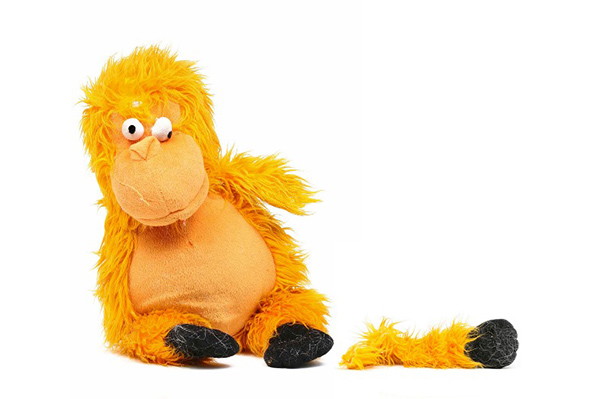 TDL: Anything in the future for you centered around dogs?
AS: Only my constant urge to get a puppy for my cat Monkey…
Want a signed copy of this book? Head over to our contact us page and submit a pic through our contact page or post on Facebook, Twitter or Instagram using #TDLChewed.
Related: This Is What a $2.7 Million Dog Luxury Spa Looks Like