During the showy Frieze week in New York, dog artist Eric Ginsburg is putting on his own fair, one that is a little bit more chill.
Called Fridge Art Fair, the event will feature an eclectic array of work (not just animal focused) from 40 artists at the Retro Bar & Grill and Holiday Inn at 150 Delancey Street on May 15 through the 17, with a benefit on the 14th.
Related: French Bulldog Miss Pickle and Her Mom Break Down Art Basel for Us
Showing at the event include by Kristin Anderson, Arnold Brooks and Agni Zotis, among others. Ginsburg – also known as "Eric the doggie boy artist"– will also be at the show for his Pet Portrait Project, where people can get paintings of their pets and on Sunday from 2 to 5 pm he will be taking photos of owners with their pets for Pet Portrait Project Picture day. Fifty percent of proceeds will go towards BARC, a nonprofit, no-kill, animal shelter located in Williamsburg, Brooklyn. (The opening gala will also benefit BARC animal rescue).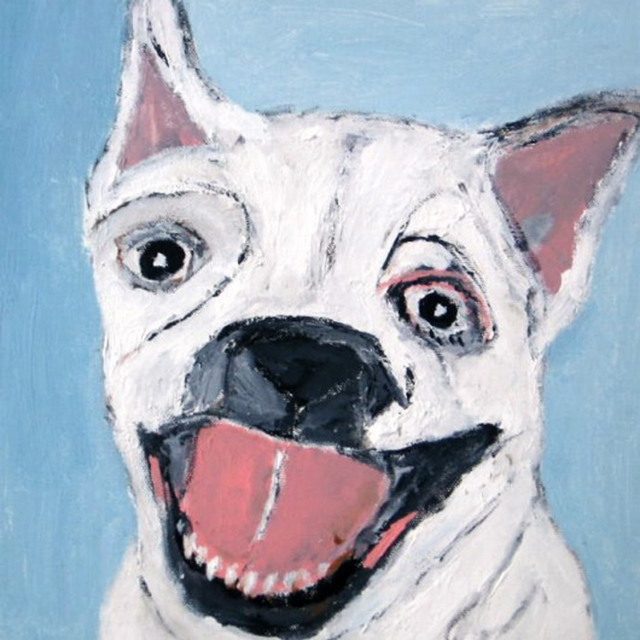 The show's mission is to be a place where artists don't feel like outsiders, aren't excluded, forced to conform to certain standards or pressured to hit sales numbers.
Ginsburg, himself, has also felt like an outsider — that was until someone took a chance on him.
Related: After Her Dog Nearly Dies of Heartworm, Teen Raises $40K and Looks to Incite Change Through Artwork
During his junior year at New York University, Ginsburg was enrolled in an art class and tasked with painting a picture based on a photo from his world. He chose an image of Skye, his corgi mutt that was the "kindest most loving creature I had ever encountered." Upon completion, Ginsberg showed his teacher, who absolutely loved it.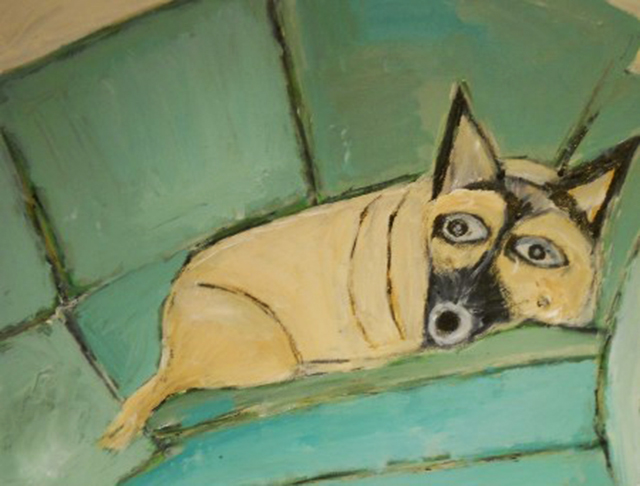 And while congratulations from a teacher may make someone feel good, it made Ginsburg feel ecstatic. With a number of learning disabilities along with an accomplished brother, one that he was constantly compared to him in the "what happened to you sort of way," Ginsburg's self-esteem wasn't exactly great.
"The fact that a teacher of mine loved something I did was the most amazing feeling in the world, he says. "And it truly influenced me."
His luck remained, as people continued to take a chance on him. Artist Kazuko Miyamoto allowed Ginsburg to show his painting of Skye at her studio Gallery Onetwentyeight, one of the oldest galleries in the Lower East Side.
The painting sold and Ginsburg's talent caught the attention of famed artist Sol LeWitt, who commissioned him to paint his friends' pets including Herb and Dorothy Vogel – a couple that had one of the most important post-1960s art collections in the U.S. and Paula Cooper, the woman behind the iconic Paula Cooper Gallery.
So you could say Fridge Art Fair is a way for Ginsburg to pay it forward: to take a chance on artists that may not know the complex art world and are unaware of how the inner-workings of the industry's politics, making it nearly impossible to get into big-name shows, represented by well-known agents or make a decent living off their passion. We cheers to that.
Fridge Art Fair will have a benefit gala on Thursday from 6 to 10 pm. benefitting BARC and the cost to enter will be $20 at the door or $15 if purchased before the event (tickets here). Regular fair hours are Friday and Saturday, May 15-16, from 5 to 10 pm and Sunday 12 to 6 p.m and costs $10.
Related: How This Little Store Helps the BARC Shelter Thrive in a Big Way