What better way to come off the long, relaxing Memorial Day weekend than to attend a party to benefit all sorts of amazing dogs? Well thanks to one rescue, you are in luck.
Badass Brooklyn Animal Rescue, a Brooklyn-based nonprofit with the tagline, "saving badass dogs from idiot humans," is throwing its first fundraising gala "A Badass Bash: Party for the Pups" on Wed., May 27 at performance and art space Littlefield in Brooklyn. The event is looking to highlight some of the organization's major victories like its famous Dallas wedding rescue which saved 29 dogs in desperate need of homes during the wedding week of one of Badass's long-time volunteers, a woman named Whitney. (Whitney is still pulling dogs, fostering them and sending them North.)
Related: Badass Brooklyn Animal Rescue to Hold Major Street Festival in Gowanus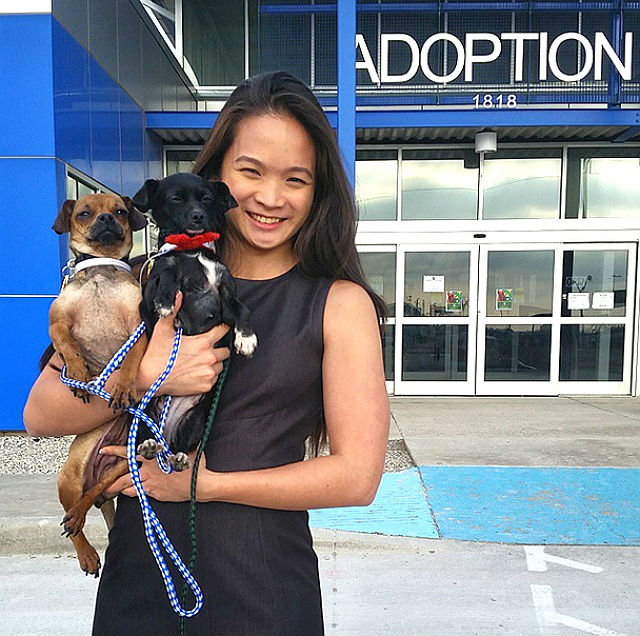 To celebrate these past accomplishments, the big soiree will feature drinks from brewery Sixpoint, wine from Monsieur Touton and delicious cocktails made from Tito's handmade vodka and Basil Hayden's bourbon. There will also be light bites and sweets from local food companies.
Besides the wining and dining, Badass Brooklyn Animal Rescue will also have a DJ spinning pop and soul, special art performances, a moth storyteller, the debut of a short film of Badass and of course, furry ambassadors to meet (sorry but guests dogs have to stay home). The event will also be honoring Susie the dog of Susie's Senior Dogs, an offshoot of the viral Humans of New York project.
During its live auction, attendees can bid on prizes like a Maine escape package which includes a 3-night stay, lobster dinner for two and a dog bed; a Tiffany reversible leather tote; and a Schwinn women's cruiser bike with dog basket and Tagg GPS tracker, among other goodies.
Related: Badass Brooklyn Animal Rescue: The Inspirational Journey Behind The Dog Rescue
While the event will definitely be chock-full of entertainment and good times will be had by all, the Badass Bash: Party for the Pups will also be a time for the organization to express its gratitude.
"We want people to feel how incredibly grateful we are that they have helped us build this organization," says Meg Farrell, the organization's individual donor coordinator. "Nearly 100 percent of our funding comes from individual donations — the people that fill that room have saved lives."
The proceeds from the event and prizes will be used to help Badass keep doing amazing things; Farrell expects this coming next year to be a game changer.
"We've spent four years laying a solid foundation and now it's time to build. We are working on a strategic plan for sustainability and to expand our services," she says. "Our goal is to be around long enough to force a tagline change – "saving Badass dogs from idiot robots." Badass is about to throw down."
To get your tickets now, head over to the event page at Badass Brooklyn Animal Rescue. 
Main image was taken by Hilary Benas