Any dog owner will tell you about the enormous impact their four-legged friends have had on their lives. From the neighbor who adopted her pit bull to feel safe running alone at night to the giddy newlyweds who call their new puppy their "fur baby," you won't find a dog owner who doesn't consider their dog their own personal best friend. But there are some dogs who do more than just keep their people company and bring them joy. Some dogs in New York City and beyond happen to be working dogs, providing assistance to children with autism.
You can find a lot of these dogs at The Good Dog Foundation. Founded by Rachel McPherson in 1998, Good Dog's mission is to "ease human suffering and promote recovery from trauma and stress using animal-assisted therapy service."
Related: What It Takes to Be a Guide Dog
With facilities in New York, New Jersey, Connecticut and Massachusetts, the New York City-based foundation not only provides assistance to children with autism but also offers its services to people in health care, social work and educational sectors and sends dogs around the country as part of disaster relief programs — including 9/11, Sandy Hook, and Hurricane Sandy.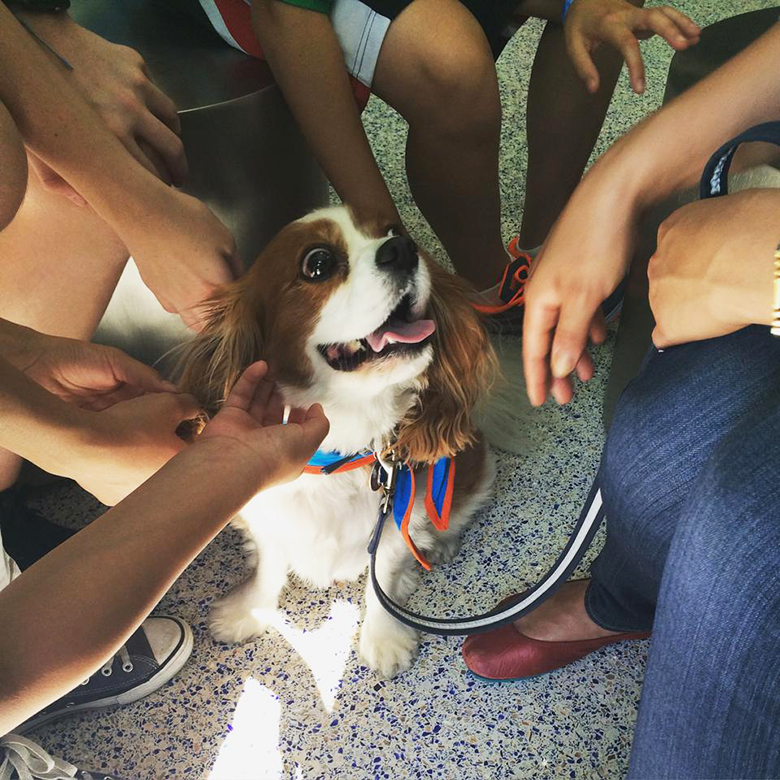 While the impact therapy dogs have on all people is monumental, it can especially be felt with those on the autism spectrum. It's not an easy road, however, to becoming a therapy dog assigned to work with children with autism.
According to McPherson, the average training program stretches over the course of 11 weeks. Throughout this training, the dogs are exposed to simulations of the environment in which they will be working. They don't work with children with autism during the training period, but they do work in classrooms — sometimes with adults and sometimes with children who don't have autism. Here, the dogs learn through role-playing scenarios how to focus on the child, which in turn helps create an environment that helps the child focus on learning.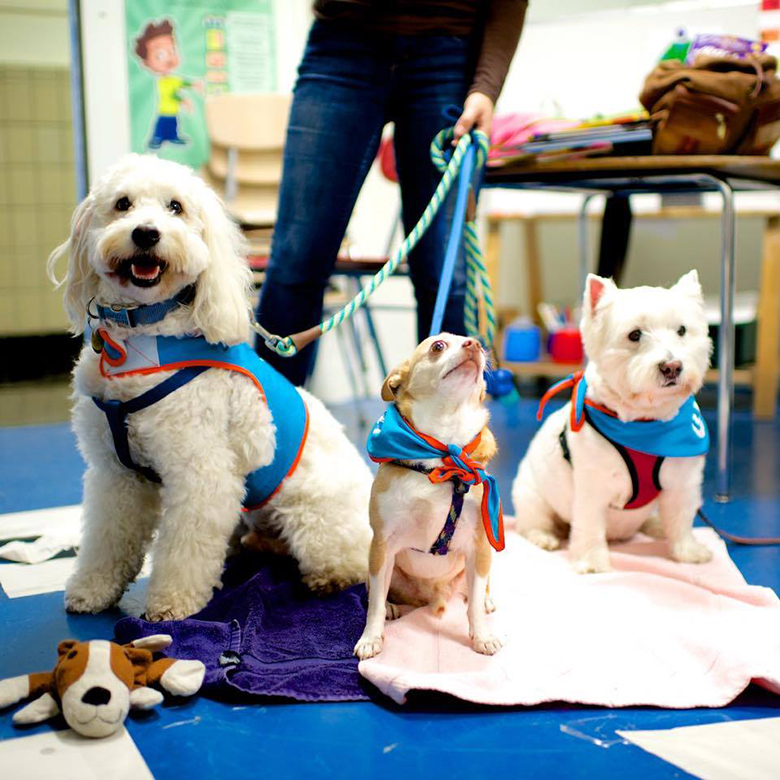 "Having the therapy dog in the classroom is part of creating an environment for learning," says McPherson. Just being exposed to a happy, wagging tail and a dog grin can help ease the anxiety, along with the pressure to focus and learn without making mistakes children feel in educational setting. A happy dog, for instance, doesn't care if you stutter on a word or misspell something.
"A therapy dog helps in redirecting and in establishing a solid trusting relationship, creating an environment where relationships are built and learning can take place," McPherson says. The warm, solid presence of a therapy dog can also help ease the sensory overload a lot of children with autism suffer from – the constant onslaught of sensory information that can make it difficult for them to concentrate. With dogs serving as a point of focus, the children are able to feel more grounded. This, in turn, helps foster and reinforce the child-educator bond.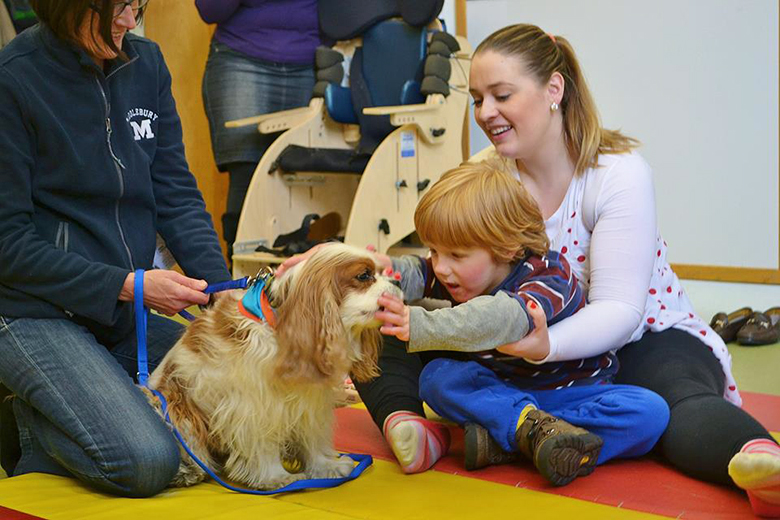 Related: The Department of Justice Files Lawsuit Against School on Behalf of Girl and Her Service Dog
Exposure to autism-therapy dogs also assist in modifying long-term behavior. For example, many people on the autism spectrum — children and adults alike — find it hard to maintain eye contact or interpret non-verbal cues. Dogs, however, learn a lot from us via maintaining eye contact. According to Inside of A Dog by Dr. Alexandra Horowitz, it is one of the main things that distinguish them from their evolutionary ancestor: the wolf. Exposure to dogs helps some on the autism spectrum work on maintaining eye contact, which can then transfer to other, non-canine interactions. Non-verbal cues are another area of difficulty for those on the autism spectrum, and increased time spent among dogs has been shown to help change this.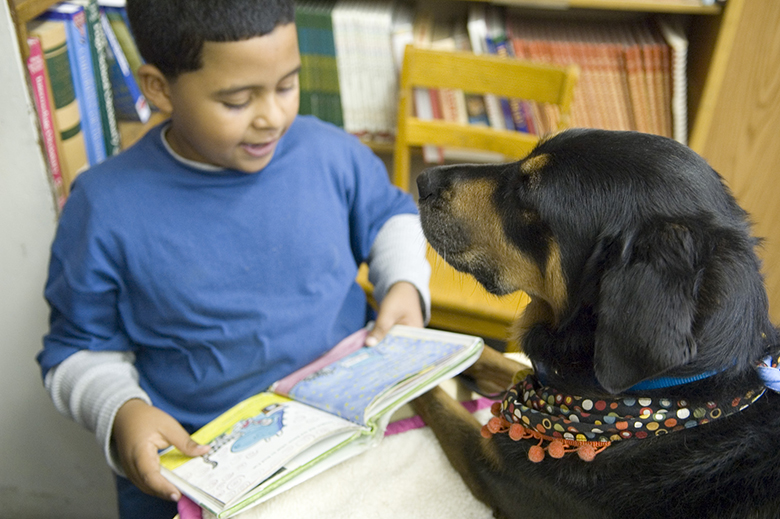 Good Dog has trained and placed hundreds of therapy dogs with children with autism but McPherson says the instance that has stood out most to her so far is the story of Bolo Guialdo, the most recent Good Dog honoree at last year's gala.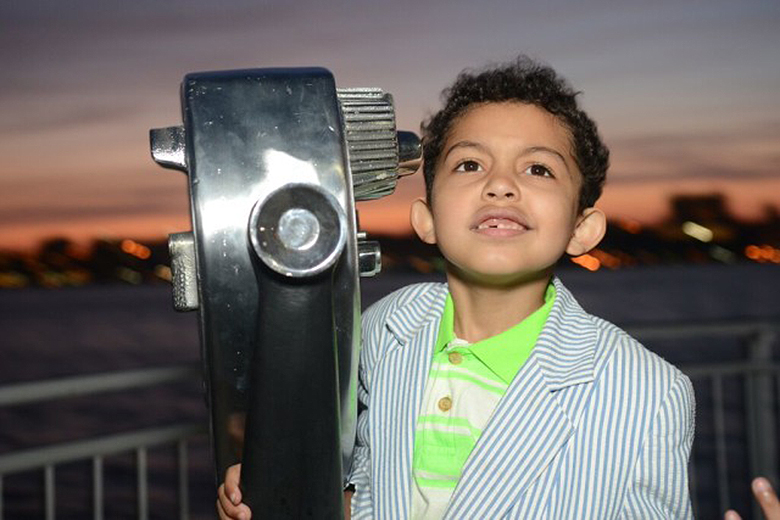 "Bolo is on the autism spectrum," McPherson says. "He had difficulty getting focused in his life, really accomplishing life skills: getting up in the morning, getting ready for school, getting dressed, brushing his teeth his hair. The Good Dog therapy dog changed his life."
After he was introduced to therapy dogs from Good Dog, including a pup named Lucky, Bolo was able to relax and focus more. The effect of the dog on his life, according to Bolo's father, has been tremendous. Bolo's reading skills have increased drastically, and most importantly, he's excited to go to school and learn. Where it once used to be a fight to get Bolo to pick up a book and read anything, now he enjoys reading and barely has to be asked to do so.
McPherson is not content merely to train and place therapy dogs, however: a big part of Good Dog's work is also devoted to research. "We want to study the field extensively and do research on the benefits of therapy dogs," she says. To date, the foundation has a study published in the Journal of Community and Supportive Oncology, about the benefits of animal-assisted therapy for adult cancer patients. McPherson hopes to expand Good Dog's research alongside the current autism therapy programs, not only to help children but to truly understand why the presence of autism therapy dogs has such beneficial effects.
So while the dogs of Good Dog might have their work cut out for them, the good they do is undeniable, even if it as simple as starting a new chapter.
"Lucky helps me because he helps me relax," Bolo says. "He makes me happy, because Lucky helps me read."
Related: Family Does the Right Thing: Returns Missing Therapy Dog to Autistic Boy
Images via Facebook