While Michael Vick's former fighting dogs, or "Vicktory" dogs, proved that when given a second chance, can thrive and make amazing pets, many, many dogs that were abused and used to fight are still waiting for their forever home. Murdock is one of them.
Currently being housed at Town of Hempstead Animal Shelter in Long Island, New York, Murdock was used as a bait dog – an animal that was used to build up the confidence of the fighting dogs, often with no way to defend themselves against being attacked – in a dog fighting ring. Because he was being held as evidence in the legal case against his former owner, this pit bull hadn't even had the opportunity to be shown or up for adoption. This all changed when his owner pled guilty and now Murdock is waiting for his second chance.
With a little help from award-winning photographer Sophie Gamand and her magical "Flower Power" series, one that shows pit bulls in a softer light by way of homemade flower crowns and pastel backdrops, we are joining the fight to find this dog find a home.
Related: Sophie Gamand's Book 'Wet Dog' Goes Way Beyond Cute Pictures of Pups at Bath Time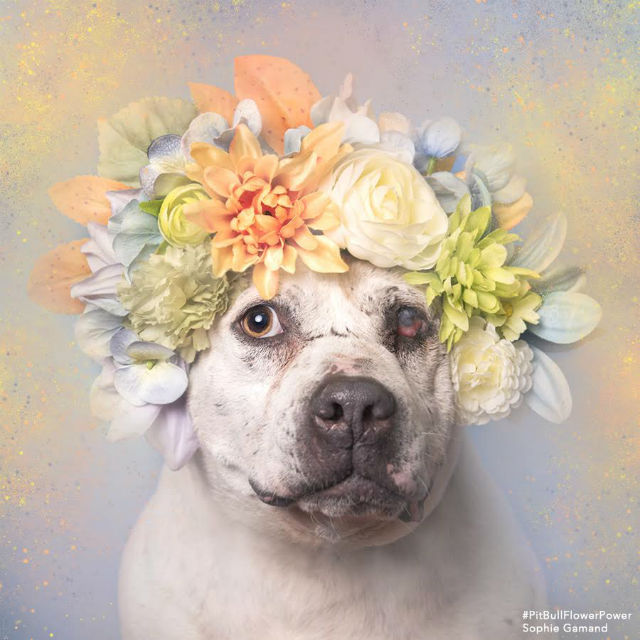 Gamand was recently at the shelter for a Flower Power series photo shoot (you can read about it here) and when she met Murdock, she kind of fell in love.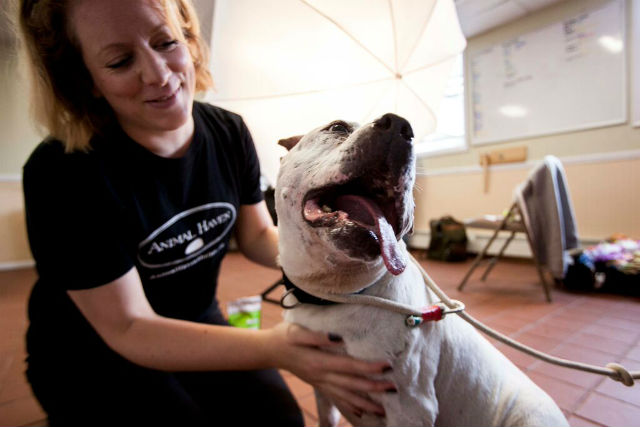 His presence commands the room — in a sad way. Because he bears the scars of the abuse he went through, it is hard not to only focus on the scars. But despite all this, within seconds, you cannot help but instantly warm up to his sweet nature — and soon you have forgotten about his scars. He is an absolute love. He gave me kisses and took treats gently from my hand. It will take someone special to adopt Murdock but that someone will also have the privilege of teaching Murdock a world of love and compassion. Something he has never known until he arrived at the shelter. I really hope this day arrives sooner than later.
The volunteers and staff at Town of Hempstead Animal Shelter couldn't agree more with Gamand's insight.
Murdock LOVES people (sadly, as most dogs with his history do), he is very "companionable" (following his handler around the room with a low, wagging tail), has zero handling issues and has no issues with people near his food," the organization writes. "He is a love, a mush, a kisser, a cuddler and everything you'd expect from your furry best friend.
Related: Sophie Gamand and Others to Be Honored at the Animal Care Centers of NYC's Kindest Dinner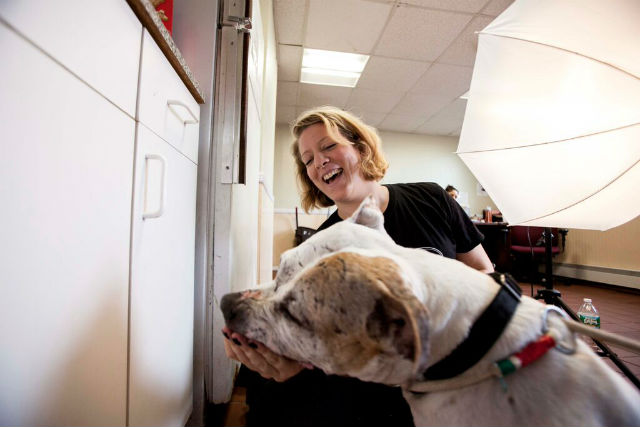 While he needs to the only pooch in the home, Murdock has no issue passing other pups on the street.
If you are interested in hearing more about Murdock, contact Town of Hempstead Animal Shelter: 516-785-5220 or via email pettherapyandhumaneed@tohmail.org. Otherwise, pass this post on to others.
Related: Remember Murdock, the Former Bait Dog? You'll Never Believe What Happened to Him.