It all started with a thumbnail image on the web of a malnourished pit bull who had been living on the streets before being rescued. Her photo had been posted online by her foster mom to help this dejected pit bull find a permanent home.
Once Sarah Gross saw those beautiful mocha-brown eyes, she felt an instant, profound connection. She was sold. After taking the pup home, Gross aptly named her Mocha.
It wasn't until Gross was savoring the last bite of a dark chocolate bar on a walk with Mocha that some serious inspiration hit. At that moment, Gross decided to put together her two loves:  animals and chocolate. The idea for Rescue Chocolate was almost fully formed before Mocha and Gross returned from their walk that morning in December 2009.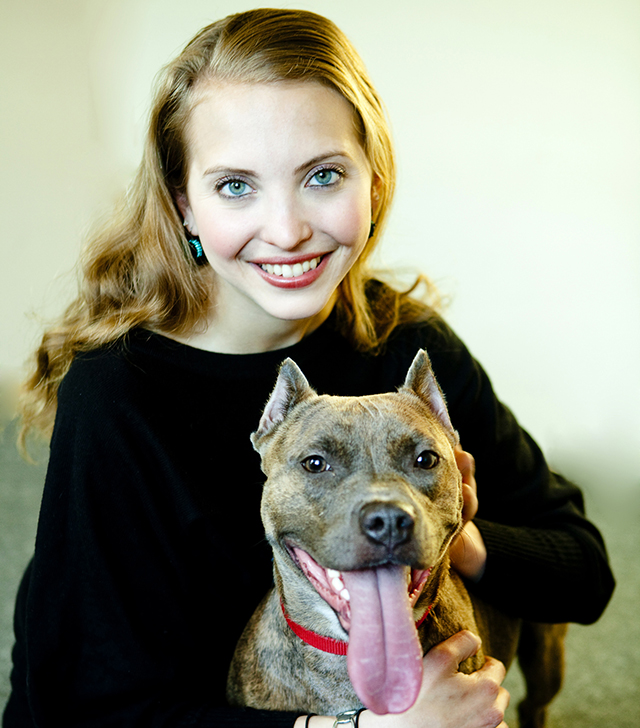 At the time, Gross worked part-time at Gnosis, a raw chocolate company in Queens, New York. "At Gnosis, I learned a lot about the importance of high-quality materials, attention to detail, marketing and flavor development," she tells us. That careful attention to detail was something she knew she wanted to carry over to Rescue Chocolate.
Related: Dog For Dog Gives Back to Pups in Need With Its 'Buy One, Give One' Model
Handcrafted in small batches at a co-packing facility in Brooklyn, New York, Gross works intimately with the executive chef to develop unique flavors for its bars and truffles.
"I generally go with what I want to eat myself," Gross explains. "I'm always searching for a taste that is pure and refreshing, yet also decadent." Plus all sweets created at Rescue Chocolate use only organic and fair-traded cacao and all products are also kosher, GMO-free, gluten-free, vegan and packaged in eco-friendly materials.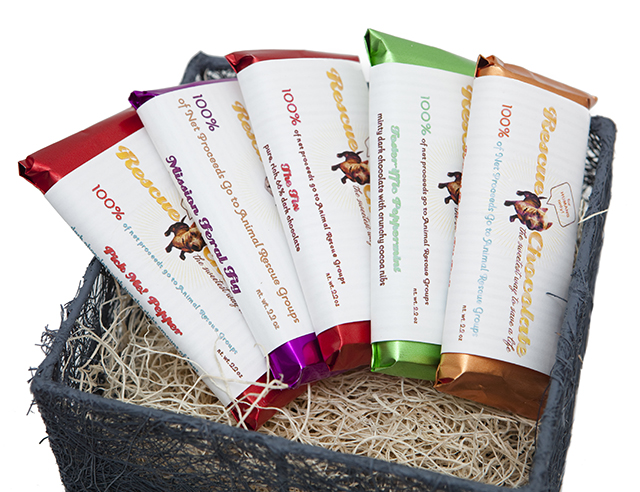 What's more? Gross ties each flavor to a different issue in the animal rescue world. For instance, the "Peanut Butter Pit Bull" bar aims to rehabilitate the image of this misunderstood breed, her "Pick Me! Pepper" bar urges potential pup owners to pick their next four-legged companion at a shelter rather than a pet store and the "Foster-iffic Peppermint" points out the benefits of fostering a homeless animal even if one can't ultimately adopt. Besides being an advocate for a variety of issues, Rescue Chocolate puts their money where their mouth is, donating a portion of the sale price of each bar (currently priced at $6.00) to an animal rescue organization.
According to Gross, people become addicted to the chocolate bars after their first bite. While part of it surely has to do with Mocha's adorable face on the wrapper of every bar, the mission is what gets people hooked.
"We've worked with hundreds of animal rescue organizations on fundraising initiatives," Gross explains. "I'd like to think that we have made an impact in reducing the number of homeless and abused animals in this country."
One huge nonprofit Rescue Chocolate has teamed up with is the nationwide Petfinder Foundation, which exists entirely to pair people with adoptable pets. "When I'm out selling chocolate at festivals, many people will stop by my booth and tell me that they found their furry best friend through Petfinder. That's always a 'yay' moment for me," Gross tells us.
Related: Barklyn Organics Is Starting a 'Dog Food Revolution'
While us regular folks are taking note of this amazing cause, some noteworthy names are, too. "It was so gratifying to have Rescue Chocolate chosen as the Snack of the Day by Rachel Ray," Gross explains. "Our peppermint bar was also handpicked by Ben & Jerry's to be incorporated into a special edition of their ice cream last year, and we even got to partner with Nathan Winograd of the No-Kill Advocacy Center for a full year of cross-marketing and fundraising."
In addition to an online store that's open 24/7, Rescue Chocolate is sold in several retail outlets around the country and at many vegetarian and chocolate festivals, too. They'll also be expanding into Whole Foods stores in the Northeast Region soon, which is something that'll surely be great for the brand's growth.
Speaking of growth, Gross tells us that a lot of the brand's traffic comes from Facebook, Twitter and Instagram. "When people join our e-newsletter list, they get coupon codes once or twice a month to use on their online orders," Gross explains. The company also donates Rescue Chocolate gift certificates to rescue groups to be used in their raffles and auctions. "It really helps to get the word out to potential customers."
Before our interview ended, we had to circle back to the pup that started it all: Mocha. "Mocha is a beautiful, spirited, spoiled, goofy angel who continues to inspire me," Gross says. "Our pack also includes my fiancé. The three of us sleep in one bed, and we enjoy taking weekend car trips together. Mocha also enjoys rolling around in the grass at the park, visiting neighborhood pet shops that dispense treats, and begging for head massages." Sounds like Mocha is living the life!
Next time you're looking to satisfy that chocolate craving, reach for a piece of Rescue Chocolate — it's truly the sweetest way to save a life.
Related: The Dog Bakery Serves Up Heavenly Treats for L.A. Pups