A dog in North Carolina is believed to be the first canine in the US to test positive for COVID-19.
Part of the McLean family, the pug, named Winston, came down with the virus after three of his family members – the mother, father and son – tested positive.
Winston's symptoms were mild and only lasted a few days. He was lethargic, having shortness of breath and most alarming, not hungry.
"One day when he didn't want to eat his breakfast, and if you know pugs, you know they love to eat, so that seemed very unusual," mother Heather told NBC affiliate WRAL in Raleigh.
Related: Emergency Planning for Your Dog's Care If You're Hospitalized for COVID-19
Son Ben added he wasn't surprised Winston got infected with the virus as he "licks all of our dinner plates and sleeps in my mom's bed."
The mother, father, son, and pug tested positive, while the daughter, another dog and a cat tested negative, according to WRAL.
The family is participating in a study at Duke university in which all family members were tested for the virus. Researchers are trying to understand how different people react to various strains of infection.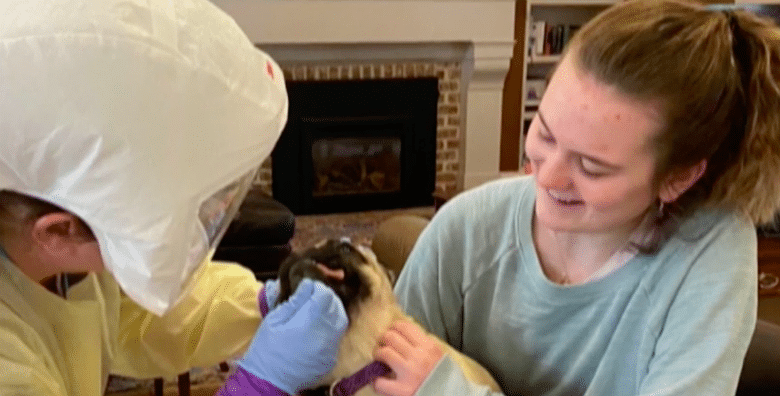 It is believed Winston is the first dog to have COVID-19. Two cats have also tested positive along with big cats at the Bronx Zoo in New York City.
The Center for Disease Control doesn't believe people should be concerned about getting the virus from pets.
"At this time, there is no evidence that animals play a significant role in spreading the virus that causes COVID-19. Based on the limited information available to date, the risk of animals spreading COVID-19 to people is considered to be low," it states on its website.
It does, however, recommend owners treat their beloved pets like humans to prevent them from getting the virus.
Related: Could Dogs Sniff Out the Coronavirus?
On its website it outlines a few ways to protect your dog:
Avoid letting your dog interact with other dogs or people outside your home
When walking your dog, maintain the 6-feet rule
Do not go to public areas, like dog parks
If someone in your household is sick with COVID-19, try to keep your dog away.
Have someone else in your home take care of your dog
Avoid any contact with your dog, like kisses, petting and snuggling
If your dog needs to be around the infected person, have the individual wear a mask and wash their hands
If you believe your dog may have the coronavirus, the CDC says to first consult your veterinarian (vs. stopping by the clinic) to avoid the possibility of potentially spreading COVID-19 from person to person.
Related: How Dogs Are Comforting Us During the Coronavirus Pandemic