In November, we reported on a Great Dane named in Bentley vying for the Guinness-World-Records crown for tallest dog. Well, it looks like he has some competition.
A Great Dane in Sparks, Nev. thinks he has Bentley beat and from the looks of it, he may be right. Named Rocko, the dog stands 40 inches tall from paw to shoulder (Bentley is reportedly 38 inches) and is seven feet tall when he stands on his hind legs. He also weighs 160 pounds.
"We didn't realize he was going to be so big," Nicholas Helms, one of Rocko's owners, told ABC 7. "He was so big we were like — oh my God, is he half Dane or half pony? What's going on here?"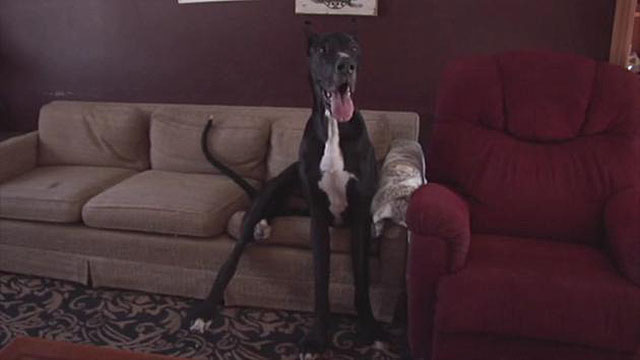 Helms, along with Rocko's other owner Jessica Williams, says he has no idea how big he is and thinks he the size of a Chihuahua.
Related: Great Dane Steals the Show in 'Catdance Film Festival' Finalist Video
Besides being a huge gentle giant, the dog is apparently quite emotional. "He'll cry at the TV if, like, an animal is being hurt on a documentary or something," says Williams. "He gets really upset. He's weird."
The last dog to nab the record for tallest dog was a Great Dane named Zeus back in 2011. He was 44 inches tall but passed away at age 5 in 2014, according to the outlet.
Related: From Puppy to Adult, Time-Lapsed Video Captures First 5 Months of a Very Special Rescued Dog's Life
H/T ABC 7