At Vino-Versity in the Upper East Side, your pup may actually be the one leading you into the store, enticed by the smell of dog cookies and welcomed by owner Shari Schneider, a dog lover herself.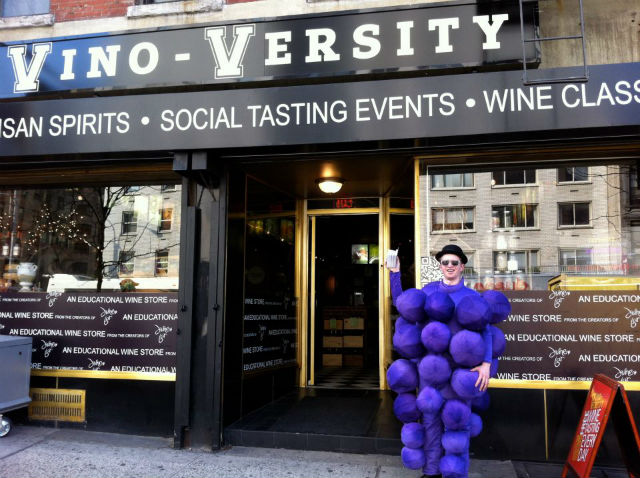 While the dogs may be interested in the treats, the humans have recently been drawn to an eye-catching wine bottle sold only at Vino-Versity: the Chateau Bubba. The bottle features a picture of Schneider's late yellow Labrador Bubba who passed away in the summer of 2013.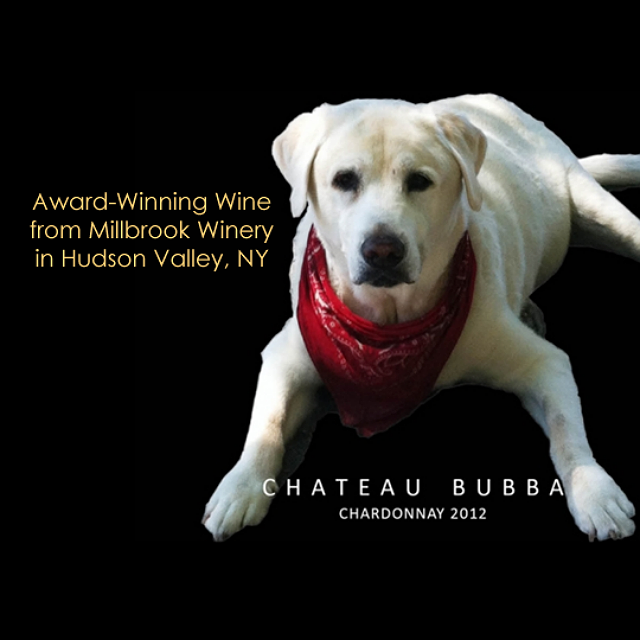 On Vino-Versity's website, the wine is described as having a "glassy-smooth texture, playful minerality, and the most dee-LISH flavors of lemon sorbet, white peach, lacy-light toffee and salty kettle corn and super-crisp green apple, lady pear and quince." Yum!
At $19.50 per bottle, Chateau Bubba is a few bones more than the $15-and-under price point that Schneider says most people shop for but customers tend to be drawn to the picture of Bubba anyway.
Related: This Seeing Eye Dog's Former Owner Is the 'Blind Wine Chick'
The idea to feature her beloved dog on the bottle happened a few months after his passing, in what she describes as serendipity.
"I was sort of reminded that Millbrook Winery up in the Hudson Valley does custom labels for retailers to sell to the public," she recalls. "And it just sort of clicked. I put two and two together and said I would love to do a label to commemorate my dog."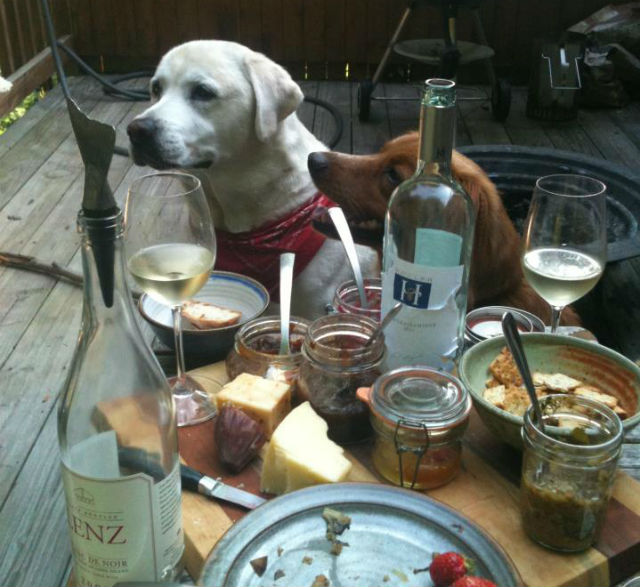 So Schneider worked with the winery to create the product: a delicious chardonnay that uses New York grapes and which she calls a "brilliant wine" that's "both tart and vibrant.
Related: Wine + Your Dog = 'Yappy Hour.' Genius
The first time the wine went up for sale, "I unpacked a case and put it on the display wall and hadn't yet had the time to make a sign with the pricing," Schneider remembers. "But people started coming in, [getting excited] and plucking the bottle off the shelf without even asking what the price was."
With the popularity of Chateau Bubba, Schneider decided to connect with Millbrook again, so she could start offering custom labeling.
Customers "were flipping out over my dog, so imagine if they had their own dog on the label," she says. Well, now they can.
By filling out a form, choosing a name and uploading a picture through Vino-Versity's website, customers can stare at their pup as they enjoy a glass of wine. (Technically the custom label options are limitless but people tend to be choosing dogs.)
To make the partnership with Millbrook feasible, the offering is only by the case, costing $222 with free shipping in New York and varying shipping costs elsewhere (though 12 states don't allow interstate wine shipping). After ordering, Millbrook's label designer will send the customer a draft to see if they want any changes and usually within two weeks the case is ready. The wine can also be shipped to Vino-Versity for the customer to then pick it up from the store.
In addition to the chardonnay variety, customers can also choose a pinot noir or zinfandel, which all come from California grapes that Millbrook buys.
And if your furry friend pictured on a bottle of wine isn't enough of an incentive, Vino-Versity also makes a $10 donation to animal causes for every case purchased. For instance, last year Schneider made a donation to the Humane Society of New York, and as she sells more cases, she'll look into divvying up the donations among local shelters or even dog parks.
"The nice thing about it is you're getting a local juice, the donations are supporting a local New York shelter, so really all the different details are keeping it New York," says Schneider.
She's also looking to expand the reach of the custom labeling, such as by marketing the offering at veterinarian's offices, and she's also wanting to add more varieties of the wine that started it all: Chateau Bubba.
So even though you can't share a glass of wine with your pooch, your dog can now share the bottle with you.
Related: This Santa Monica Beachside Biergarten Boasts Tasty Food and Pup-Friendly Amenities