This dog's sweet 16 birthday is nothing short of spectacular.
Golden retriever Bretagne is to believed the last 9/11 surviving search dog to have worked tirelessly alongside her handler Denise Corliss sniffing through Ground Zero after the World Trade Center attacks. When dog blog BarkPost heard that this pup's 16th birthday was approaching, they wanted to make her day extra special.
Related: Owners Share the Special Bond They Have With Their Senior Dogs in New Book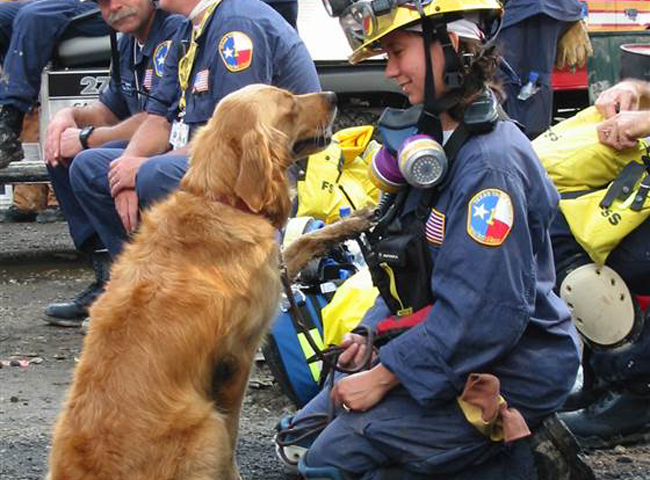 "After hearing Bretagne's story and learning that her 16th birthday was coming up, there was no question in our minds that she deserved a Dog's Best Day for the ages," wrote Laura Hartle, creative producer for BarkPost video.
The pair were flown up from Texas to New York City and whisked away to Manhattan's Hotel 1 where the dog was presented with her own special hamburger.
They were then picked up in an old school yellow taxi cub and taken to Times Square where they were surprised to see a huge billboard welcoming the pair: "NYC Welcomes You And Your Mom," it said, with a photo of the pair.
They were shuttled to a location along the Hudson River where Bretagne was presented with a Tiffany "bone to the dog park"
Upon returning to the hotel, Bretagne had a whole bunch of toys, treats, a dog-safe birthday cake and a $1,000 donation from the hotel to the Texas Task Force, the organization Bretagne was apart of.
Related: 10 Reasons Why Senior Dogs Are So Unbelievably Awesome
Check out her special day in its entirety.
H/T  BarkPost