John Legend's wife, Chrissy Teigen, isn't the only one the crooner is serenading with his hit sock "All of Me."
The singer rocked out the ballad for two dogs, a bulldog and French bulldog, named Puddy and Pippa during their wedding ceremony.
Related: Dog Loses It Over Adele's 'Hello'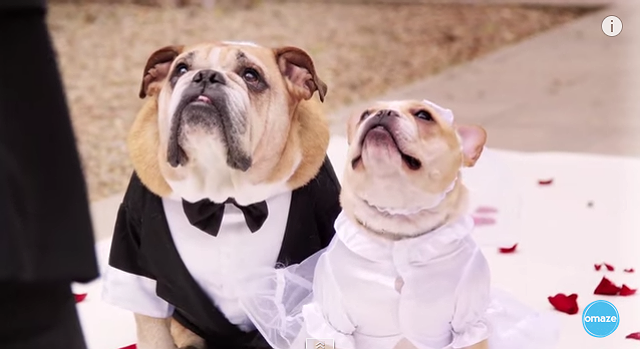 Legend wasn't satisfied with just singing the romantic song. He also sprinkled rose petals all down the aisle, tossed the bouquet, helped cut the wedding cake (hopefully, it was safe for pups) and hand-fed the dogs their first piece of cake as husband and wife.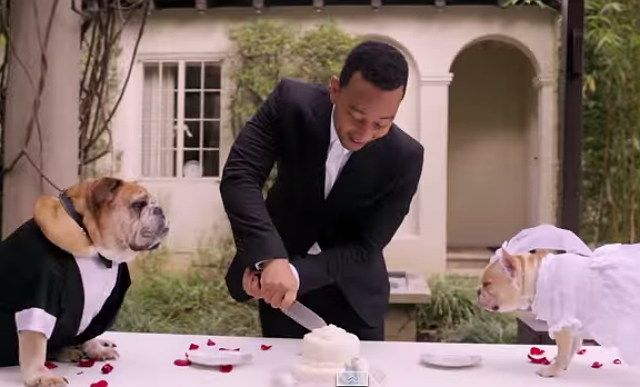 He also took the time to pose with the dogs in a photo booth. In the end, Teigen makes an appearance. At first, she doesn't seemed thrilled with Legend marrying two dogs (can you blame her?) but then she runs up stairs to get dressed up for the occasion.
While the video documenting this celebration occurred on April 1, apparently, it isn't a joke.
Related: How Dogs Help Actor Tom Hardy Improve His Craft
The video was created in conjunction with Omaze, a company that "offers once-in-a-lifetime experiences that benefit charitable causes" to promote Legend's and Teigen's initiative. People can donate anything from $10 to $25,000 for a chance to have Legend perform at their wedding (the more you donate, the more chances you get to win). Proceeds from each entry will go towards rebuilding the auditorium at the former South High School in Springfield, Ohio.