The dog days of summer are here, and for our best friend that means a lot of time spent hanging out in the backyard. With all the smells, the countless spots to bask in the sun and the ability to spy on all the neighbors, it's a little slice of heaven for our dogs.
But while dogs hanging out in the backyard, it can be full of potential hazards. Whether your pup is lacking some shady spots to chill, extra water to stay hydrated or seems intent on destroying the vegetable garden you spent countless hours working on it is important to make sure your yard is in tip-top shape for your pups safety.
Related: How to Protect Your Dog From Fleas, Ticks and Mosquitoes This Summer
To ensure your backyard is an oasis and not a danger zone, here are a few of our favorite products to help your dog beat the heat but also stay safe this summer.
1. Ultra Modern Pet Dog House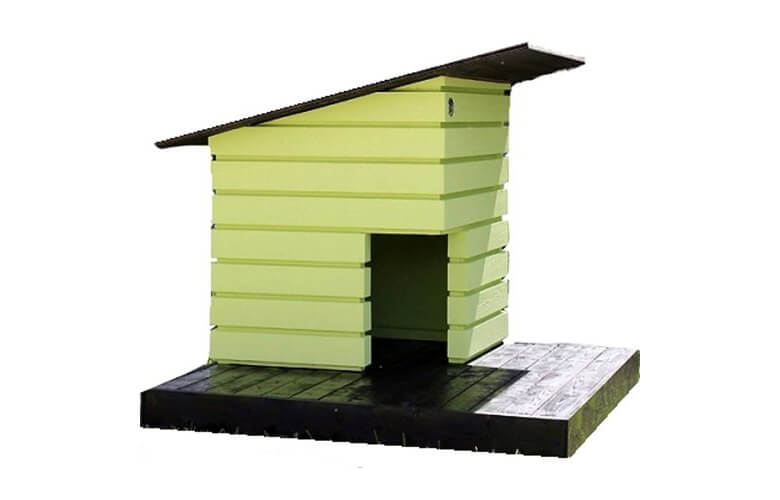 This unique dog house from Ultra Modern Pet will have all the neighborhood pups losing their bones with jealousy. The contemporary dog house is made of pine and birch wood and can be customized to match your backyard decor. It is the perfect addition as it provides your best friend an escape from the heat along with a cool surface to take a nap. Plus, the attached deck will allow your dog to stay cool but also still remain part of the action. The modern dog house isn't cheap, but, with 30 percent of proceeds going to animal charities, you are giving back with your purchase. The dog house is available in blue, green or a custom color.
Price: $930
2. Everflow Indoor/Outdoor Water Fountain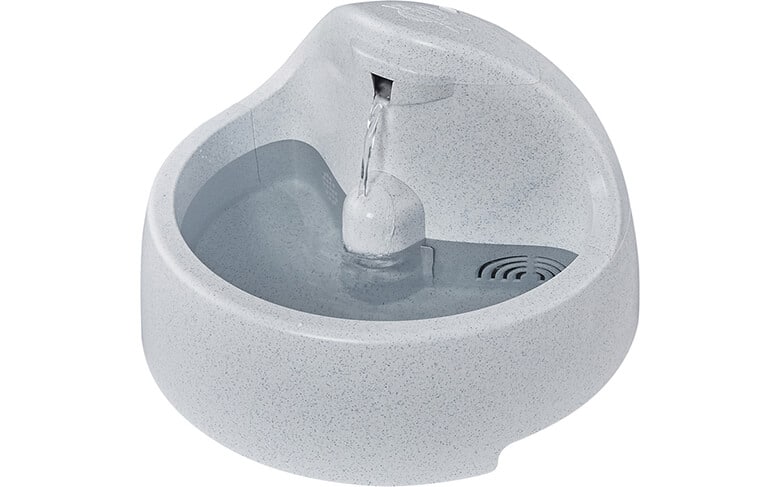 The main concern for dogs in the summer is dehydration. Indeed, if a dog does not have enough water while out back then they can suffer heat stroke or dehydration. Some dogs love water more than others, so keeping them hydrated is no big deal. By adding a dog bowl water fountain to your backyard you can ensure your best friend's water bowl is never empty.
This Everflow water fountain from Petsafe provides a constant supply of clean water with is built-in circulator. It comes with carbon and foam filters to remove chlorine, sediment and funky smells from water. This product is BPA free and attaches right to the hose.
Price: $55.96
3. iDig Digging Toy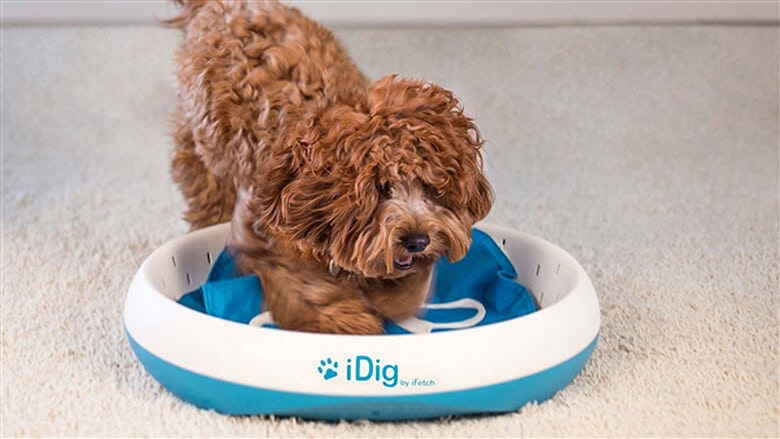 From genetics to relieving stress, a lot of pooches love to dig — despite our. And your prized rose shrubs or organic vegetable garden are no match to your dog's digging. For those dog parents at their wits' end, the iDig by iFetch may provide some relief. From the brand who created the self-fetching ball launcher, iDig will keep your furry friend busy while she is enjoying the great outdoors. You can load the iDig with your dog's favorite toys or treats and watch her navigate her way through the different flaps and varying difficulties. The iDig comes in both a portable version that has flexible, softer fabric, as well as a "stay" model, which is hardshell and meant to remain in one location.
Price: $79.99
4. Clara Outdoor Hooded Dog Bed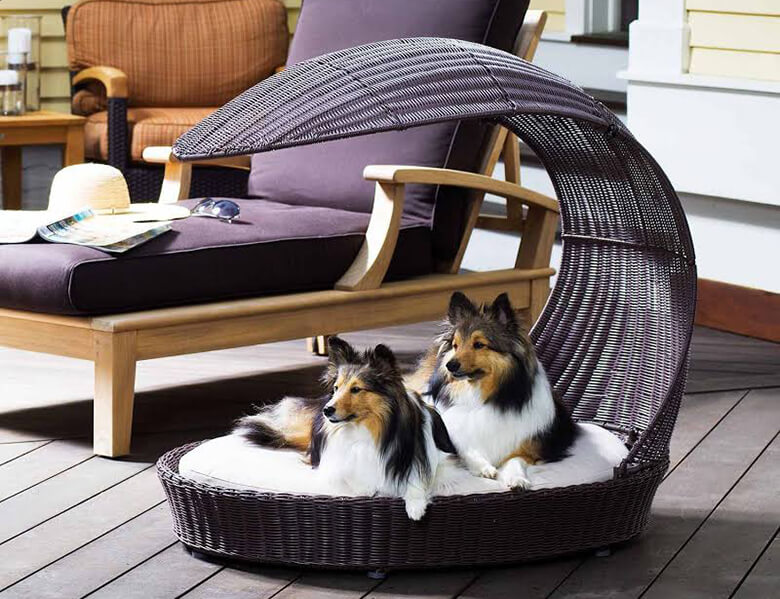 For those pups who like to lounge around in the backyard to their heart's content, this is the perfect bed. The Clara outdoor hooded dog bed is modern and sleek, so you don't need to worry about your backyard design suffering at the hands of your best friend. Its wicker dome blocks the sun, allowing your dog enough shade to enjoy people watching without getting sunburned. (It's a real thing.) The bed part is removable, making it easy to wash. It comes in three colors — espresso, smoke and white — and can hold up to a 100-pound dog, so large breeds will not be discriminated against when it comes to this adorable bed.
Related: 6 Ways to Ensure Your Dog Has an Absolute Blast During the Summer
Price: $196.99 – $259.99
5. Cozy Winters Bone-Shaped Dog Pool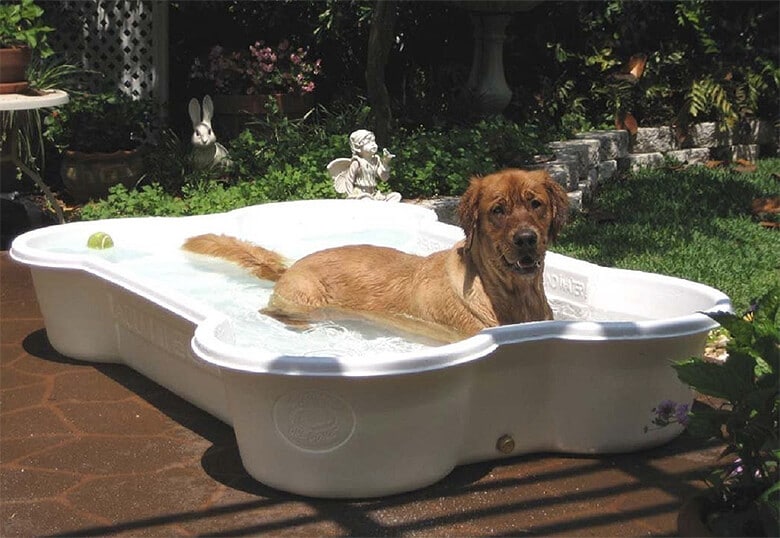 Probably the easiest way to keep dogs cool and comfortable outside is to provide them with a doggy pool to take a dip in. The great thing about this bone-shaped pool is that it can be put into the ground to match your backyard landscaping. It is made out of the same material as truck bed liners so no matter how hard your pooch tries he will not be able to pop his nails through it or chew it up. Another great feature is the pool is made with white material so it doesn't absorb as much heat as other pools may. It also is easy to drain and fill, as the plug can be attached to a standard hose. While this pool provides some fun in the sun, make sure you always supervise your dog.
Price: $ 439.95
6. EasyTurf Fake Grass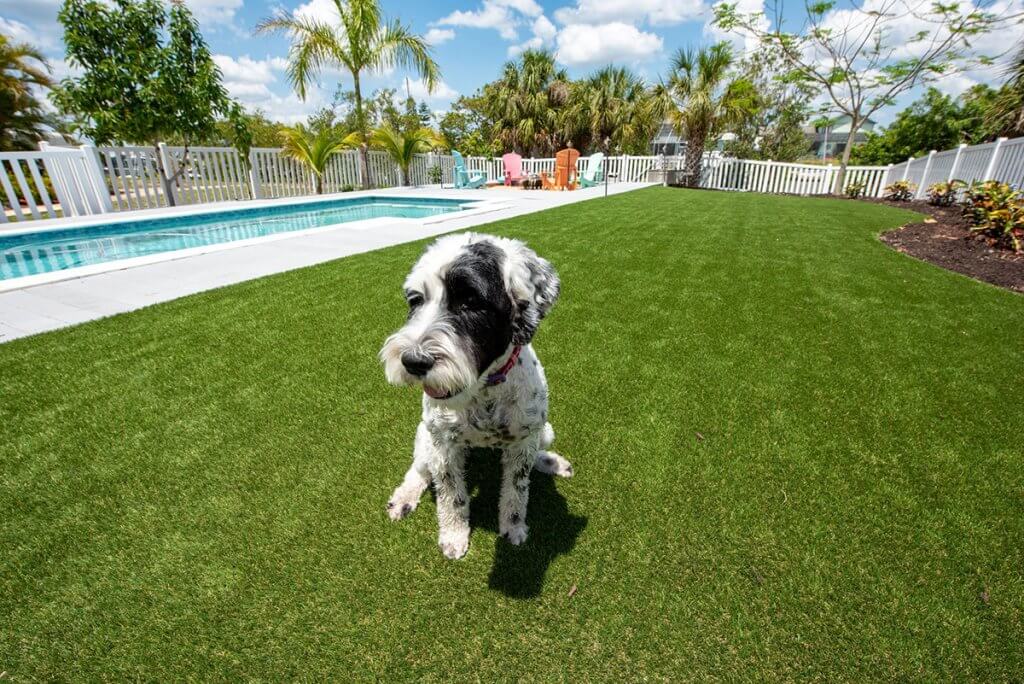 Removing the grass from your yard and replacing it with turf may seem a bit extreme but EasyTurf makes it pretty easy. It was created to keep your dog happier and healthier while she enjoys her wonderful yard. Not only will you not have to worry about harmful chemicals and mulches that may make your dog sick, the turf will not get as hot as traditional grass. Also say goodbye to muddy paws and digging — with this stuff around those are a thing of the past.
Price: Varies based on project
7. Downtown Pet Supply Dome Peek Fence Bubble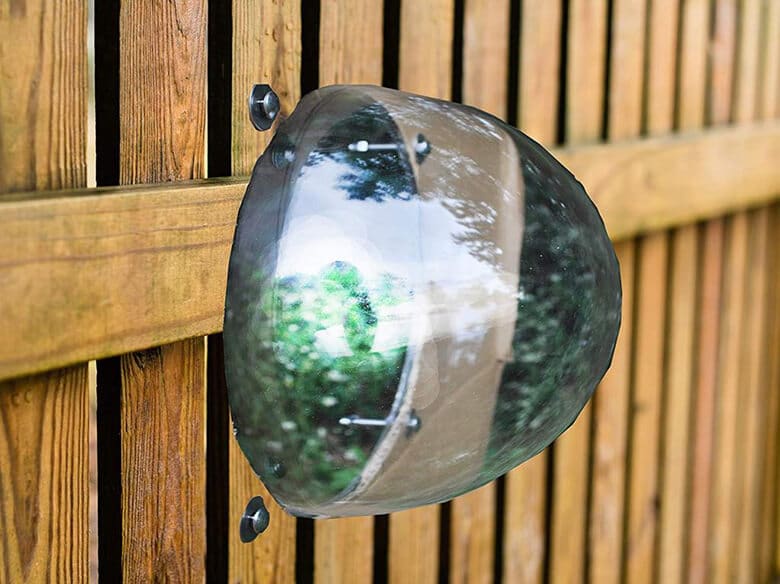 If you have the nosey dog of the neighborhood who likes to watch everything that happens in the hood, then this little dome bubble addition to your fence can save your pup a lot of grief. By providing your dog with just this small line of site he will be discouraged from digging and trying to break the fence to get some eyes on the prize. Also, dogs who get anxious around strange sounds or a ton of action may be able to calm down a bit when they actually see what is making the commotion.
Price: $29.99
8. Dog ON It Parks Fire Hydrant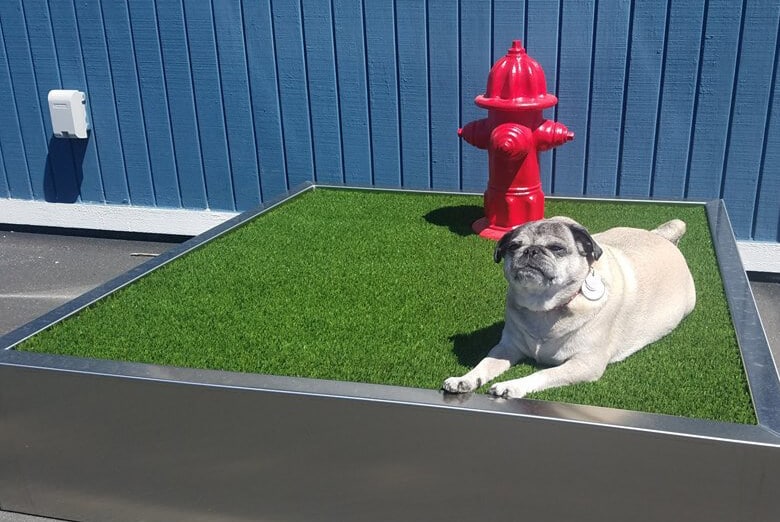 For the owners who are trying to eliminate urine spots around their yard or just want to train their dogs to go in a certain spot, then this fire hydrant from Dog-ON-It-Parks may be a great solution. It comes in traditional red, but also can be customized to any color. You can also add a logo on it, if you please. It is made just like a fire hydrant, making it durable and rust proof. Who said that your backyard design has to suffer at the hands of your beloved pets!?
Price: $398 – $548
Related: The Best Cooling Vests and Bandanas to Keep Your Dog Comfortable in the Summer Heat
(we may receive a small commission if you choose to buy products from this list)