When most people wake up in the morning to get dressed, things like the weather, the occasion, and specific trends go into deciding what to wear. But basing your outfit on what looks good on your dog, too? That is exactly what Mary Williamson does.
With more than 50 outfits – everything from Betsey Johnson attire to tutus and sparkling bows – Williamson and her dog Holly are two ladies around town wearing matching outfits. What may just look like a fun move to get cameras snapping, the reason behind the fashion sense runs much deeper than the clothes on their back.
"There is definitely a misconception that all rescue animals are in some way ugly or damaged or mean," says Williamson. "So Holly and I set out to use our stylish ensembles to prove to the world that you don't have to be purebred to be 'paw-sitively' fabulous. She continues, "If I can make even a few people rethink buying a trendy purebred pup and instead consider visiting their local shelter, I've done something that's made an impact."
Related: A Photographer Has a New Twist on New York Fashion Week: Dog Models
Williamson adopted her pup Holly from the Humane Society of New York (HSNY) in November 2012. She had been found wandering the streets of Texas with her two brothers and was brought to a local high-kill shelter where her outlook looked grim. This is when the HSNY scooped them up and brought them to Manhattan. "I went to the shelter asking for a 'happy go lucky' pooch, and Holly sure fit the bill; even in her original shelter intake photo, she had a big, goofy smile," Williamson explains.
Related: Meet the Dog That Is Taking the Art World by Storm
Once the two arrived home, it was time for a name. After her dad suggested Holly Golightly, because she reminded him of Audrey Hepburn in Breakfast at Tiffanys, Mary realized there was no better fit. "Just like Holly Golightly, Holly the dog came from simple country roots and had reinvented herself as one of the most glamorous gals on the Upper East Side," Mary explains.
Their first matching outfits were green Ralph Lauren shirts that were purchased for St. Patrick's Day. The matching look was meant to be a one-off, but Mary loved the mommy-and-me style so much, she ended up adding two more Ralph Lauren sets to the mix. And, as you can tell, the fun didn't stop there.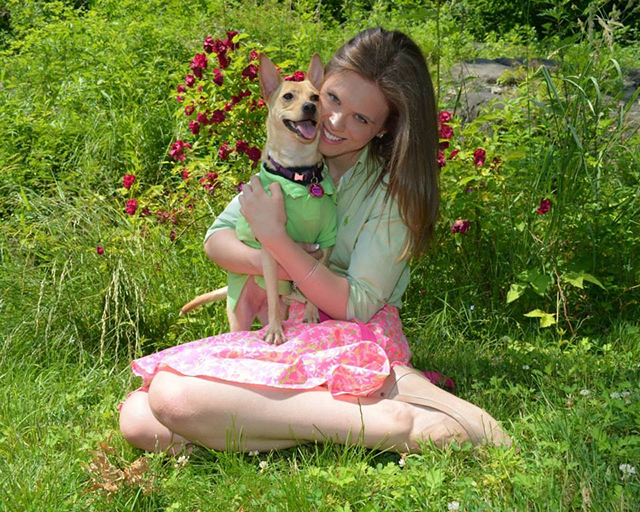 "After the third event or so that we wore matching outfits to, I began getting comments on Facebook and Instagram from people saying they liked what I was doing to raise awareness for rescues, when all I was doing was posting cute pictures of Holly," Williamson tells us. "It was then that I realized I had a real platform and a unique angle I could tell the rescue story from."
Related: Stunning Art Project Shines Light on the 5,500 Dogs Euthanized a Day
While Holly's larger size can often be a challenge (Williamson frequently makes alterations to her outfits), people can't get enough of this darling duo. She tells us that the best reaction they've received by far was during their "Carrie Brad-Paw" photo shoot for Seriously Sabrina photography.
The pair headed to Bergdorf Goodman in Manhattan to try on the blue satin Manolo Blahniks that appeared in Sex and The City. The experience was amazing. Not only were treated like royalty by the staff but Williamson was flattered when a woman named "Katie" asked to snap a picture for her Twitter page. It took Williamson and her photog friend Sabrina a solid three minutes to realize that this Katie fan was Katherine Heigl.
And while Holly hates 90 percent of her outfits when she's inside Williamson's apartment, the second her toes touch the pavement outside, she's a new woman. "I swear she poses! If anyone within a 100-foot radius has a video camera, she will run up, tail wagging, ready for her close up," she tell us.
The pair is inseparable and that is exactly how Williamson wants it.
"We are best friends, thick as thieves, two peas in a pod – you name the cliché and it fits us to a T," Williamson tell us. "In about three years, Holly's been on more than 60 plane rides, visited at least four states, and worn more than 50 outfits. We get to experience all of these adventures together, and I can't think of a more fun companion to have by my side."
This kind of attention combined with Holly's many experiences has Williamson dreaming of writing a book. "I would love one day to write a series of Eloise-esque children's books telling the story of Holly's adventures (and ensembles) in Manhattan — donating proceeds to charities close to our hearts."
But for the near future, the two are just focusing on enjoying the summer and spreading the word. Up next for the two is an event at BarkBox on August 6, where owners and their dogs can come to help raise money for the Jason Heigl Foundation, an organization founded by Katherine Heigl and her mother Nancy in memory of their brother and son. Its mission is to end animal cruelty by increasing awareness, supporting other nonprofits and find solutions for the pet overpopulation, among other goals. The event offers free food and will have raffle tickets with prizes including luxury collars, VIP tickets to a show and a prize pack of dog goodies from LazyBonezz.
Williamson also plans on hosting a humans-only dance class led by her personal instructor, Marcella, which will benefit the Humane Society of New York. Along with contributing to Bitches' Guide NYC, they also have some exciting collaborations brewing that they hope to be able to share soon.
"Holly and I both have larger than life personalities, and we love when people tell us how cute we look," Williamson tells us with a laugh. "The fact that we can use that platform to support a cause that is important to us is the icing on the paw-sitively fabulous cake."
Related: Photographer Sophie Gamand Reveals the Real Magic Behind Her 'Flower Power' Pit Bull Series